Penguins prep roster for playoff tuneup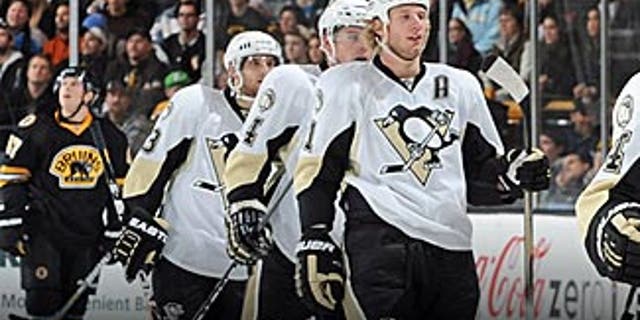 ATLANTA -- Since Sunday's season finale against the Thrashers represents the proverbial, late-season meaningless game -- his Pittsburgh squad is locked into the Eastern Conference's fourth seed and a match-up with the Tampa Bay Lightning -- Penguins coach Dan Bylsma said that Brent Johnson would start in goal and that he would rest center Jordan Staal and that wing James Neal also would not play.
With Philadelphia's 7-4 win over the New York Islanders on Saturday, Philadelphia clinched the Atlantic Division and prevented the Penguins from having a chance to win it with a victory on Sunday.
As a result, Johnson ended up earning his second start in the last nine games over No. 1 Marc-Andre Fleury and center Mike Comrie, wings Eric Tangradi and Chris Conner were inserted into the lineup with Chris Kunitz sitting out. (Atlanta's leader in fighting majors Eric Boulton sat with an injury while rookie Carl Klingberg, the 34th overall selection in the 2009 Entry Draft, was set to make his League debut.)
Staal has played an amazing amount of minutes for a forward in recent weeks, including 25:13 of time on ice on Friday so it seems Bylsma wanted to give him some rest.
A combination of injuries and being a healthy scratch have ensured that Comrie has played only 20 games entering Sunday with no goals and five assists on the season. Sunday represented his fifth appearance in the Penguins' last eight games. The same is true of injuries and scratches for Tangradi, who has not played since Feb. 11.
Conner returned to the lineup after being a healthy scratch for the first time in 10 games on Friday.
As for Neal, he played only 6:50 on Friday in Pittsburgh's 4-3 win over the Islanders after suffering an undisclosed injury. Neal did not practice on Saturday. However, Bylsma seemed somewhat optimistic that Neal would be ready for the playoffs, which can start on Wednesday at the earliest.
Asked if he were optimistic that Neal, who has only one goal but several key shootout goals in 20 games since joining Pittsburgh in a trade from Dallas, would return for Game 1 of the playoffs, Bylsma responded, "I do."
"It wasn't even a consideration whether he had a shot or not, given the game (losing its meaning) and it was a regular season game and the playoffs starting in a matter of days," Bylsma said.
As for losing their opportunity to win the division, Bylsma seemed only mildly disappointed.
"I think we would've liked winning the division," he said. "I think we would've liked saying, 'We're the second seed.' We did get home ice, which I think is important. I think at the beginning of the season if you would say we'd finish
with 106 points (Pittsburgh had 104 entering the game), I think that we would've all taken that and considered it a good season.
"We all would've liked to have gotten a second seed and we certainly watched last night's game hoping the Islanders would come out with a victory, but it didn't happen and we put ourselves in good position to get the fourth seed, get home ice. We've gone 7-3 in our last 10 games and played some good hockey, so we're not going to be disappointed because Philly won last night and closed out the division title for themselves."
Bylsma did not offer an update the status of center Sidney Crosby (concussion), who has practiced with the team for weeks but who has not been cleared for contact yet. On Friday, Bylsma told reporters that he did not expect to have Crosby for the opening game of the playoffs.