Patterson on his young defense: Every day is '50 First Dates'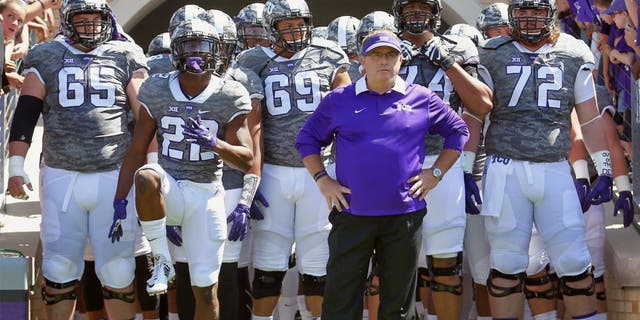 NEWYou can now listen to Fox News articles!
Gary Patterson is ready for a week off. His No. 3-ranked TCU Horned Frogs have played six consecutive games since the start of the season on Sept. 3 and impressively remain unbeaten despite a rash of injuries that might sink other teams.
Game No. 7 in a row is Saturday at Iowa State. Then the coach can finally exhale for a bit.
That the Horned Frogs are 6-0 overall and 3-0 in the Big 12 is a testament to the Horned Frogs' stockpile of talent accumulated over the last four years since TCU joined the Big 12. TCU is 3-0 on the road, all against Power 5 competition, and 2-0 in Big 12 play, snatching wins at Texas Tech and last week at feisty Kansas State in dramatic fashion.
"I'd like to know the record of all the head coaches in the league at Manhattan, Kan., at any point and time of the year, since they've been in the Big 12," Patterson told reporters during Tuesday's weekly press conference. "I think there are some that've only won a couple of times in all their tenures of going up there. It's just a tough place to play. Ames is the same thing."
While No. 1 Ohio State hasn't always looked invincible and new No. 2 Baylor has destroyed lesser opponents, TCU has managed to stay in the playoff hunt plugging in a handful of young, inexperienced players who otherwise would have filled out the lower rungs of the depth chart. The Frogs just keep finding ways to win.
Patterson was asked if his players have "matured" playing in tough road games.
"I don't know what the definition of 'mature' is anymore with the group, so ... all I know is there's 29 redshirt freshmen and freshmen who've played in ballgames this year for us," Patterson said. "That's what I know. Fourteen true freshmen and 15 redshirt, so that's a bunch. When you count that there's 44 starters, first and second team -- that's what your group is -- and usually you take 70, so you're almost hitting 30, almost half of your football team [is freshmen.
"Every day is '50 First Dates' sometimes."
MORE NEWS: Want stories delivered to you? Sign up for our College Football newsletters.