Pantless man invades the infield, gets taken down by Brewers security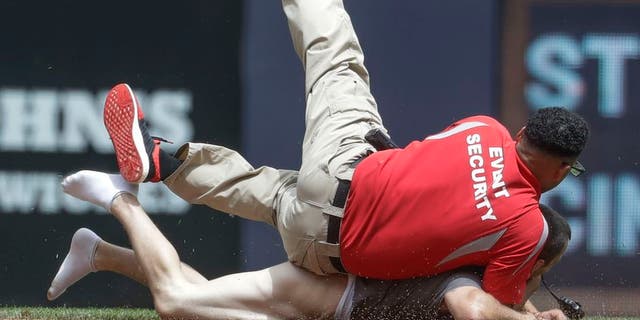 NEWYou can now listen to Fox News articles!
Milwaukeefans got to see a little more than just major league baseballwhen a man took to the field without his pants at the Brewers-Giants game Thursday afternoon at Miller Park.
Paolo Espinowas at the plate at the, ahem, bottom of the second inning when avisitordecided to doff his pantsand show Milwaukeewhat his mother gave him.
According to the San Francisco Chronicle, the bottom-less intruderappeared to streakhis way toward Giants shortstop Brandon Crawford before a security guard took him down with a fierce tackle.
Here is a photo of security after they apprehendedthe half-naked streaker, who looks to be wearing a shirt, an undershirtand socks, but decidedly no bottoms:
Brewers security may have a heck of a time getting to the bottom of why a man ranacross the field without his trousers, commando.
The Giants ended up winning the game in 10 innings, 9-5.
The end.