Padres host Tigers for weekend series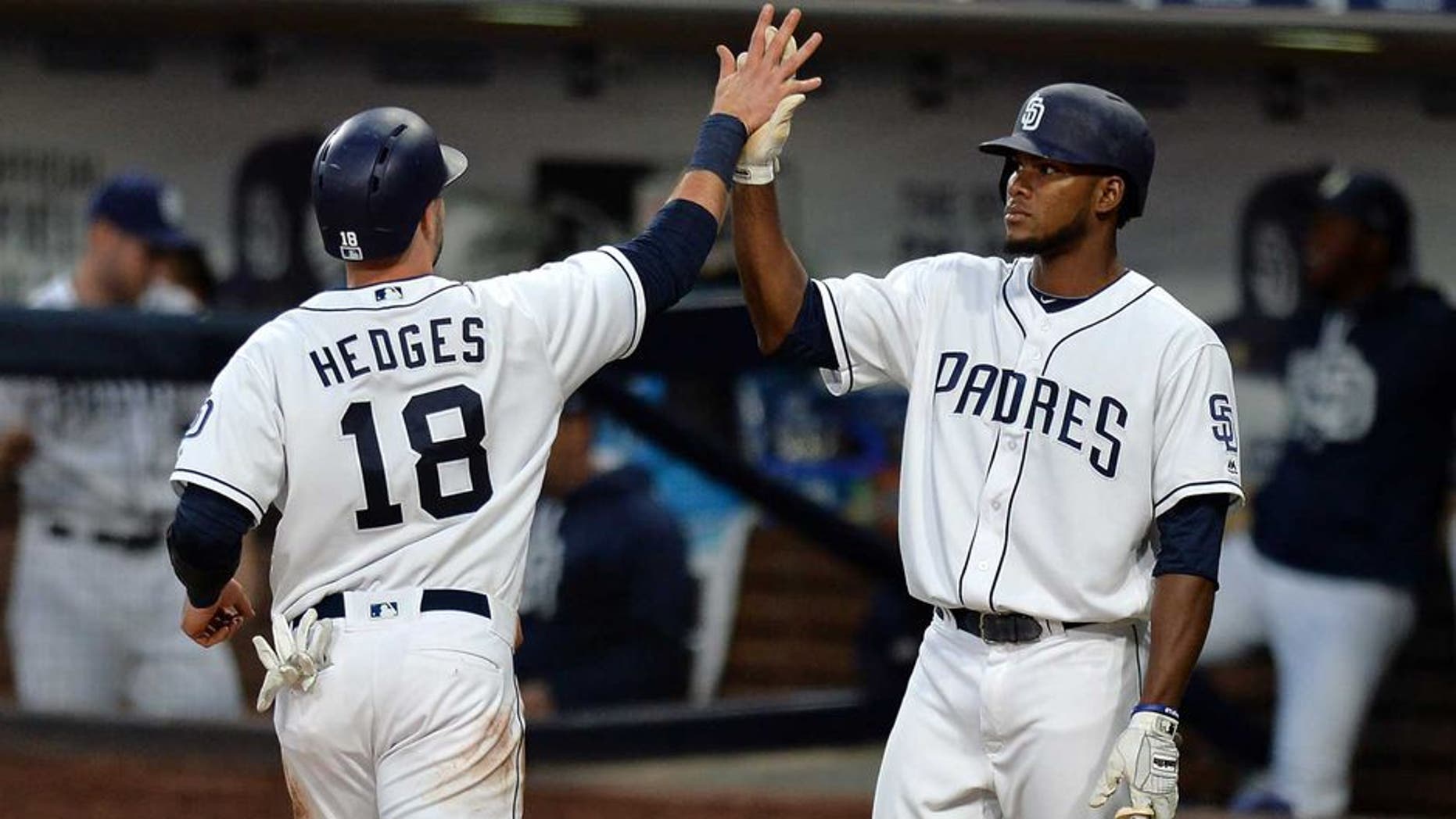 SAN DIEGO -- It's back to work and back home for the San Diego Padres as they welcome the Detroit Tigers on Friday night.
The Padres hope a return to interleague play is the tonic for a team that just capped a 2-4 road trip. In the Tigers, losers of six straight, they face an American League Central foe for the first time in three years.
The Tigers have won eight of 12 meetings over the last 20 years, although the Padres lost but one contest in a three-game set in 2014.
San Diego juggled its rotation and sends right-hander Luis Perdomo (1-4, 4.97 ERA) to the mound. The rotation revealed rookie Dinelson Lamot's turn, but the Padres gave him an additional rest day. He will start Saturday night against the Tigers.
Perdomo, who christened the season by setting a franchise record with six consecutive no-decisions, is on a decent run. He's produced four quality starts in his last five times out and looked decent in his previous start against Milwaukee. Perdomo, who made the club as a Rule 5 draft pick last year and has never faced the Tigers, surrendered two runs over six innings versus the Brewers.
"I feel really good about what he's accomplished over the past year," Paders manager Andy Green told reporters. "I do think there's some steps ahead for him as he continues to grow, but he's come a long way."
Among the batters Perdomo will have to conquer in the Tigers' lineup is former Padre Justin Upton. He played for the Padres in 2015 and this is the first time he's competed against them since leaving.
Upton usually leaves a mark at Petco Park. He tied a franchise mark with 15 homers in San Diego in 2015, a record that was broken by Wil Myers. Upton has a career .879 on-base-plus percentage career mark at Petco.
The reeling Tigers seek a spark from anyone on their 0-4 road trip.
Michael Fulmer (6-5, 3.45), who has battled a sore right shoulder this year, gets the nod for the Tigers. Fulmer worked 6 2/3 innings and allowed three runs Saturday in a loss to the Tampa Bay Rays.
After missing a start with his shoulder ailment, he was steamed he didn't do better in his return. Never mind his fastball hit 98 mph.
"The offense puts up two runs, you got to give up less," Fulmer told MLB.com. "That's how I look at it. It comes down to execution. I wasn't able to execute more than their guy."
Fulmer, with a fastball, curveball and slider mix, tied a career high with four walks and that led to his defeat.
"Obviously the walks, they'll come back to haunt you," said Fulmer, who'll be facing the Padres for the first time. "I should have done a better job of throwing quality strikes."
The righty has felt right at home on the West Coast, where he's compiled five quality starts in as many outings.
The Padres won't have Yangervis Solarte available on Friday. Solarte, who's been the Padres' hottest hitter lately, was placed on the disabled list with an oblique injury.
"It's tough for us as a club," Green said. "He is a guy who kind of is the heartbeat of the club, and he had swung the bat incredibly well in the last month. It's hard to lose him."
Over two weeks, Solarte had hit six homers and was batting .370.
It will be interesting to see what, if any, fallout Solarte's absence has on Wil Myers. Solarte provided Myers the veteran protection in the middle of the lineup, something that is hard to find elsewhere on this rebuilding roster.
Austin Hedges is expected to return Friday after being injured in a controversial collision with Anthony Rizzo at the plate during the recent Cubs series in which the Padres took two-of-three games. Hedges missed two games with a bruised thigh.