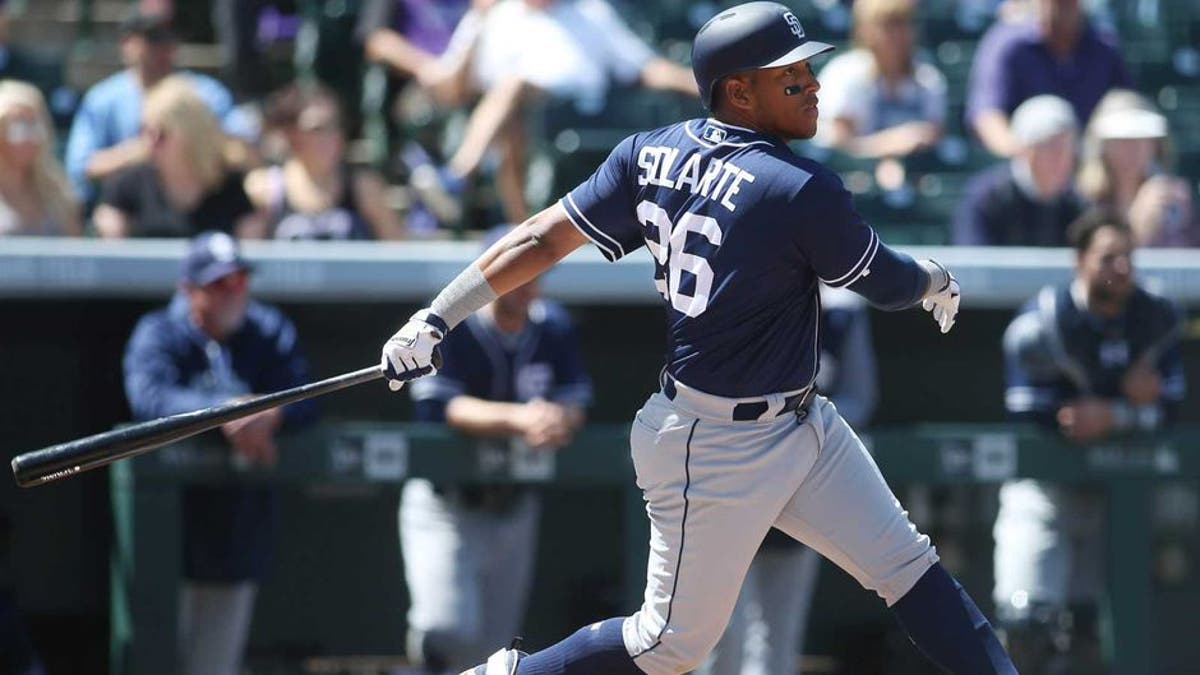 ATLANTA -- The Atlanta Braves don't go into the home opener at their new ballpark with the record they hoped for, but at least they'll have the pitcher they'd want on the mound.
Able to juggle the rotation thanks to off days around a two-game series in Miami, the Braves will pitch Julio Teheran against the San Diego Padres on Friday night to get things started at SunTrust Park in suburban Cobb County.
Teheran didn't allow an earned run over 13 innings in his first two starts this season and was dominant against the Padres a year ago, going 2-0 with a 2.40 ERA and striking out 16 to one walk in 15 innings.
Teheran started on Opening Day for the fourth straight season to tie an Atlanta record, but throwing the first regular-season pitch at the new ballpark will be more memorable than any of those games.
"Obviously I'm going to get emotional," the 26-year-old right-hander from Colombia said. "There's going to be a lot of people there. The fans are going to get excited and so are the players. But (I'll) just try to control that and get on my game, just put that (adrenaline) on the side."
The Braves (2-6) opened the season with a three-city road trip and needed a 5-4 ninth-inning victory over the Marlins in Miami on Wednesday to avoid coming home to christen their new ballpark with a six-game losing streak.
In contrast, San Diego (5-5) has played above expectations to start the year, winning their past two series. The Padres allowed just six runs in taking two of three against the Rockies in Colorado, the series finale on Wednesday a 6-0 combined shutout.
Teheran has no record despite his impressive early work. He left a scoreless game after six innings on Opening Day in New York against the Mets and the Braves bullpen couldn't hold a lead after his seven impressive innings at Pittsburgh on Sunday.
"This is a team game and sometimes you don't have everything working at the same time," said Teheran, who is 3-2 with a 3.86 ERA in seven career starts against San Diego. "I just try to control the part I can control. I pitch as long as I can, and I think I'm doing really good."
Teheran will be opposed by veteran right-hander Jhoulys Chacin, who was 1-2 with a 5.40 ERA in five starts for the Braves early last season before being traded to the Los Angeles Angels.
Given the start on Opening Day in his debut with the Padres, Chacin was bombed in a 13-4 loss to the Dodgers in Los Angeles. He bounced back, though, to blank San Francisco on three hits over 6 1/3 innings in a 2-1 home victory by the Padres last Saturday.
"When I have good command with my fastball, that makes my breaking ball better," said Chacin, who is 1-2 with a 4.05 ERA in four career starts against the Braves, after beating the Giants. "I was throwing my sinker well away to right-handers and threw my breaking ball backdoor to lefties."
Teheran can't help missing at least a little Turner Field, where he was 24-16 with a 3.02 ERA. The Padres, though, certainly won't.
San Diego was swept in a three-game series at Atlanta last year and struggled mightily at Turner Field for most of its 20 seasons of use by the Braves.
SunTrust Park is expected to be more hitter friendly than the Braves' old home, especially for left-handed hitters.
"It's nice to look out and see 375 in right-center instead of 390," said Braves first baseman Freddie Freeman, who homered in an 8-5 Braves' victory over the New York Yankees on March 31 to close spring training.