Packers snap counts: Making do without any running backs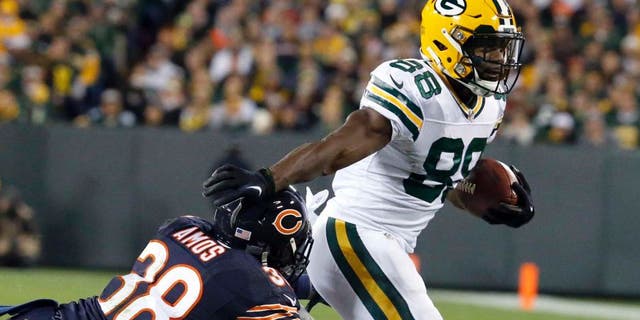 Playing on a short week and losing the only two running backs on your active roster is not necessarily the ideal way to head into a football game. Yet, this is what the Green Bay Packers faced as they readied to play the Chicago Bears.
While James Starks remained out for the second consecutive week, Eddie Lacy went from questionable to injured reserve in a matter of days. To fill this hole at running back, Green Bay dealt for Kansas City's Knile Davis and signed Don Jackson from the practice squad. Total carries for those two against Chicago? Four.
The Packers didn't run the ball often against the Bears -- just 23 times -- and when they did it was wide receivers Ty Montgomery (nine carries) and Randall Cobb (five) who got the ball the majority of the time.
As a result, both players saw a lot of offensive snaps. Cobb was in on 90 percent, his highest percentage since Week 2. The previous three weeks he saw 78, 69 and 76 percent of the snaps. Montgomery was in on a season-high 69 percent of the snaps, this coming after last week's then-high 50 pecent.
Some other notes from Thursday's snap counts:
-- Jackson, who was injured in the second quarter and didn't return, played just six (7 percent) of the snaps. Davis wasn't used until garbage time at the end of the game and was in on five (6 percent) snaps.
-- Green Bay had a season-high 87 offensive snaps. The previous high was 80 against the Giants in Week 5. The 48 plays on defense were of course also a season low, topping the 56 vs. the Giants.
-- Wide receiver Jordy Nelson played 83 snaps (the 95 percent second only to the 96 percent he had against Minnesota in Week 2), yet still only managed one catch.
-- For the second straight week wide receiver Jeff Janis saw significant playing time. Last week against Dallas it was 32 snaps (46 percent); Thursday it was 41 (47 percent) snaps.
-- For the second time this season five defensive players were in on every snap. That also happened in Week 5 against the Giants. One of those players was Demetri Goodson, who last week, in his first game back from suspension, was in on just 50 percent of the defensive snaps.
-- Tight end Richard Rodgers played 47 offensive snaps (54 percent) and was targeted just once.
-- Nick Perry had four tackles (including a sack), a QB hurry and an interception in his 35 snaps. Datone Jones had two QB hurries and a pass defensed in 21 snaps.
Here's the complete breakdown of offensive and defensive snaps for the Packers vs. Chicago:
GAME 6: BEARS (OFFENSE)
| | | |
| --- | --- | --- |
| PLAYER | Plays (87) | % |
| Taylor | 87 | 100% |
| Bakhtiari | 87 | 100% |
| Tretter | 87 | 100% |
| Bulaga | 87 | 100% |
| A. Rodgers | 87 | 100% |
| Nelson | 83 | 95% |
| Cobb | 78 | 90% |
| Lang | 71 | 82% |
| Adams | 70 | 80% |
| Montgomery | 60 | 69% |
| R. Rodgers | 47 | 54% |
| Janis | 41 | 47% |
| Ripkowski | 22 | 25% |
| Barclay | 16 | 18% |
| Perillo | 14 | 16% |
| T. Davis | 7 | 8% |
| Jackson | 6 | 7% |
| K. Davis | 5 | 6% |
| Spriggs | 2 | 2% |
GAME 6: BEARS (DEFENSE)
| | | |
| --- | --- | --- |
| PLAYER | Plays (48) | % |
| Hyde | 48 | 100% |
| Gunter | 48 | 100% |
| Clinton-Dix | 48 | 100% |
| Goodson | 48 | 100% |
| Burnett | 48 | 100% |
| Martinez | 35 | 73% |
| Perry | 35 | 73% |
| Ryan | 31 | 65% |
| Matthews | 27 | 56% |
| Daniels | 22 | 46% |
| Jones | 21 | 44% |
| Peppers | 18 | 38% |
| Thomas | 17 | 35% |
| Guion | 16 | 33% |
| Clark | 15 | 31% |
| Brice | 13 | 27% |
| Pennel | 11 | 23% |
| Fackrell | 10 | 21% |
| Ringo | 9 | 19% |
| Elliott | 4 | 8% |
| Lowry | 4 | 8% |
Dave Heller is the author of the upcoming book Ken Williams: A Slugger in Ruth's Shadow as well as Facing Ted Williams Players from the Golden Age of Baseball Recall the Greatest Hitter Who Ever Lived and As Good As It Got: The 1944 St. Louis Browns