Packers, McCarthy evolved approach after sting of playoff loss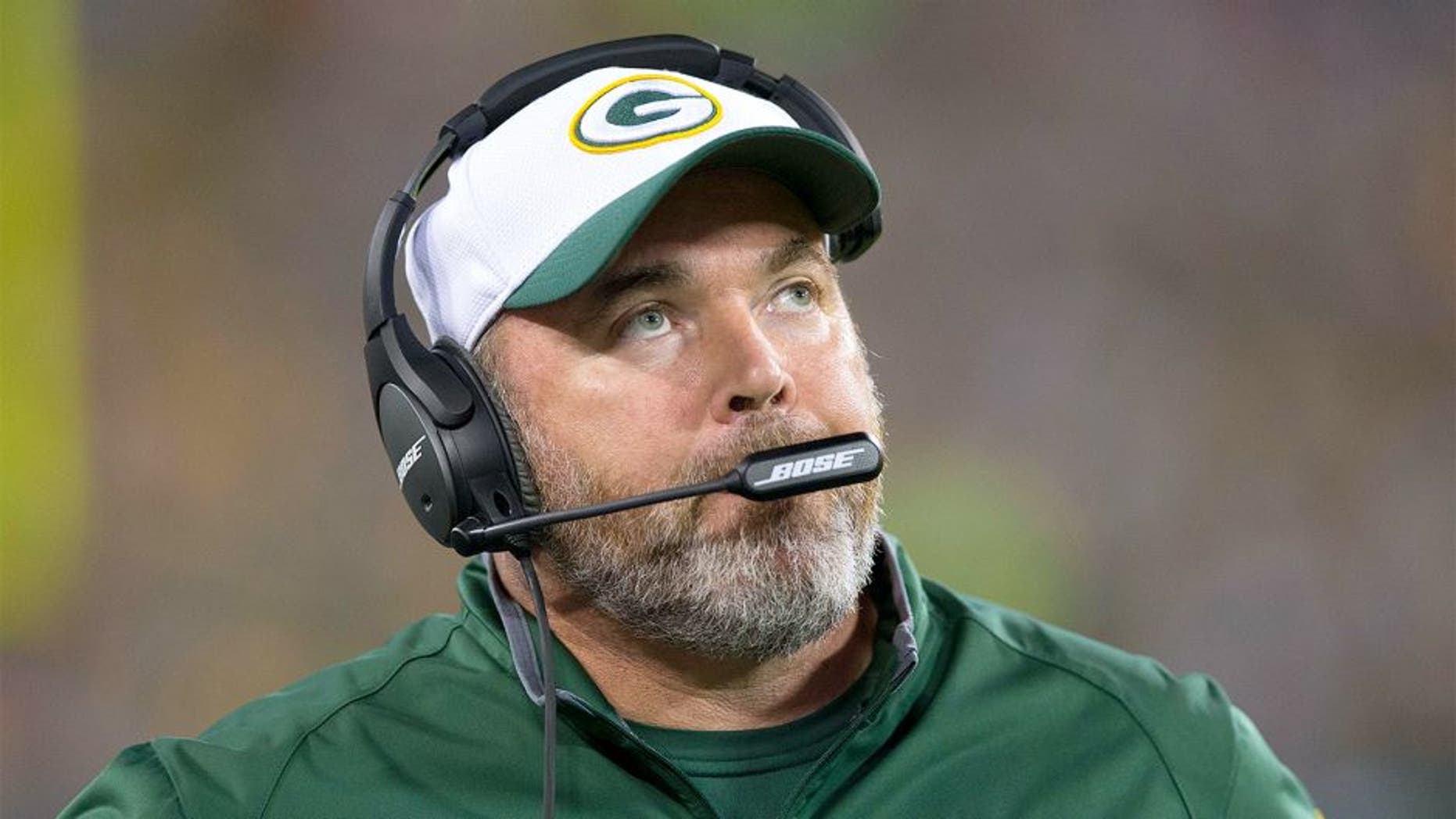 As a Sunday night rematch with Seattle looms, Mike McCarthy adamantly states that this Green Bay Packers squad is different than the one that collapsed in last season's NFC title game to the Seahawks.
For that matter, so is McCarthy.
One of the most devastating losses in this franchise's storied 96-year history brought about one of its most radical changes. McCarthy voluntarily relinquished his responsibilities as offensive play-caller.
"I know I'm better today than when I started this job (in 2006)," McCarthy told FOXSports.com at the end of the preseason. "I know today that compared to last year I'm doing a lot more and I'm doing different things. I would hope that equates to a better football team.
"I'll assess it after the season, but I've been really busy. This has been a grind of an offseason and training camp. I feel like it's Year One out there sometimes."
McCarthy has come a long ways since those days. Along with general manager Ted Thompson, McCarthy took a Packers team that was 4-12 in the season prior to his arrival into a Super Bowl winner and NFC North champion for four years running.
Yet after the Seahawks debacle, McCarthy felt a shake-up was needed -- starting in the mirror.
Of the four times Green Bay has gotten eliminated in the playoffs since winning Super Bowl XLV, the Seattle loss was the most painful. The Packers led by 16 points at halftime until two major special-teams gaffes and a conservative fourth-quarter offensive approach that has become widely second-guessed allowed Seattle to rebound and win in overtime.
"It still brings up emotions when we watch that game," Packers fullback John Kuhn told FOXSports.com.
Once the numbness subsided, McCarthy revamped Green Bay's staff. Special teams coach Shawn Slocum was fired and replaced by his assistant Ron Zook.
McCarthy then followed through on a notion he had previously considered. Long-time assistants Tom Clements and Edgar Bennett were promoted and given the reins running the offense. McCarthy was now free to assume an omnipresent role with more defensive and special-teams involvement in meetings, teaching and game-planning.
"The biggest thing I ask myself every year is what do I need to change, what do I need to adjust, what do I need to emphasize?" McCarthy said. "Everything we do falls under one of those three categories. I've never wavered from that. It works for me."
Although it's far too early to know whether the alterations will help Green Bay bring another Lombardi Trophy back to Titletown, the plans seems to be working. The offense showed no signs of skipping a beat in last Sunday's 31-23 victory over Chicago even without the services of top wide receiver Jordy Nelson, who suffered a season-ending knee injury in the preseason.
McCarthy had hoped for a smooth transition with the Packers returning almost all of their starters, led by all-star quarterback Aaron Rodgers, who is entering his 10th season playing in the same West Coast-style system. And while he still is hands-on with offensive stratagem, the confidence McCarthy has in Clements and Bennett made the timing right for the handoff.
"The offense is a well-oiled machine now," said Kuhn, who has played with the Packers for all 10 of McCarthy's seasons in Green Bay. "We have everybody returning and a lot of vets. It kind of runs itself, but Tom and Edgar have certain philosophies. They're both great football minds. The more ideas you can have flowing in one room at one time, it can only lead to good things."
Packers defensive coordinator Dom Capers understands better than anyone on Green Bay's coaching staff what McCarthy is trying to accomplish. During his own two previous head coaching tenures with Carolina and Houston, Capers allowed his coordinator to call the defenses so he could focus on bigger-picture issues.
"I always give a guy credit because it's easy to get into that comfort zone and stay in it," Capers told FOXSports.com. "He'll push the envelope and get outside of it."
To that end, McCarthy has spent more time than ever before in Capers' meetings. This has led to McCarthy providing tips on how an offensive coach would try to attack Green Bay's defensive scheme.
"He gives us insight on the thinking of what they're trying to accomplish on certain plays," Packers safety Morgan Burnett told FOXSports.com. "It really helps us out with our pre-snap communication and recognizing the formations and alignment."
Defensive end Mike Daniels can attest to that. Daniels told FOXSports.com that McCarthy identified two runs in practice where Green Bay's blocking scheme looked identical but the intent was "to manipulate the three-technique by showing a similar looking cut-off block." McCarthy pointed out that the placement of left guard Josh Sitton's knee provided a tip-off to the variance between the plays and where the running back was headed.
"That's something so small yet it's so big," Daniels said. "It's the difference between making a play in the backfield or the running back getting about four to five yards.
"I never would have thought about that. By the time you see it on the field, it's too late."
If he hadn't stepped back from the offensive game-planning, McCarthy said he probably wouldn't have had the time to delve into all-encompassing aspects of the team "in the detail that we're doing." One example McCarthy cited was Green Bay's expanding use of analytics that he believes long-term will help "keep us creative and on the forefront of how you develop this generation of athletes."
McCarthy, though, is quick to point out that his overall philosophy hasn't changed one iota.
"I'm a big believer in getting to become comfortable being uncomfortable," McCarthy said. "It's a great method to grow. Individually, I'm ultimately trying to make my team better."
That leads us to the Seahawks rematch. McCarthy said he addressed the NFC title game last April when players first reported to offseason workouts to make sure the loss didn't linger.
"This is a new opportunity," he said. "What happened in 2014, the 2015 team is not going to bear any responsibility for at all. I'm not going to allow that to happen. They can do whatever they want outside of our locker room, but that's not the way I operate.
"When we play Seattle, there may be some s***-talking on the first play of the game but football is football. We're not going to be thinking about the last time we played them."
McCarthy did take a different approach toward pre-game preparation for Seattle. Normally, McCarthy would dedicate a day in training camp focused solely on getting ready for the season-opener. McCarthy said that because there wasn't "a whole lot of information" on the Bears following their offseason coaching changes, that time was instead spent on the Seahawks.
"Of course, it's tough watching it," Burnett said of the NFC title game. "But there are a lot of good things you can learn from that film, things we did well and can improve on. That's the exciting part about it. That's what it's all about – growth and development."
Nobody knows that better than McCarthy as the Packers try to exorcise the remaining ghosts from last season's Seahawks loss.
"We've had a lot of success," Capers said. "He can probably help us win more by overseeing every area."