Old Hoss previews Pirates-Cardinals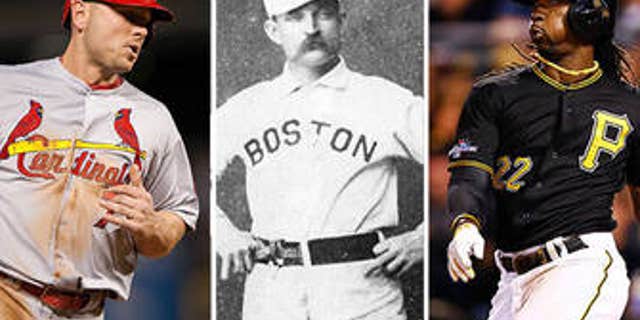 Editor's note: Old Hoss Radbourn might be the best pitcher in baseball history that you have never heard of.
And rightfully so, since he pitched in the late 1800s .
The Hall of Famer put up legendary numbers in his 11-year career, with his best season coming in 1884 when he pitched the last 27 games for the Providence Grays. He won 26 of those outings and then picked up three straight wins in the World Series.
Old Hoss, who won 59 games in 1884 alone, finished his career with an amazing 309-194 record.
Now he's putting up big numbers on Twitter where he weighs in on anything from baseball to the recent government shutdown using the vernacular of his era.
Old Hoss will be breaking down every divisional playoff series for us this October.
Here's his take on the Pirates-Cardinals NLDS.
Offense:
The Cardinals feature a powerful offense and also Pete Kozma.
Hitter that scares me: N/A
The Pirates are led by star slugger Andrew McCutchen. Clint Barmes will serve as the Designated Pete Kozma for the Pirates.
Hitter that scares me: N/A
Pitching:
This is quite difficult for me to evaluate. Between them the two teams have 10 whole complete games. Yes. 10 of 324 games were completed by a starting pitcher. This is an outright embarrassment, the byproduct of mollycoddling and indicative of the Decline and Fall of America. However, it is ungentlemanly to focus on this decided lack of masculinity, and I shall say no more on the subject.
The Pirates have a rather average rotation, led I suppose by Francisco Liriano, the Punxatawney Phil of hurlers, and a tremendous bull-pen, led by a bunch of men who could not cut it as starters.
Hurler who could outpitch me: N/A
The Cardinals are led by ace Adam Wainwright, who led the league with 241.2 inning pitched. If I remember correctly I once did this in a month. How I mourn for those hallowed days, never to return. Reliever Kevin Siegrist has an ERA+ of 808 in 39.2 IP. This is, I believe, a large number.
Hurler who could outpitch me: N/A
Key matchup: The Best Fans in Base Ball versus America
Cardinals fans enjoy their status as the Best Fans in Base Ball. They are the custodians of the game, the keepers of the flame, the proud source of applause for a sacrifice bunt, and by god they want you to know it. The rest of America is rooting for the Pirates.
Local food and drink:
St. Louis: Locals enjoy a dish called "toasted ravioli" -- ravioli that is breaded and deep fried, and represents the afterbirth of the worst that the union of America and Italy could spawn. One of the few things more terrifying than being hunkered down in a ditch listening to the Rebel Yell ululate across the plain is being forced to consume Provel "cheese." Frozen custard is a weakness of mine, especially the absinthe and laudanum flavored varieties.
Pittsburgh: I have no experience with Primanti Bros., though I question the patriotism of anyone who puts French Fries on a fine American sandwich. I have a significant amount of experience with the Iron City Brewing Company and can attest that a few pints of this along with a few sporting lasses will lead to the extinction of your line in a most enjoyable manner. The Heinz Ketchup Company licenses both Weight Watchers and TGI Friday's foods. No one can taste the difference.
Who I would want in a gunfight:
Cardinals: Matt Holliday. Great-grandson of the legendary gunfighter and tuberculosis patient, Matt put up yet another great season despite the fact that a significant portion of the Best Fans in Base Ball seem to loathe him. I suppose averaging 145 OPS+ over the past 4 years doesn't make up for the fact that he took one off the cup against the Dodgers in '09.
Pirates: I have yet to see a seaman worth his salt in a gunfight, truth be told.
Trivia:
At 94-68, the Pirates exceeded their Pythagorean Win-Loss record by 6 games. Pythagoras, however, was not a fan of baseball and frankly resents his name being dragged through the mud.
The Cardinals, on the other hand, underperformed their Pythagorean win-loss, and Pythagoras grudgingly admits that he has no clue why the hell this happened and perhaps his name is better used elsewhere.
Article 11 of the Treaty of Tripoli, an agreement between the United States government and the Bey, or skipper, of the Barbary (now Pittsburgh) Pirates, is a key text used in the discussion of the separation of church and state.
Prediction:
It is truly nice to see post-season base ball in Pittsburgh yet again. Having said that, a team that must place AJ Burnett twice at the quarterdeck is doomed to be scuttled. Cardinals in 4.
For more from Old Hoss Radbourn, be sure to follow him on Twitter . You won't be disappointed.