Odell Beckham: Jarvis Landry is like me, but shiftier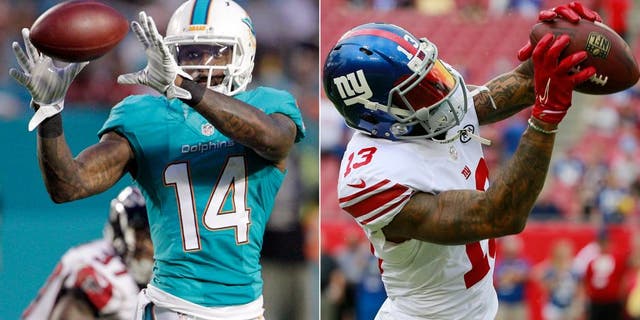 If teammates of New York Giants wide receiver Odell Beckham Jr. think it's difficult to stop him in practice, they've got a serious challenge ahead of them on Monday night when the Giants face the Miami Dolphins. In this matchup, the Giants' defense will line up against wide receiver Jarvis Landry -- the second year slot receiver that Beckham refers to as a shiftier version of himself.
"I think they're going to be seeing a lot of everything that they see from me with him,'' Beckham said of the Giants cornerbacks when speaking of what they'll see from Landry, per the New York Post. "Jarvis and I play very similar. He's got a little more shiftiness to him as far as getting in and out of things. I try to tell them, don't sleep on him.''
Beckham has known Landry for a long time and the two second-year receivers have grown a strong bond. Both players grew up in Louisiana and were eventually college teammates at LSU. Since, they have worked out together in the NFL offseason and stayed in touch.
Landry has racked up 79 receptions for 823 yards and four touchdowns this season. He has also added 14 carries for 105 yards and a touchdown. Landry has already surpassed his rookie season yardage totals, and he is on pace to post career highs in receptions, touchdowns and yards per catch.
The Giants have struggled to defend opposing slot wide receivers all season. Trumaine McBride started the season in the slot, but due to poor play, the Giants have replaced him Trevin Wade at times. Wade has struggled too, but he is currently in place to defend Landry on Monday night. The Giants will want to make sure they focus extra defensive attention on Landry with a safety or linebacker.