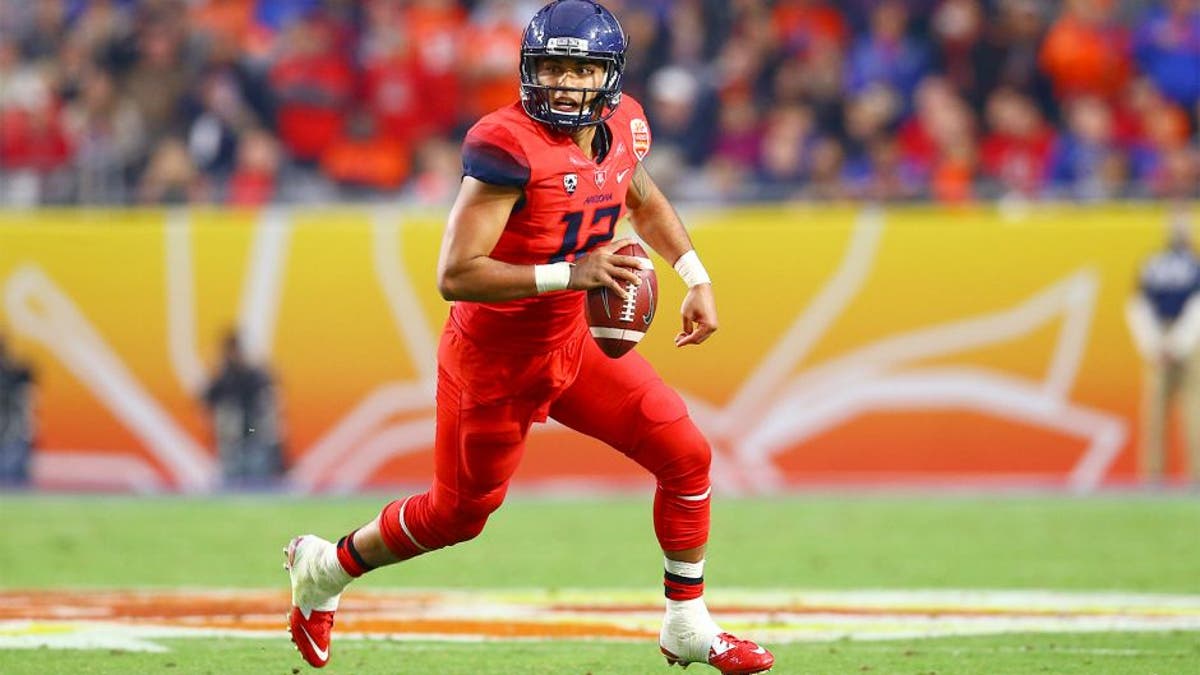 TUCSON, Ariz. -- Arizona has one of the nation's weakest non-conference schedules, a slate that has been likened to the NFL preseason.
The 22nd-ranked Wildcats certainly won't be treating their first three games as practice, particularly Thursday night's game against UTSA.
Arizona is favored by more than four touchdowns and will be playing at home in the heat of the desert, but there's no chance the Wildcats will take the Roadrunners lightly after what happened against them the past two seasons.
"I will never go there. Just look at UTSA, last year it went down to the last play, and the year before that it was a close game at our place," Arizona coach Rich Rodriguez said. "We just look at the first game and what we have to do to win that one, and then after that one we will look at the next game. I have never looked past or forward to any games."
Arizona is expected to dominate. The Wildcats have a starting quarterback (Anu Solomon) back for the first time in four seasons under Rodriguez, some of the most talented skill players in the country and return all-everything linebacker Scooby Wright.
UTSA went 4-8 last season and is undergoing a rebuilding process this year after losing the majority of its starters.
Even so, the Wildcats will not be taking the Roadrunners lightly.
A year ago, Arizona needed a fourth quarter interception to hold off the Roadrunners 26-23 in San Antonio. The 2013 game wasn't quite as close, but the Wildcats didn't exactly have Rodriguez doing cartwheels after winning by two touchdowns at home against a team in just its third season of football.
So between the past two seasons and the inevitable questions that come with the first game of the season, Rodriguez has reason for a little trepidation.
"I do get a little nervous," he said. "I think it is because of all the unknowns and because we have not played a game or we have not judged ourselves against anybody. I think I get more nervous for first game than any game we have all year."
A few more things to look for when Arizona opens the season against UTSA at Arizona Stadium:
SOLOMON RETURNS: Solomon won a four-way battle to be Arizona's starter heading into last season and proved to be the right choice, throwing for nearly 3,800 yards and 28 touchdowns as a freshman. He enters this season with the confidence of having been through it before and with a stronger knowledge of Arizona's system, so Arizona should be off and running from his first snap under center.
SCOOBY'S BACK: Wright was a two-star recruit coming out of high school and last season became one of the nation's best defensive players, earning pretty much every defensive player of the year award there is. The All-American is back for at least one more season in the desert. Expect to see him all over the field again.
UTSA REBUILD: Larry Coker is facing one of the biggest challenges as a coach with this year's UTSA team. The coach who won a national championship with Miami in 2001 has one of the most inexperienced teams in FBS, with just six returning starters.
ARIZONA'S GRIND: While the non-conference schedule is considered easy, Arizona's overall schedule will be a grind. Because of a scheduling quirk, the Wildcats will play 12 straight games without getting a bye week. With no break, Rodriguez and the coaching staff will have to monitor snaps, so the starters might get a lot of rest on Thursday if Arizona gets up big.
ARIZONA'S INJURIES: The Wildcats had a tough preseason in terms of injuries and will have to rely on their depth, particularly early in the season. Carter Wood, the front-runner to start at center, is out for the season with a foot injury and linebacker Cody Ippolito also won't play due to a torn ACL. Tight end Trevor Wood, Carter's brother, also is out with a shoulder injury and the Wildcats will be without receivers Trey Griffey and Tyrell Johnson against UTSA with foot injuries.