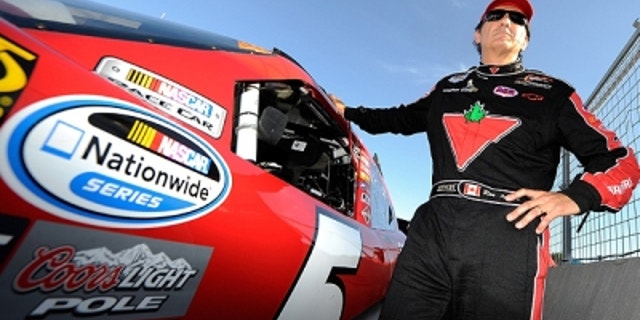 OH, CANADA — As the NASCAR Nationwide Series heads north of the border this weekend, the locale isn't the only aspect of the weekend that will have a Canadian flavor to it. Currently, there are nine drivers from Canada on the entry list vying for a spot in Saturday's NAPA Auto Parts 200 Presented by Dodge at Circuit Gilles Villeneuve in Montreal.
Leading the Canadian contingent at Montreal is former winner Ron Fellows, who won in the series' second trip to the track in 2008. Fellows will be piloting the No. 5 Chevrolet for JR Motorsports.
Canadian drivers also include Patrick Carpentier (No. 99 Toyota), Louis-Phillipe Dumoulin (No. 08 Ford), Kenny Habul (No. 75 Toyota), Daryl Harr (No. 4 Chevrolet), Dexter Stacey (No. 23 Chevrolet), Alex Tagliani (No. 30 Chevrolet), Jacques Villeneuve (No. 22 Dodge) and Derek White (No. 24 Toyota).
Fellows (Toronto) also has more experience in the series than the other Canadian drivers. In 13 seasons, he has competed in 23 races, winning four of them. Besides his win at Montreal in 2008, he has also claimed the checkered flag at Watkins Glen three times (1998, 2000 and 2001).
Carpentier (Joliette) is the next most experienced driver among the nine with 15 starts. Harr (Alberta) and Villeneuve (St. Jean-sur-Richelieu) are next with 10 and eight starts, respectively. Tagliani (Montreal) has made three series starts and Habul (Etobicoke) two. Dumoulin (Trois-Rivieres) and Stacey (Kahnawake) have both made one series start, while this would be White's (Kahnawake) first.
BREAKOUT YEAR FOR ANNETT — Michael Annett's strong second half could propel him into title contention as well as his best career points finish in the NASCAR Nationwide Series.
Annett's best final points standing was last year when he finished ninth on the strength of seven top 10s.
After 21 races in 2012, Annett sits sixth in points standings, 109 points behind first-place Elliott Sadler. He already has eight top-10 finishes.
In the past seven races (beginning at Kentucky on June 29), he has chalked up four top-five and five top-10 finishes. His lowest finish was 11th at New Hampshire and Watkins Glen. His best finish was at Daytona in July, when he placed third. His average finish over that time period is 6.3.
If Annett is to successfully usurp the points lead from Sadler, he would have to continue his stellar performance as of late buoyed by a victory or two. In addition, there are four other drivers he would have to overtake: Justin Allgaier (35 points ahead of Annett), Austin Dillon (80), Sam Hornish Jr. (85) and reigning series champion Ricky Stenhouse Jr. (96).
BOWLES LOOKING TO BEST MARK — Last year in the NAPA Auto Parts 200 Presented by Dodge at Circuit Gilles Villeneuve, Jason Bowles finished a career-best 13th. Bowles, currently in 13th place in the NASCAR Nationwide Series standings, has been trying to eclipse that mark ever since.
Over the past 12 races, he has come close by posting seven finishes between 14th and 17th place. This weekend, Bowles will strap in into the No. 81 American Majority Toyota Camry for MacDonald Motorsports.
Through the first 21 races of the NASCAR Nationwide season, Bowles has posted 11 top-20 finishes with his two best finishes at another road course, Road America, and Daytona International Speedway (both 14th-place performances).
MacDonald Motorsports and owner Randy MacDonald, a native of Oshawa, Ontario, Canada, made their first NASCAR Nationwide start in 1986 at Oxford Plains Speedway in Maine, where they finished 26th. This is the first year Bowles has driven for the long-standing team, which has competed in 279 series races under the MacDonald family banner. Prior to this season, Bowles had five starts in the series for three different teams.
NOTEWORTHY — Kyle Busch and Sam Hornish Jr. will both pull double-duty this weekend by appearing in the NAPA Auto Part Parts 200 Presented By Dodge at Montreal on Saturday and the Pure Michigan 400 at Michigan on Sunday. … Dillon, Timmy Smith, Dexter Stacey and Derek White will all pull double-duty by appearing in both the NASCAR Canadian Tire Series and NASCAR Nationwide Series races. … Also, Alex Tagliani will pull double-duty competing in both the NASCAR Nationwide and GRAND-AM Rolex Sports Car Series races at Montreal with Starworks Motorsport. He was the runner-up in the NASCAR Nationwide race last year. … Danica Patrick will make her 50th NASCAR National Series start (three in NASCAR Sprint Cup, 46 in NASCAR Nationwide). … Blake Koch will attempt to make his 50th NASCAR Nationwide start this weekend.