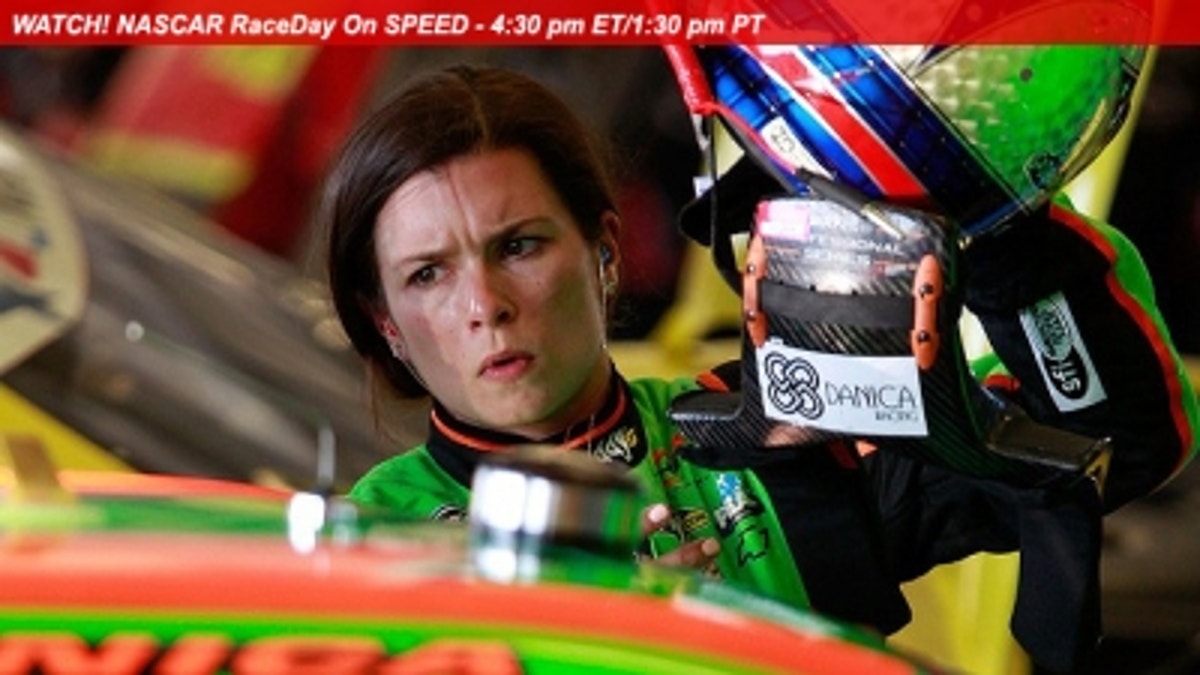 Danica Patrick can handle her own battles whether she's racing against men or women in open wheel or stock cars.
But when NASCAR's GoDaddy girl was dumped on the final lap last week at Road America by Jacques Villeneuve — who was substituting in a Penske Racing Dodge — her JR Motorsports crew chief, Tony Eury Jr., had just about enough.
"I was standing up for her, my team and my company," said Eury Jr., who is partner in JRM. "The last couple of weeks, we've been beat around and beat on; it comes to a point where you get frustrated 'cause you get tired of people driving over your car, whether it's your driver's fault or whether it's just wrong place at the wrong time. At that instance, it's a pretty common deal with (Villeneuve). You would appreciate if NASCAR would step in and do something about it. But I thought someone needed to talk to him in English a little bit.
"All he wanted to say was it wasn't his fault. He said Max (Papis) pushed him in the grass. He said it was Max's fault she spun out. And I said, 'How do you get that? You ran straight into the back of her.' All of us drivers, we all know what happens. He was paying attention to Max and not paying attention to what was happening in front of him."
Villeneuve's actions resulted in knocking Patrick's car — which had run in the top five for most of the race — to a 12th-place finish. Her Sprint Cup boss and three-time NASCAR champion Tony Stewart believes that Villeneuve's actions are nothing new.
"She got run over by a guy that runs two Nationwide races a year and has hit everything but the pace car religiously every race," Stewart said. "Every time everybody gets around that guy they get wrecked, so it doesn't matter whether it's her or anybody else."
Similar to her experience in open wheel, Patrick realizes as she picks up skill and speed she'll become a target for her fellow competitors.
"As we improve every weekend and get better and get faster, you move up the grid a little bit further and you start racing with some cars you haven't really raced with yet," she said. "And you need to feel each other out and know how far you can push each other and find the limits . . . of what each other is willing to put up with.
"I feel that's all that is. It's nothing I haven't dealt with yet. I'm remembering Phoenix at the end of my first year. I'd been getting pushed around and I finally kind of got the go-ahead from Tony to let someone have it. I came down the backstraight and absolutely drilled somebody. And I don't really think anybody messed with me for a little while after that. Every now and again, you have to stand your ground, and it's no different from anybody else. You just got to get used to it; everybody has to get used to it."
Dale Earnhardt Jr. has watched the development of Patrick behind the wheel of his car since Speedweeks at Daytona in 2010. He's watch her confidence grow over the first two partial seasons and now since Patrick has made NASCAR racing her full-time gig.
After Friday night at Kentucky Speedway, where Patrick made her stock car debut on the 1.5-mile track, she was up to just 40 career Nationwide starts.
Junior has witnessed Patrick being hazed by other drivers. But he doesn't feel that the behavior is unique to her. For years, racers have tested the competition to see how much intimidation one will accept. And on the track there aren't different cars for males and females.
In many incidences, Junior believes Patrick "is considered one of the guys to certain people."
"Some people she either has a history with or some guys don't respect anybody no matter what their gender," Earnhardt said. "Everybody sort of goes through that. You could say Joey Logano went through that a little bit, where he had to sort of put his foot down with guys shoving him around the race track. I probably went through that a little bit in my career at times.
"Every guy has to stand up for themselves at some point and not just take notice of that individual they are in confrontation with, but really set the tone throughout the entire garage that they won't put up with it from anybody. Me personally, when I first started hanging out with her and got to know her even before I raced with her, I knew she wasn't the kind of person you run around pushing buttons with. Some guys don't see it that way, I guess, and push her around on the race track. She will just have to settle that however she wants."
Junior knows there's a specific way to handle rifts on the race track. He suggested not lowering yourself to the level of the instigator by wrecking others for sport or making "yourself look like an idiot" in the process.
Still, Earnhardt is pleased with his driver's progress.
"I think she does a great job," Earnhardt said. "I feel like just being around her in the garage and talking to her as a racer, she doesn't come across to me as a pushover, and I don't see her that way on the race track. She's already sort of put her foot out a few times with (Sam) Hornish and couple of guys, so she's not afraid to do it.
"She was really fast (at Road America). I was impressed with her speed in that race. She was running right in the middle of a bunch of ringers that I can't even keep up with on the road courses. So I'm excited to see her when she comes into the Cup circuit and goes to Watkins Glen and places like that. I think she can compete on any level at the road courses because of her background, so that was cool to see."
HAPPY HARVICK
Last week at the Raceway at Sonoma, Kevin Harvick didn't seem pleased at all with the performance of his crew.
After running out of gas for the fifth time this season, Harvick said over the radio, "We're all going to get fired because we can't finish a (expletive) race."
Harvick did finish the Toyota/Save Mart 350 in 16th. Harvick remains sixth in the standings, where he's been for the past three weeks. However, it was clear by Harvick's tone of voice that he expected his team to pick it up. The team has been plagued by a multitude of mistakes this season, and Harvick has yet to win a race this season.
On Tuesday, Harvick met with team owner Richard Childress and his crew chief Shane Wilson to discuss the game plan going forward.
"It's mistakes from top to bottom," Harvick said. "There is nothing to hide. The cars run fast enough to win races. The cars run fast enough to be in the top 10, and until the mistakes stop . . . stuff can't fall off the car, you can't run out of gas for the fifth time this year. It's just flat-out mistakes, and those guys know that. I know that.
"We talked about it very openly this week. This isn't something that I'm getting defensive about or anything. It's very obvious as to why this team hasn't won a race. We are fortunate to be in the position that we are in points, but we can't scramble. You can't win a championship and you can't win races on a week-to-week basis making the mistakes that we've made."
Entering Homestead last year, Harvick requested a complete crew change. For the second consecutive season, the No. 29 team finished third. After restructuring the team, Harvick appeared poised to run for the 2012 title. But the team seems to be off just slightly every week.
"You just cannot do the things that we've been doing and expect to win races in this garage," Harvick added. "Everybody has to step up, myself included. On the way home and Monday you've got to figure out how you can lead and try to help fix the situation.
"That was the attitude that I went in Tuesday with was to try to help Richard analyze and help Shane analyze as to what he needed to do better to help his guys and my guys be better people on a week-to-week basis."
Now that Harvick doesn't have his own organization to contend with, it's clear he's going to exercise some of his leadership skills as the driver of his Sprint Cup team.
"They all can do the job," Harvick said. "It's just a matter of crossing the T's and dotting the I's that is what it takes to win races in this garage. It's tough enough to win, but when you are making the mistakes that we make, it's impossible."
LIKE FATHER LIKE SON?
Matt Kenseth will race against son Ross in the Slinger (Wisc.) Nationals on Sunday night.
But other than helping his 19-year-old son get seat time in late models through the family-owned Generation 3 Motorsports, Kenseth says Ross' future in racing did not enter into his decision with his new team.
"None at all," Kenseth said. "That didn't have anything to do with it, and I didn't spend any time thinking about that, to be honest with you. I had enough going on trying to figure out my deal. Ross' progression, I would say 95 percent or more of that is up to him.
"I got him in some late-model cars and doing that stuff, and he has been working really hard at it just like any other driver, and I think he has to figure out how to be successful at what he is doing and how to get in somewhere to get that next step."
The younger Kenseth is a student at Clemson University. On the racetrack, he's shown tremendous promise. A while back, he tested for Roush Fenway Racing. However, with his father likely driving for Joe Gibbs Racing and that company's tremendous farm system, perhaps there could be a place for the teenager down the road.
NUMBERS GAME
60: Races since Jimmie Johnson won his last pole. His speed was 181.818 mph.
143: Degrees, the track temperature before qualifying started at Kentucky Speedway
100: Degrees, the track temperature in the middle of qualifying after the cold front blew through
SAY WHAT?
Carl Edwards on Roush Fenway Racing teammate Matt Kenseth's decision to leave:
"Matt has been a great teammate," Edwards said. "It took us a long time to figure out one another, and I felt that over the last few years he has been as close of a friend in the garage as anyone. I have a ton of respect for Matt. He is a heck of a man and a great race car driver. He has been a huge part of developing things on our team. He does a really good job of testing and relaying information to make our cars better, so there is definitely a huge loss for us and a gain for whoever ends up with Matt as a driver."