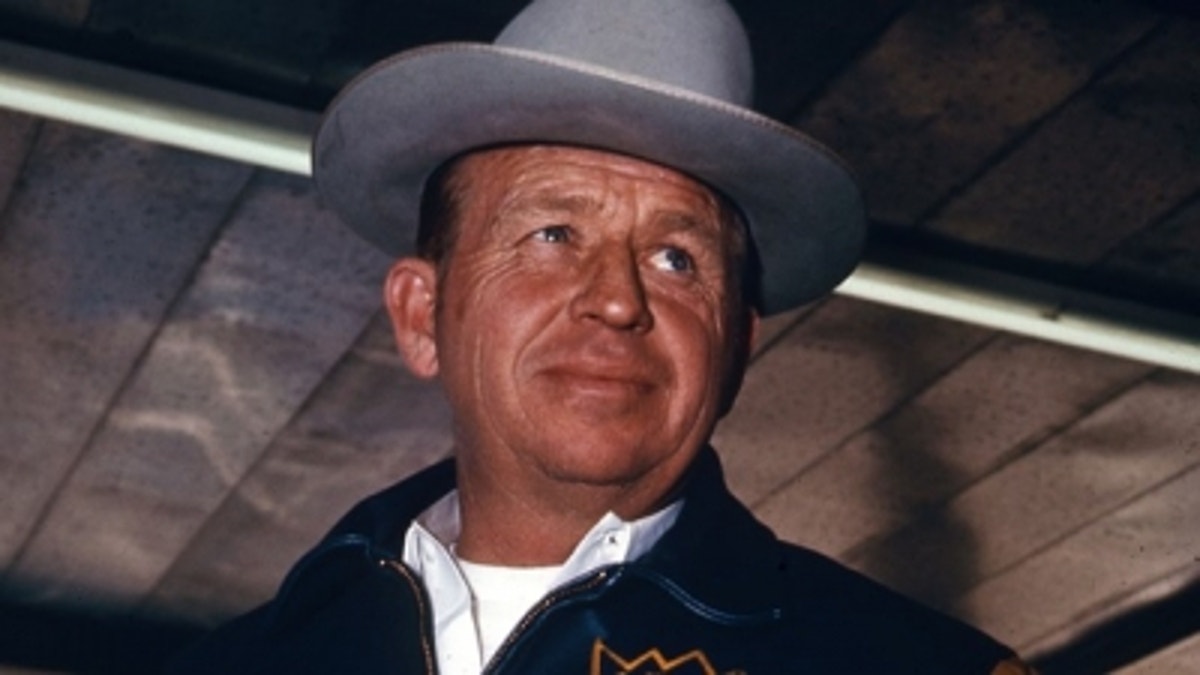 Everett "Cotton" Owens touched virtually every era in NASCAR history, including the barnstorming early days when auto racing was barely policed and largely resembled a traveling circus.
He drove winning race cars. He built winning race cars. He raced to championships and he designed safety innovations.
On Wednesday, Owens' career, one that spanned virtually a half-century on the high ground of stock car racing, was honored by being named to the NASCAR Hall of Fame.
Owens will be inducted into the hall next February, along with Rusty Wallace, Leonard Wood, Buck Baker and Herb Thomas.
Owens, 88, has been battling lung cancer for several years and was not at Wednesday's announcement at the Charlotte Convention Center.
He was represented by grandchildren Brandon Davis, Kyle Davis, Ryan Owens and Cari Spanton.
Owens watched the announcement on television at his home in Spartanburg, S.C., where family members said he was ecstatic about the news.
"He's our hero," said Brandon Davis, who, like his brother and cousin, briefly drove dirt-track cars for their grandfather. "His statistics may not shine, but we believe he's one of the best ever in the sport. He prided himself on the fact that he could build cars, drive them, work on them. He did it all.
"There aren't a lot of folks who can say that, who were successful in all phases."
Although he had been retired from racing for several years, Owens unpacked the wrenches in the 1990s to build dirt cars for his grandsons.
"He could go through an engine," Davis said. "It was like watching a dancer. He could go through the valves, the carburetor, even put together an old hemi recently. He never forgot."
None of the grandsons followed Owens into racing. Their time on dirt was mostly a recreational exercise that carried the Owens family racing connections into another generation.
"We got to race for him," Kyle Davis said. "We got to see how amazing he was. He could set up a car and diagnose it."
With his selection for the hall, Owens joins fellow Spartanburg residents David Pearson, who drove Owens-built Dodges to a Sprint Cup championship, and Bud Moore, a life-long Owens friend who raced him on the streets of Spartanburg before they both left town to serve in World War II.
"We got along well, we really did," Pearson said of his successful years driving for Owens. "I enjoyed working with him and driving for him. He never did do like some of the drivers say the owners do and try to tell them how to drive and all that. He never said a word to me about what to do or how to drive.
"I drove it just the way I thought I could drive it, and he was satisfied with it. Like I say, we got along good. At motels at night, we would wrestle. We'd do all kinds of stuff. He wasn't like a bossman or nothing like that. He was just like a friend, and we enjoyed doing what we were doing together.
"Cotton did all the work. He'd build motors; he'd build cars. … He did real well in everything he did. A lot of people don't know he drove, took the cars to the race track, he built it, he's done it all. He won a bunch of modified races, and he won races as a car owner. He did a lot of stuff himself getting the car ready, things a
lot of people hadn't done. Anybody that deserves going into the Hall of Fame, he definitely needs to."
Owens won so often in the pioneering days of the old Modified series in the 1940s and 1950s that he became known as the "king of the modifieds." He eventually moved on to Grand National (now Sprint Cup) racing, where he won nine times, but he also continued to race occasionally in modifieds.
He won on the old Daytona beach-road course, scoring Pontiac's first NASCAR victory there. He finished second to Cup champion Lee Petty, who also is in the hall of fame, in 1959.
In the 1960s, Owens changed hats to become a car owner, signing a deal with Chrysler and hiring Pearson as his driver. Pearson finished third in points in the 1964 season, won twice in a shortened season in 1965 and then scored the championship in 1966.
In 1970, Buddy Baker drove an Owens-prepared Dodge Daytona to a speed of 200.447 miles per hour in a tire test at Talladega Superspeedway, marking the first official NASCAR lap over 200 mph, an accomplishment Owens later said was as meaningful to him as his championship.
Owens raced full-time several more seasons before Chrysler trimmed its Cup roster.
He ended his Cup career in 1982 after building cars for country music singer Marty Robbins, a close Owens friend who treated NASCAR as a hobby and raced sporadically.
Mike Hembree is NASCAR Editor for SPEED.com and has been covering motorsports for 30 years. He is a six-time winner of the National Motorsports Press Association Writer of the Year Award.