Neymar's two goals help boost Barcelona over Atlético Madrid in Copa del Rey tournament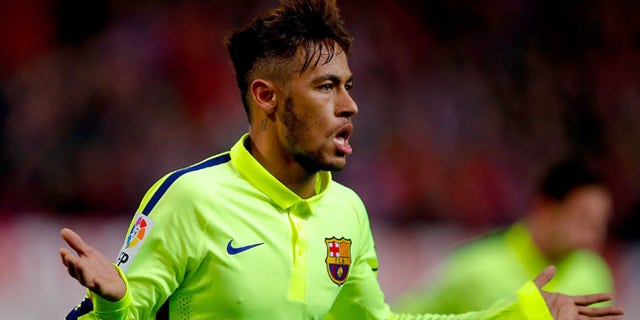 Neymar scored twice, and Barcelona won 3-2 at Atlético Madrid on Wednesday night to reach the Copa del Rey semifinals on 4-2 aggregate.
Barcelona will play Villarreal or Getafe, who play Thursday following the Yellow Submarine's 1-0 win in the first leg. Espanyol goes to Sevilla ahead 3-1, and Athletic Bilbao hosts Malaga after a scoreless opening leg in the home-and-home, total-goals series
Atlético finished two men short after Gabi Fernández (end of first half) and Mario Suárez (84th minute) received their second yellow cards.
Fernando Torres put Atletico ahead 39 seconds in, but Lionel Messi started a counterattack that led to Neymar's goal in the ninth minute.
Raúl García converted a penalty kick in the 30th minute after referee Jesus Gil Manzano ruled Javier Mascherano fouled Juanfran Torres inside the penalty area — replays show the foul to be outside.
Miranda's own goal in the 38th tied it when he directed Sergio Busquet's off-target header into his own net. Neymar scored again in the 41st after Antoine Griezmann volleyed Guilherme Siqueira's cross into Jordi Alba's arm, but no hand ball was called. Messi led a counterattack and crossed to Alba, who knocked the ball down for Neymar to score.
Like us on Facebook
Follow us on Twitter & Instagram