New York Knicks Land Carmelo Anthony Ending "Melo-Drama"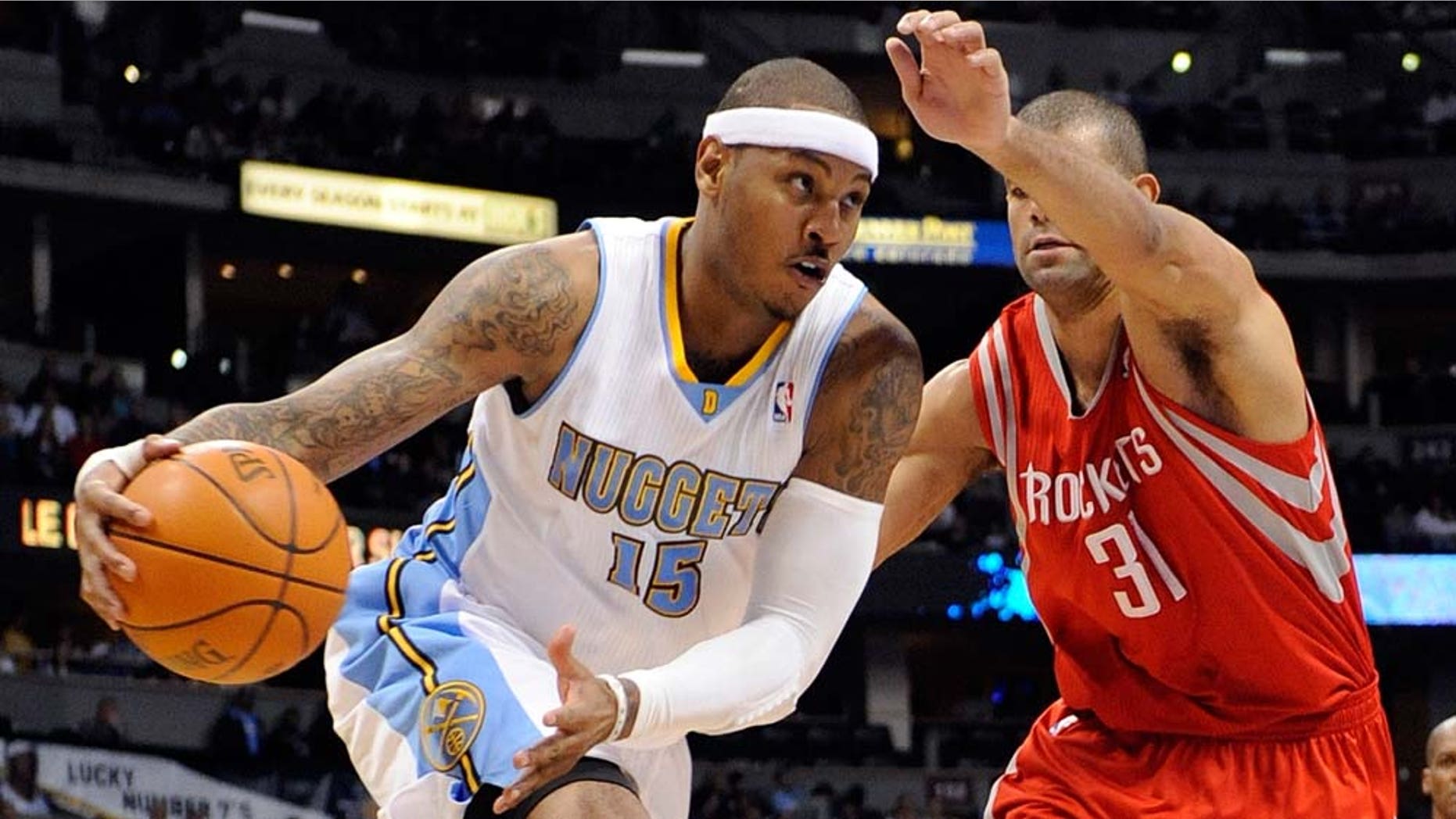 The New York Knicks have landed Denver Nuggets All Star Forward Carmelo Anthony in a blockbuster deal that gives the franchise their second superstar, alongside Amare Stoudemire, putting an end to the year long Melo-Drama.
The deal, first reported by the Denver Post on Monday, is set to be finalized Tuesday during a conference call with the NBA office according to a source who spoke on the condition of anonymity.
The Knicks would send Wilson Chandler, Raymond Felton, Danilo Fallinari, Timofey Mozgov, and a 2014 first-round draft pick to the Nuggets, who would get additional picks and cash.
Along with Anthony, New York would acquire Chauncey Billups, Shelden Williams, Anthony Carter, and Renaldo Balkman, according to the Post.
ESPN's Chris Broussard reports the swap is a three team deal including the Minnesota Timberwolves which would acquire Eddy Curry and Anthony Randolph from the Knicks for Corey Brewer.
The deal arguably makes the Knicks, who would hope Anthony could be in uniform Wednesday when they host the Milwaukee Bucks, a more legitimate contender in a stacked Eastern Conference with the Boston Celtics, Miami Heat, and Chicago Bulls.
Especially the rivalry between the Heat and the Knicks which is sure to produce some dramatic flare to for the next few years that could rival the 90's battles between both teams.
Anthony is best friends with Heat superstars Lebron James and Dwayne Wade and they will have their first chance to enhance their relationship in a nationally televised rivalry game against the Heat on Sunday night at 8pm in Miami.
The New Jersey Nets, however, have been left out in the cold.  According to the New York Post, the Nets were looking to send two first-round draft picks to Denver and deal Devin Harris to Dallas in order to receive Mozgov and Felton from the Nuggets plus a first-round pick from the Mavericks.
That didn't happen and the NBA trade deadline is fast approaching on Thursday.
As for the Denver Nuggets, Coach George Karl has mixed emotions.
"All trades for coaches are sad, there's happy and sad. I'm glad it's over, I'm glad it's an opportunity to reinvent," Karl said as he got into his SUV outside the Pepsi Center on Monday night. "I think everybody handled it as classy as you can handle it. There's some sadness to it, there always will be. In the same, it's time to move on, reinvent."
The Nuggets have explored an Anthony trade since he refused to sign the three-year contract extension worth nearly $65 million they offered him last summer. They appeared on the verge of sending him to the Nets on multiple occasions, but the Knicks increased their offer enough to land Anthony, who was believed to prefer New York all along.
"I think Chauncey will go down as one of the greatest winners," Karl said. "His record of seven or eight conference finals is, I mean, that's incredible. I think that's who he is, that's what he stands for. He brought one of them to us. Last year we had a miserable ending. I think there's many people, including myself, that will be sad for Chauncey. I know he loves Denver and we love him, but things happen. There's decisions that have to be made. "
"I'm 100 percent behind the decision we made, even though it will be dangerous and there won't be the veteran point guard back there," Karl added. "Felton, I thought was having a great season this year. But I think Ty (Lawson) and Felton are going to have a great challenge to live up to what Chauncey has given us in past years." Asked who his starting point guard would be, Karl said, "Probably Ty," then got into his maroon SUV and drove away.
The Associated Press contributed to this report.
Follow us on twitter.com/foxnewslatino
Like us at facebook.com/foxnewslatino