New York Knicks & Carmelo Anthony Could Let Pacers Take Control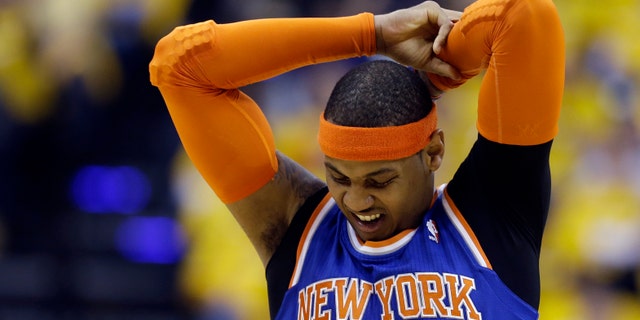 The Indiana Pacers have all the momentum, and the new York Knicks know it.
After blowing a chance to take command of the Eastern Conference semifinals in Game 2, the Pacers rebounded for an 11-point win in Game 3 and have another opportunity to take command of this best-of-seven series by beating New York at home Tuesday night in Game 4.
"We should approach this game the same way that they're going to approach it, and that's a must-win," Pacers swingman Paul George said Monday. "We've got to get this game. We've got to get this game under our belt, take care of our home court. That'll just set us up to take care of business on the road."
The Pacers couldn't have created a better blueprint.
Only two teams -- Indiana and Memphis -- started the week with perfect home playoff records. Indiana has won its four games by an average of 16.5 points and Memphis headed into Monday night's game with a 13-point victory margin at home. As for the Knicks, well, they're 0-3 at Bankers Life Fieldhouse this season.
Indiana also finished the regular season as the NBA's best rebounding team and has been even more dominant in the playoffs, something New York has learned the hard way. The Knicks have been beaten up on the glass in both losses and were outscored 20-10 on second-chance points Saturday night.
If the Pacers do that again in Game 4, the second-seeded Knicks probably will go home facing a 3-1 deficit in the best-of-seven series Eastern Conference semifinals.
"We don't want to get relaxed. We don't want to feel happy or complacent," George said. "We've got to come out and play, again, the same way that they're going to approach the game, and that's just with a lot of energy. We have to match their energy but still play our style of basketball."
Lately, New York has looked downright anemic offensively and it doesn't appear their bench is getting much better, literally.
Guard J.R. Smith, the NBA's top sixth man, actually increased his shooting percentage playing just hours after spiking a 102-degree fever Saturday morning. He missed practice Sunday and Monday, but has promised to be ready Tuesday night. Forward Kenyon Martin, who has been defending Indiana's big men, woke up feeling ill Sunday. He, too, has missed the last two practices. Both players are listed as questionable.
On Tuesday, guard Iman Shumpert joined the list of ailing players, sitting out with a sore left knee. Coach Mike Woodson said he is probable for Game 4.
NBA scoring champion Carmelo Anthony and Smith are a combined 40 of 112 from the field against Indiana, and Anthony is trying to rebound from a dismal fourth quarter in which he had no baskets and only two points.
And New York has to break out of this funk against one of the NBA's stingiest defenses by winning on the road.
Could it get any worse for the Knicks?
"I wouldn't want to go back home down 3-1, so Tuesday's a pivotal game for us," Woodson said. "I have to get these guys pumped up and ready to go."
Things sound promising.
Following the latest loss, Anthony told reporters things would be different in Tuesday's rematch. When the Knicks returned to practice Sunday, they looked and sounded like a team that was more interested in staying composed than getting angry.
"There can't just be one or two guys out there," center Tyson Chandler said. "It has to be an entire time and that's where we're falling short right now."
The Pacers might have even more to prove, though.
After starting the season with visions of reaching at least the conference finals, they are now just two wins away from achieving that goal. A year ago, they were in exactly the same spot -- up 2-1 with Game 4 at home.
But Miami won the next three games, knocking the Pacers out of the playoffs and teaching them a valuable lesson.
"It shows that a 2-1 lead means nothing," Pacers guard George Hill said. "A team can make miracle plays and miracle games. So, we felt like this before last year up 2-1 and really kind of let our guard down in Game 4 and gave them back that momentum and they kicked us out the playoffs because of that. We just have to come into Game 4 with that same energy and effort, just like we're down 2-1 with our backs against the wall."
Based on reporting by The Associated Press.
Follow us on twitter.com/foxnewslatino
Like us at facebook.com/foxnewslatino