New York Jets Blow Triumphant Comeback in OT Loss to New England Patriots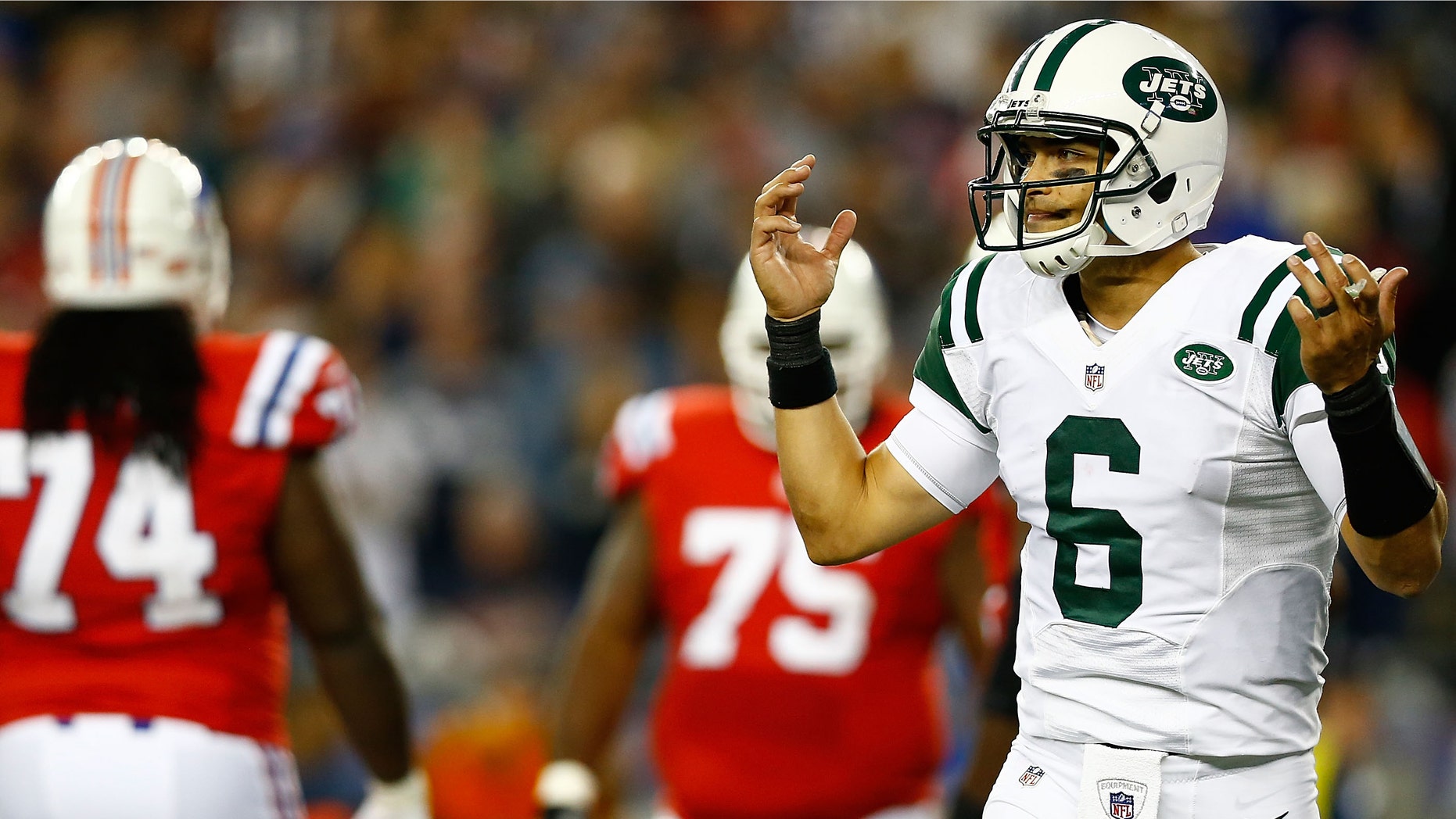 FOXBOROUGH, Mass. – New York Jets fans were once again left scratching their heads after the team's overtime loss to the New England Patriots on Sunday.
Mark Sanchez threw for a season-high 328 yards and had some good moments. It was the plays that gained nothing that had a bigger impact.
The New York Jets quarterback deliberately kicked Shonn Greene's fumble out of the end zone for a safety. His long pass to an open Stephen Hill near the New England Patriots' end zone fell short and was intercepted.
Hill later dropped a critical throw. And the game ended Sunday — a 29-26 defeat — when Sanchez lost the ball while being sacked, and Rob Ninkovich recovered in overtime.
"It stings," Sanchez said. "I was feeling good (in overtime). We had driven the ball down those last few drives. ... I thought our plays were really working."
The Patriots (4-3) moved into sole possession of first place in the AFC East. The day started with all four teams tied at 3-3, but the Jets (3-4) and the Buffalo Bills lost, while the Miami Dolphins were idle.
"This is a tough place to play, a tough opponent to play," Jets coach Rex Ryan said. "We had our opportunities, but didn't get it done."
Trailing 23-20, Sanchez threw a good pass to Hill that would have given the Jets a first down inside the Patriots 20-yard line with just over two minutes left. But Hill dropped it and New York settled for a 43-yard, tying field goal by Nick Folk.
"I think he was trying to make a big play," Ryan said. "You've got to catch the ball first, then worry about making the run."
Tim Tebow, who played sparingly, said, "Mark had some great throws and really had things going. Even on that last drive, before the sack and fumble, I thought things were going pretty well."
The Jets rallied from a 23-13 deficit in the last six minutes of the fourth quarter on a 7-yard touchdown pass from Sanchez to Dustin Keller and Folk's third and fourth field goals.
But Brady marched the Patriots downfield after starting at his 21-yard line to put Gostkowski in position to force overtime.
Brady completed 26 of 42 passes for 259 yards and two touchdowns to Rob Gronkowski. Sanchez was 28 for 41 with one touchdown.
Trailing 7-0 after Greene's 1-yard touchdown run, the Patriots scored on the next play when McCourty returned a kickoff 104 yards for a touchdown.
Then the offense came through on Brady's 17-yard scoring pass to Gronkowski. And the defense followed with a safety two minutes into the second quarter.
The Jets nearly reached the other end zone midway through the second quarter when Hill got open on the right side, but Sanchez underthrew him and Alfonzo Dennard intercepted at the Patriots 2.
Folk kicked a 54-yard field goal with 2 seconds left in the first half and a 21-yarder on the first series of the third quarter.
Brady then threw a 2-yard scoring pass to Gronkowski for a 23-13 lead late in the third quarter.
"We did a good job of it when we needed to," Brady said. "It's nice to pull out a close one."
Based on reporting by the Associated Press.
Follow us on twitter.com/foxnewslatino
Like us at facebook.com/foxnewslatino