NBA Round-Up: All-Star Weekend, Marc Gasol & Carmelo Anthony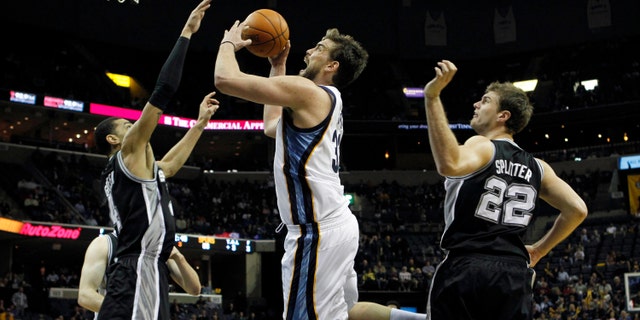 Grizzlies Star Shines On Special Night

Over 400 players make up the NBA rosters but only 24 make it to the All-Star game to represent the Eastern and Western Conferences.
While the stars show off their moves on the court with thunderous dunks and flashy passes, Marc Gasol had his special moment on Sunday night.

Mistaken by the public address announcer for Minnesota's Kevin Love, who just happens to be as tall as Gasol and sports a beard as well, Gasol, the kid he is, laughed at the Amway Center's PA announcer's mishap.

Gasol scored four points and shot 2 of 5 from the field in 14 minutes. He grabbed three rebounds.

Gasol said he enjoyed every minute of his first All-Star weekend, the lone representative of the Grizzlies.

It's been a career season for the Memphis big man who has had to assume more responsibility inside the paint especially with Zack Randolph being out of action with a knee injury since New Year's Day.

"From the time that I got in Thursday night to now, to tomorrow morning when I leave, it's going to be a great four to five days that I'm really going to have in the back of my head forever," Gasol said.
Anthony & Knicks Look Toward The Second Half
It was almost a year ago that Carmelo Anthony spent his All-Star weekend answering questions about whether or not he was going to stay in Denver.
Carmelo Anthony's first All-Star appearance as a Knicks player was spent answering questions about whether or not he can co-exist with Jeremy Lin.
Anthony wasn't too shabby as he posted 19 points and nine rebounds in the 30 minutes for the East, who rallied but fell short to the West.
"It definitely was fun. Especially toward the end, the way we came back. We had a chance to take the lead, a chance to win the game. But that's what makes All-Star Games the way it is. It was a great way to just cap off the weekend," Anthony said.
The next few days will be important for the Knicks and Anthony to gel and come together as a team. Practice time has been limited because of the condensed schedule but the Knicks will have some time within the next few days to sort of have a mini-training camp and really go over the playbook and get everyone accustomed to each other.
The point guard position was a revolving door until Lin stepped in and solidified it. Lin, Anthony and Amar'e Stoudemire have only played a handful of games together and J.R. Smith and Baron Davis are new to the mix.
Their first game won't be until Wednesday when they host Cleveland and then play at Boston on Sunday.
"We haven't had any time to get the details down. Every week, somebody's injured, we're bringing somebody in or we're bringing guys back. So these next two weeks are very important, for us to get our chemistry down pat, to talk about what we need to talk about. Put everything out there on the table and go from there," the Knicks star forward said.
New York is 1-2 since Anthony's return.
"I think we have to figure out our identity as a team, what kind of team we want to be. I think before Jeremy stepped up to the plate, we were a different team," Anthony said. When he stepped up to the plate, we definitely became a different team. And now, having different guys and different situations, we have to identify ourselves, really figure out what's our identity. And once we do that, everything will fall into place."
Rubio Sets Record
Aside from the no-look, behind-the-back and all sort of passes that you can think of when it comes to Ricky Rubio, the youngster set a Guinness World record for most shots made behind the backboard.
Rubio hit 18 shots in less than a minute after the members of the teams that participated in Friday night's Rising Challenge practiced at the Orange County Convention Center on that morning.
76ers guard Evan Turner briefly held the record after making 16 shots but lost it 30 minutes later.
Rubio shot 5 of 9 from the field and scored 12 points while dishing out seven assists as a member of Team Shaq, which lost to Team Chuck 146-133.
Adry Torres, who has covered MLB, NFL, NBA and NCAA basketball games and related events, is a regular contributor to Fox News Latino. He can be reached at elpiloto137@gmail.com or follow him on Twitter: @adrytorresnyc.
Follow us on twitter.com/foxnewslatino
Like us at facebook.com/foxnewslatino