NBA Commissioner Adam Silver to discuss Sterling investigation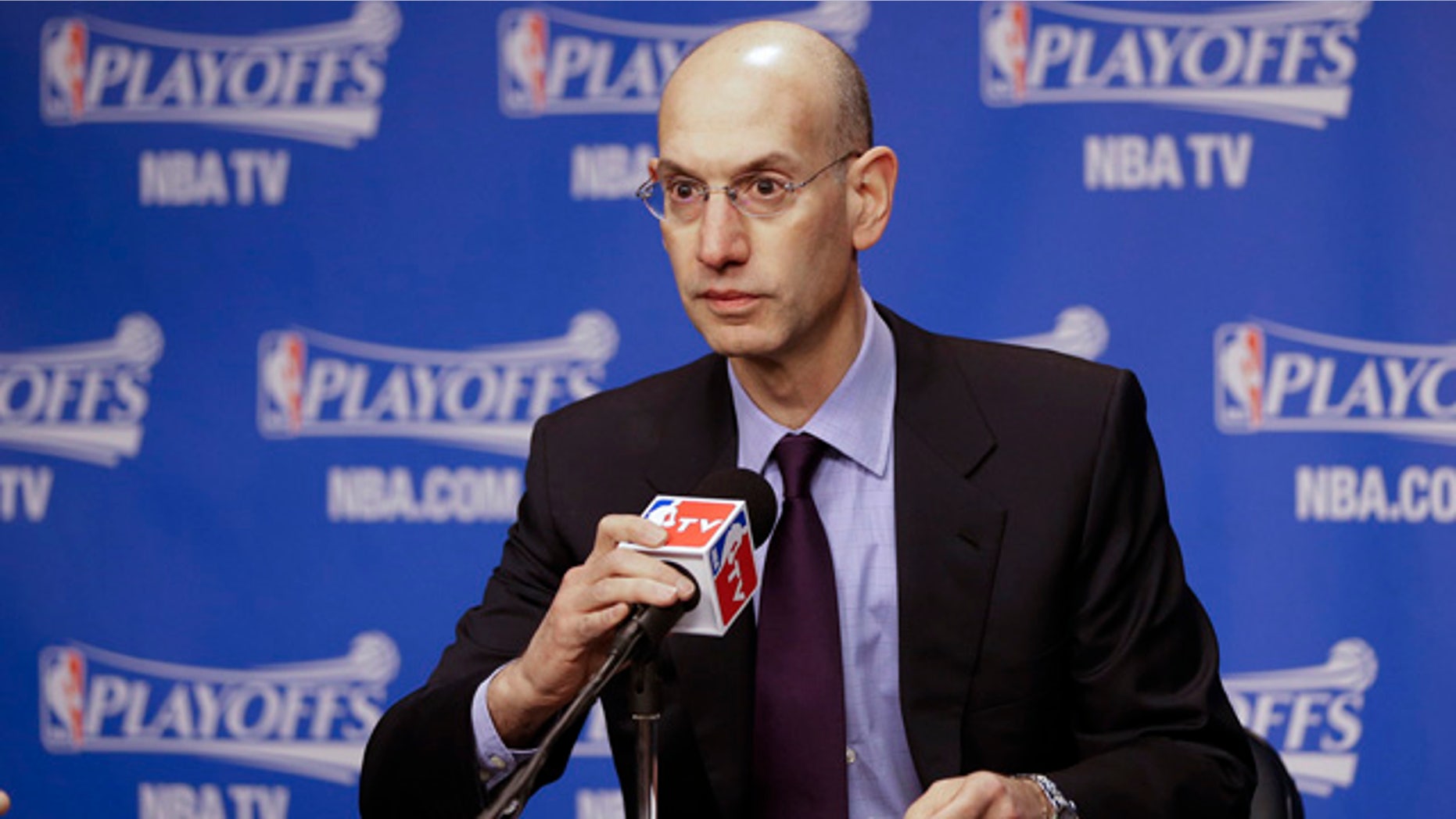 NBA Commissioner Adam Silver will discuss the league's investigation into alleged racist remarks by Los Angeles Clippers owner Donald Sterling Tuesday, with speculation rampant that the 80-year-old owner would be suspended and fined by the league that he has been a part of for 33 years.
Silver's press conference will be held hours before the Clippers take the court for Game 5 of their Western Conference quarterfinal series against the Golden State Warriors. The best-of-7 series is tied at two games apiece. Prior to Sunday's Game 4, their first since TMZ posted audio of a man purported to be Sterling telling his girlfriend that he didn't want her bringing black people to "my games," Clippers players threw their team-issued warm-up gear down on center court and conducted their pregame routines with shooting shirts inside-out to cover the team's logo.
The Portland Trail Blazers and San Antonio Spurs have worn black socks in their games as a show of support, while the Miami Heat mimicked the Clippers warm-up statement in their playoff game against Charlotte on Monday night.
"Like I've said before, there's no room in this game for an owner like that," Heat star LeBron James said. "For us, as basketball players, we're all brothers. We're competing against each other and all of us want to win, but in the end, we all have to stick together. We supported our Clippers tonight and showed our respect to what they're going through. For us, as a team, we can't imagine what they're going through at this point."
Kobe Bryant and TNT analyst Kenny Smith are among the many to join James in calling for Sterling's ouster and Jordan took a rare public stance on a high-profile issue when he said he was "disgusted that a fellow team owner could hold such sickening and offensive views."
"We're more than basketball players," Wizards guard Garrett Temple said. "We're human beings, first and foremost, and when you hear something like that, it's very unfortunate that whoever that is talking feels that way, and I don't think there's any place in this game or in the world, for that matter, for thoughts like that."
So when Silver, who succeeded David Stern as NBA Commissioner in February, makes his announcement in New York, he will do so feeling considerable public pressure from some of the biggest names in the game, past and present, many of the league's owners who pay his salary and have spoken out against Sterling's comments, and corporate sponsors like Kia, Mercedes-Benz and Virgin America that are backing away from advertising at Clippers games.
If Silver's reaction is not perceived as strong enough, more demonstrations from players, protests from civil rights groups and pulled advertisements from businesses could follow.
On Monday, used car giant CarMax ended its relationship with the team after nine years.
"CarMax finds the statements attributed to the Clippers' owner completely unacceptable," company spokeswoman Catherine Gryp said. "These views directly conflict with CarMax's culture of respect for all individuals."
"The opportunity before Commissioner Silver to take an uncompromising stand against any form of prejudice in the NBA is unprecedented in the league," said Marc H. Morial, the president and CEO of the National Urban League.
The NAACP wants a meeting with Silver to discuss the incident.
The announcement was made Tuesday morning by Roslyn M. Brock, the chair of the NAACP National Board of Directors. She says the NAACP wants to talk to Silver about what it calls, quote, "the influence and impact of racism in the National Basketball Association."
This comes as the organization's Los Angeles chapter withdrew its decision to give Sterling a lifetime achievement award, and returned money he donated. Brock says the situation reminds us "racism and bigotry are still alive and well in all corners of society."
Former NBA star and Sacramento Mayor Kevin Johnson, who is serving as an adviser to the National Basketball Players Association while the Sterling matter plays out, posted a message on Twitter early Tuesday saying, "We're at a defining moment in the history of the National Basketball Association."
Johnson called for an indefinite suspension, the appointment of an executive or family member to run the team, and "the maximum fine possible."
"We may not have the power to force Mr. Sterling to sell his team, but make no mistake, we believe that Mr. Sterling should no longer have the privilege of being an owner of an NBA team," Johnson wrote. "After all, how can we expect any player (the majority of whom are African-American) to want to work for him?"
When Silver last spoke on Saturday, he promised the league would "move extraordinarily quickly in our investigation."
"It needs to be handled in the right way," Clippers coach Doc Rivers said. "I don't even know what the right way is. I have a hunch. But I don't know."
Suspensions and fines are two options, but removing Sterling as the owner of the Clippers would appear to be a long shot and would almost certainly bring a lengthy and bitter legal challenge. It could also cause concern among some owners about where the line would be drawn.
"What Donald said was wrong. It was abhorrent," Dallas Mavericks owner Mark Cuban said. "There's no place for racism in the NBA, any business I'm associated with. But at the same time, that's a decision I make. I think you've got to be very, very careful when you start making blanket statements about what people say and think, as opposed to what they do. It's a very, very slippery slope."
At the same time, the attention Sterling's alleged comments have brought to the league are not only affecting the Clippers, but the league as a whole.
Losing sponsors could potentially impact bottom lines across the league because of revenue sharing and Basketball Related Income, or BRI. And the story itself has overshadowed what has been a thrilling first round of playoffs.
"This is the time of the year as players we all love," Heat guard Dwyane Wade said. "It's the playoffs and you need to play this game with free minds and open hearts and they're not able to do that right now. So it's a very difficult situation for them to be in being right in the mix of it, something we are all affected by as players."
This is not the first time Sterling, who has owned the Clippers since 1981, has been embroiled in controversy.
In 2009, he was fined over $2.7 million by the U.S. Justice Department to settle allegations he discriminated against African-Americans, Hispanics and families with children at apartment buildings he controls in Los Angeles.
Two years later, Sterling won a lawsuit filed by former Clippers general manager Elgin Baylor, who accused the team of firing him based on his age.
Sterling also previously reached a settlement with a former employee who accused him of sexual harassment.
The Associated Press contributed to this report.