Nate Diaz taunts Conor McGregor after recent comments about trilogy fight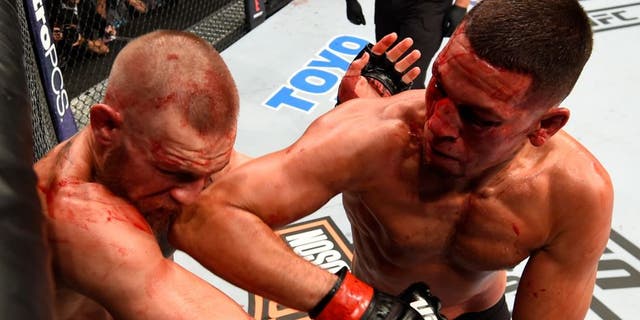 Nate Diaz and Conor McGregor have vastly different takes when it comes to the outcome of their rematch from August at UFC 202.
McGregor was recently asked during a fan Q&A on Facebook about a possible trilogy fight and he intimated that Diaz took so much damage in their second bout that it probably wasn't in his best interest to face him for a third time.
"There was a lot of damage done to Nathan in that last fight," McGregor said. "Even looking at his facial features, they are not the same so I know those close to him will understand what I'm talking about.
"There could be a potential fight maybe down the line for the lightweight belt after I win this. To see him to have to make the weight and then to see the damage he took the last fight and then come in at a much lower weight, it wouldn't end good for him. I'd imagine and I'd probably hope that his people close to him would stop him from doing it. It's done now, cash your money and bounce."
McGregor won the fight at UFC 202 by majority decision after five rounds.
It didn't take long for Diaz to catch wind of McGregor's comments and fire back in an Instagram post on Sunday night where he reminded the outspoken Irishman who was limping out of the Octagon when they last met in August.
"I was ready for round three that night -- were you?," Diaz said to McGregor.
It's true that McGregor did leave the Octagon with a severe limp before making it to the post fight press conference on crutches. McGregor damaged his shin while attacking Diaz's lead leg during the first half of the fight.
As for Diaz, he did suffer three knockdowns during the fight as well as several lacerations on his face, but didn't seem any worse for the wear after the night was over.
The Nevada Athletic Commission actually medically suspended McGregor until October 20 with no contact until October 5 while Diaz was suspended until September 20 with no contact until September 11.
The back and forth between McGregor and Diaz might get both fighters sniping at each other, but ultimately it only fuels the anticipation for a potential trilogy in the future.
There has been a ton of speculation that if McGregor beats Eddie Alvarez at UFC 205 in New York to become lightweight champion that a third fight with Diaz could loom in the future with the 155-pound title on the line.
Thus far, McGregor and Diaz are tied at one win apiece with both bouts pulling in some of the biggest pay-per-view numbers in UFC history. UFC president Dana White has been against the idea of a third fight in recent interviews, but considering the interest McGregor and Diaz draw, it would be hard to keep them apart for a trilogy to settle the feud.