NASCAR history will be made this weekend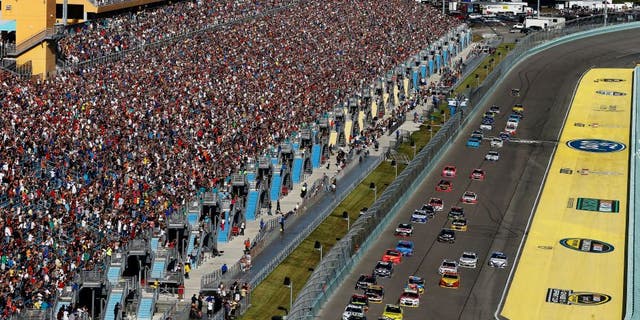 NEWYou can now listen to Fox News articles!
Regardless of the outcome of Sunday's Ford EcoBoost 400 at Homestead-Miami Speedway, history will be made, and it will be significant.
Tony Stewart, the man who has won the USAC Triple Crown, the IndyCar title, and three NASCAR Premier Series championships, is scheduled to drive his last NASCAR Sprint Cup Series race. For that matter, it's Sprint's last race as a title sponsor.
If Carl Edwards or Joey Logano wins the championship, it will be their first Sprint Cup title.
If Kyle Busch prevails, he will join the late Dale Earnhardt, Jeff Gordon, and Jimmie Johnson as the only NASCAR drivers since 1990 to win back-to-back championships.
If Johnson wins, he will become the third seven-time champion in NASCAR history, alongside Earnhardt and Richard Petty. As company goes, it doesn't get any more elite than that.
Or to look at it another way, Johnson (79), Stewart (49) and Busch (38) are the three active drivers with the most Cup victories. Throw in Edwards (28) and Logano (17) and these five drivers have combined to win 211 races -- nearly six full Cup seasons. And Johnson, Stewart, and Busch have combined to win 10 champions to boot.
Ladies and gentleman, regardless of who your favorite driver is or who you like or dislike, we will be watching greatness this weekend and watching history being made.
On social media nowadays, people like to wax rhapsodic about how good the racing used to be. I would submit that right now, these drivers and their respective teams are the equals of the giants of yesterday.
There is absolutely no doubt whatsoever in mind that Johnson, Stewart, and Busch would have been champions in any era of NASCAR, and the Logano and Edwards would have been stars, too. These guys are that good, and anyone who thinks otherwise hasn't been paying attention.
I look forward to a great and highly competitive weekend at Homestead-Miami Speedway, and may the best driver and team win.