Montgomerie recovers from 1st-hole problems at British Open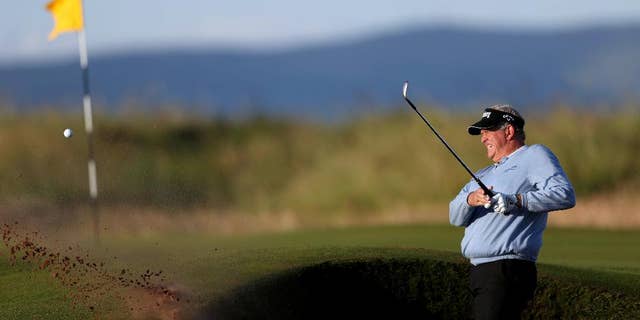 NEWYou can now listen to Fox News articles!
TROON, Scotland – With his ball buried and up against the face of a pot bunker, Colin Montgomerie feared the worst after just two shots at the British Open.
Montgomerie was given the honor of hitting the first tee shot Thursday at Royal Troon, his home club, in what likely will be his last Open. It was a proud moment for the 53-year-old Scotsman but things soon were looking bleak after his 6:35 a.m. start.
His second shot landed in what he described as a "horrendous" position and he couldn't get the ball out of the bunker. The third shot looped up and rolled back into his footprint — "and my footprint is deeper than most," Montgomerie said, jokingly — so he had to hit the ball out sideways with his fourth shot. An up-and-down later, Monty was walking off with a double-bogey 6 from possibly the easiest hole at Troon.
No wonder Montgomerie was happy to finish with an even-par 71.
"Top 10 in the world would have taken 71 there," Montgomerie said. "I'm very proud of myself for hanging on in there. It would have been easy to score 78 there, simple."
Montgomerie was 3 under for the front nine and 3 over for the back nine. He said that would be par scoring in a gorgeous opening day in western Scotland.
"This course hasn't shown any teeth today. This is a 3-out-of-10 job," he said. "Tomorrow, we are talking 7 or 8-out-of-10."
Montgomerie, a Ryder Cup-winning player and captain and widely regarded as one of the best players never to win a major, was up at 4 a.m. and said there were nerves stepping onto the first tee that he knows so well.
"I'd be inhuman if there wasn't," he said. "But I sort of dug deep into the Ryder Cup ways. I'd led off the tee twice in the singles, led off the tee three or four times in the fourball and foursomes. So it was that type of feeling."
Yet after his first-hole problems, five birdies in the following eight holes saw him make the turn in 33 and, for a few minutes, he was top of the leaderboard.
He dropped three shots on an inward nine playing into the wind, and needed a 40-foot par save on No. 13 and one from 20 feet at No. 18 to prevent giving away more shots.
Montgomerie was given a rousing reception by spectators as he approached the 18th green. He wants to feel that again on Sunday.
"All I was hoping for is to walk on the 18th on Sunday," Montgomerie said. "And I'm still with that. I haven't changed my goal."