Missed opportunities at the plate haunt Brewers in 11-1 loss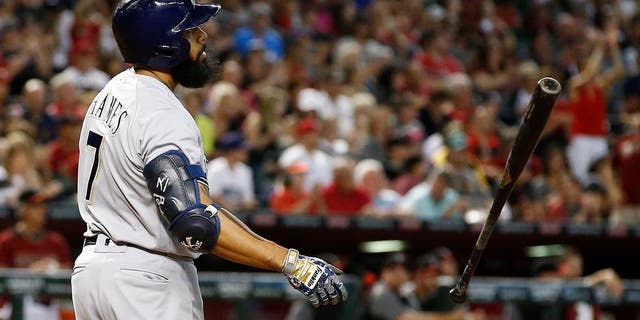 NEWYou can now listen to Fox News articles!
PHOENIX -- Robbie Ray struck out 12 in 6 2-3 shutout innings, Paul Goldschmidt hit a grand slam and the Arizona Diamondbacks broke away late to rout the Milwaukee Brewers 11-1 Sunday.
Ray (7-3) gave up three hits and won what started as a pitchers' duel with former Diamondback Chase Anderson (5-2). Anderson allowed one run and four hits in seven innings, and his scoreless streak stopped at 22 when Jake Lamb drove in David Peralta with a ground out in the bottom of the first.
Arizona led 1-0 when Ray came out of the game after back-to-back walks in the seventh. J.J. Hoover relieved and walked the bases loaded, but Jorge De La Rosa came on and struck out Eric Thames on three pitches to end the inning.
Ray struck out at least 10 for the ninth time in his career and fifth this season. He is the first Diamondbacks pitcher with double-digit strikeouts in three straight games since Randy Johnson's four-game stretch in 2004.
Chris Herrmann and David Peralta hit two-run homers and Brandon Drury added a solo shot in the Arizona seventh. Herrmann's drive came after he'd hit one just a few feet foul earlier in the at-bat, and Peralta pinged his off the left-field foul pole.
Goldschmidt's slam came in a five-run eighth. He connected off Rob Scahill for his 14th homer of the season.
Goldschmidt's first-inning double gave him a franchise record for reaching base in 38 consecutive home games. Herrmann added a run-scoring double in the eighth.
Keon Broxton homered in the ninth for Milwaukee.
BRINSON DEBUTS
Brewers outfielder Lewis Brinson was at Chase Field for opening day in April, as a fan. A little more than two months later, he made his major league debut there for the Brewers. Brinson, playing left field and leading off, notched his first career stolen base in the third inning. He went 0 for 2 and walked twice.
A HARD GOODBYE
The return of ace Zack Greinke from the paternity leave list meant the Diamondbacks had to make a roster move, and veteran reliever Tom Wilhelmsen was designated for assignment. Wilhelmsen was 1-1 with a 4.44 ERA in 27 appearances this season and had 17 strikeouts and 12 walks.
Manager Torey Lovullo thanked Wilhelmsen and said he provided leadership and chemistry in the clubhouse for the bullpen, while keeping the mood positive and light with his manager. "He's impacted me as a first-year manager in a very positive way, and it was a tough conversation, it was tough to let him go," Lovullo said.
ROTATION CONSIDERATION
With RHP Taijuan Walker on the cusp of returning to the starting rotation from injury, the Diamondbacks have to decide who will go to the bullpen and who will remain in the rotation going forward, between Randall Delgado and Zack Godley.
Delgado is 1-1 with a 3.66 ERA in four starts. Godley is 2-1 with a 2.44 ERA in seven starts, and opponents are battling only .203 against him.
"When you have tough conversations because of their success, you know you've got a good organization, and that's what we have here," Lovullo said. "We've got depth. We've got guys that understand their roles. They're ready for their moment."
TRAINER'S ROOM
Diamondbacks: Greinke returned to the team Sunday after he and his wife welcomed baby boy Griffin on Friday. … OF A.J. Pollock's next step in his return from a groin injury is running the bases, which he will do this week. If cleared to move forward, Lovullo said he'd like Pollock to play in some rehab games before rejoining the team. … Walker is on track to start on Wednesday in Detroit. He's been on the disabled list since May 21 with a blister on his right hand. … OF Yasmany Tomas (right groin) will not go with the team on the road this week and will instead start baseball activity at the club's spring training facility. … OF Socrates Brito (broken finger) was reinstated from the 60-day disabled list and optioned to Triple-A Reno.
UP NEXT
Brewers: RHP Jimmy Nelson (4-3) is slated to start one game of a doubleheader the Brewers play at St. Louis on Tuesday following an off-day. The other game's starter had yet to be determined as of Sunday's first pitch.
Diamondbacks: Greinke takes the mound in Detroit on Tuesday after an off day. He's 8-3 with a 3.20 ERA this season.