Military dad surprises wife, children at baseball game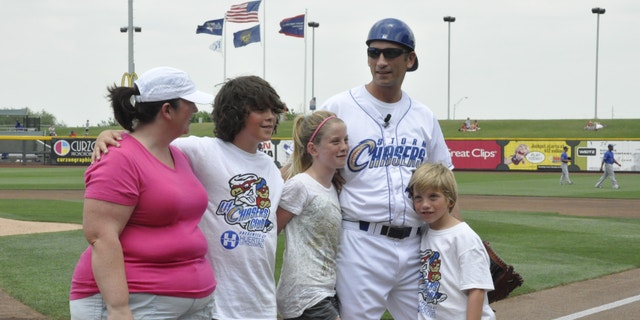 NEWYou can now listen to Fox News articles!
When third-grader Jackson Zortman was asked to throw out the first pitch on Sunday for the Omaha Storm Chasers, he wished his dad, who was away for military training, could be there to watch.
When he took the mound, the nervous 8-year-old threw a pitch that bounced across home plate and into the mitt of the catcher. But then, the backstop removed his mask, and an incredulous Jackson saw his dad, Staff Sgt. Rik Zortman beaming at him from behind the plate as the minor league crowd roared its approval.
"He was so excited about throwing the first pitch, he didn't even know it was his dad," Storm Chasers' promotions manager and on field emcee Ben Hemmen told FoxNews.com.
[pullquote]
Wearing a No. 43 Storm Chasers jersey, Zortman, a member of the Iowa Air National Guard's 132nd Fighter Wing, not only shocked his son, he also surprised the rest of his family, including wife, Lindsay, and their other children, Montgomery, 11, and Isabella, 10.
Zortman, of Avoca, Iowa, hatched the plan when he found out his training graduation in Biloxi, Miss., had been moved from June 11 to June 7. He knew his children, members of the Lil' Chasers Club, along with Lindsay, would already be going to the game, so he contacted the team via Facebook, according to Hemmen.
The Storm Chasers were game, and came up with the ruse of asking Jackson to throw out the ceremonial pitch because he was the Lil' Chasers "Kid of the Month." They also told Jackson that his siblings could join him on the mound, and his family would receive free tickets to the game, according to Hemmen.
Zortman arrived in Iowa on Friday, after 10 weeks away, but stayed with his parents, even taking care to tweet about the bad weather in Biloxi - just to keep his wife in the dark about his happy prank, according to the Omaha World-Herald. He also repeatedly asked his wife to take pictures of Jackson's moment so that he could see it unfold, little did she know, he would be there.
The Zortmans have had their fair share of heartache throughout the years.
In his 13 years in the National Guard, Zortman has been deployed to Canada, Switzerland, Italy, Germany and Qatar.
While Zortman was on a 16-month assignment in Qatar from 2007 to 2008, their youngest son, Armstrong, was diagnosed with brain cancer, according to the paper. He died in April 2009, five months after his father returned home.
"The death is still fresh on the family's mind, it was only three years ago. His wife and kids thought Rik would be missing Jackson's pitch, a monumental event in their lives, but he was there, and orchestrated the whole thing," added Hemmen.
Zortman will go to Des Moines for additional training Monday, and he'll be able to see his wife and children on the weekends.
He isn't sure when or where he will be deployed next, but for the time being, he is enjoying his time with his family.
As for his surprise, Zortman told the Omaha World-Herald he'll always remember it as 'trying to throw them off with a curveball.'