Mike McCarthy's 'plan is set' without the Packers' three injured receivers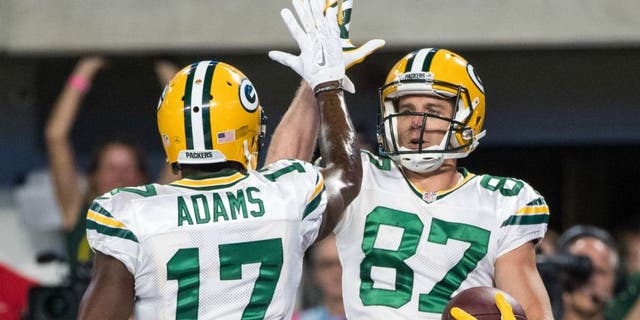 The Green Bay Packers entered last Sunday's playoff victory without No. 1 receiver Jordy Nelson and they left it with two more of Aaron Rodgers' favorite targets added to the injury list.
The situation is so bad that coach Mike McCarthy told reporters Thursday that If this were the regular season, Nelson (ribs), No. 2 receiver Davante Adams (ankle) and No. 4 wideout Geronimo Allison (hamstring) wouldn't be considered as options for Sunday's game. But, alas, Sunday's game is the NFC Championship against the Atlanta Falcons, so the Packers aren't going to give up on any of them yet. Via the Milwaukee Journal Sentinel:
"They're still working," McCarthy said. "They're mentally getting ready. This is an injury threshold all three of those guys have, Jordy, Davante and Geronimo. They all have three distinctly different injuries.
"In the regular-season mindset, I would think none of them would play in this game. But obviously this is a different time, this is a different point where we are in the season. Everybody understands what's on the line here."
Nelson, who has been out since he suffered cracked ribs in the first half of Green Bay's first-round playoff game against the Giants, went through drills Thursday but was not in pads, according to ESPN. Neither Adams nor Allison practiced, so McCarthy has been forced to create his early game plan without any of the three players in it.
"Our plan is set," McCarthy said. "If these guys make it, it will be a bonus."
That's the confidence you would expect from any coach, but even Rodgers -- on one of the all-time great hot streaks from an NFL quarterback during the team's eight straight wins -- is going to need some help Sunday. As it is, Randall Cobb, who is having his worst season since his rookie year, and little used Jeff Janis and rookie Trevor Davis would be Rodgers' top targets outside of tight end Jared Cook.