Mike McCarthy: 'Ty Montgomery is a four-down football player'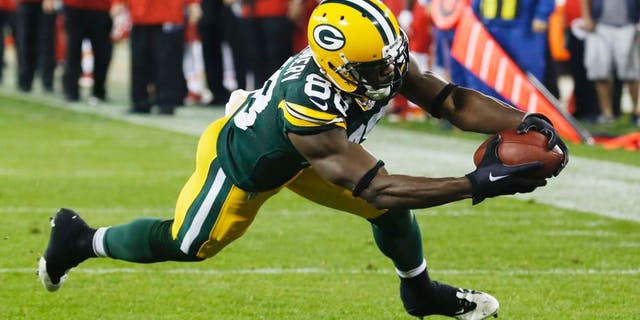 NEWYou can now listen to Fox News articles!
With second-year receiver Davante Adams out, Green Bay Packers rookie Ty Montgomery has garnered some valuable playing time over the past few weeks and impressed. Not just a kick returner anymore, Montgomery has caught a handful of passes and even taken a couple handoffs since Adams' injury.
Packers head coach Mike McCarthy sung his praises after a Week 4 win over the San Francisco 49ers.
"Ty Montgomery is a four-down football player," McCarthy said, per Ryan Wood of Press-Gazette Media, "and that's something we always liked about him from the time he was drafted out of Stanford. The fact that you can play him the backfield, the return game, and I think he's done some really good things at receiver too. Ty is getting better each and every week."
Montgomery has registered 265 all-purpose yards on 17 total touches (nine catches, two rushes and six kick returns). This versatility is something the Packers want to harness moving forward.
"Extremely versatile," Packers offensive coordinator Edgar Bennett said of Montgomery, via Press-Gazette Media, "and we knew that going into when we were very fortunate to draft him. His ability to line up in the backfield, to play in the slot, to play outside gives you quite a few options and as you know this game is about matchups and anytime you have a player of that caliber putting him in different positions to make plays, it bodes well for the offense."
The Packers must find more ways to get the ball in Montgomery's hands, since he's turning out to be one of the team's most unique offensive weapons.
MORE NEWS: Want stories delivered to you? Sign up for our NFL newsletters.