Mike Leake gives up go-ahead homer, Reds start 2nd half with 4-3 loss to Yankees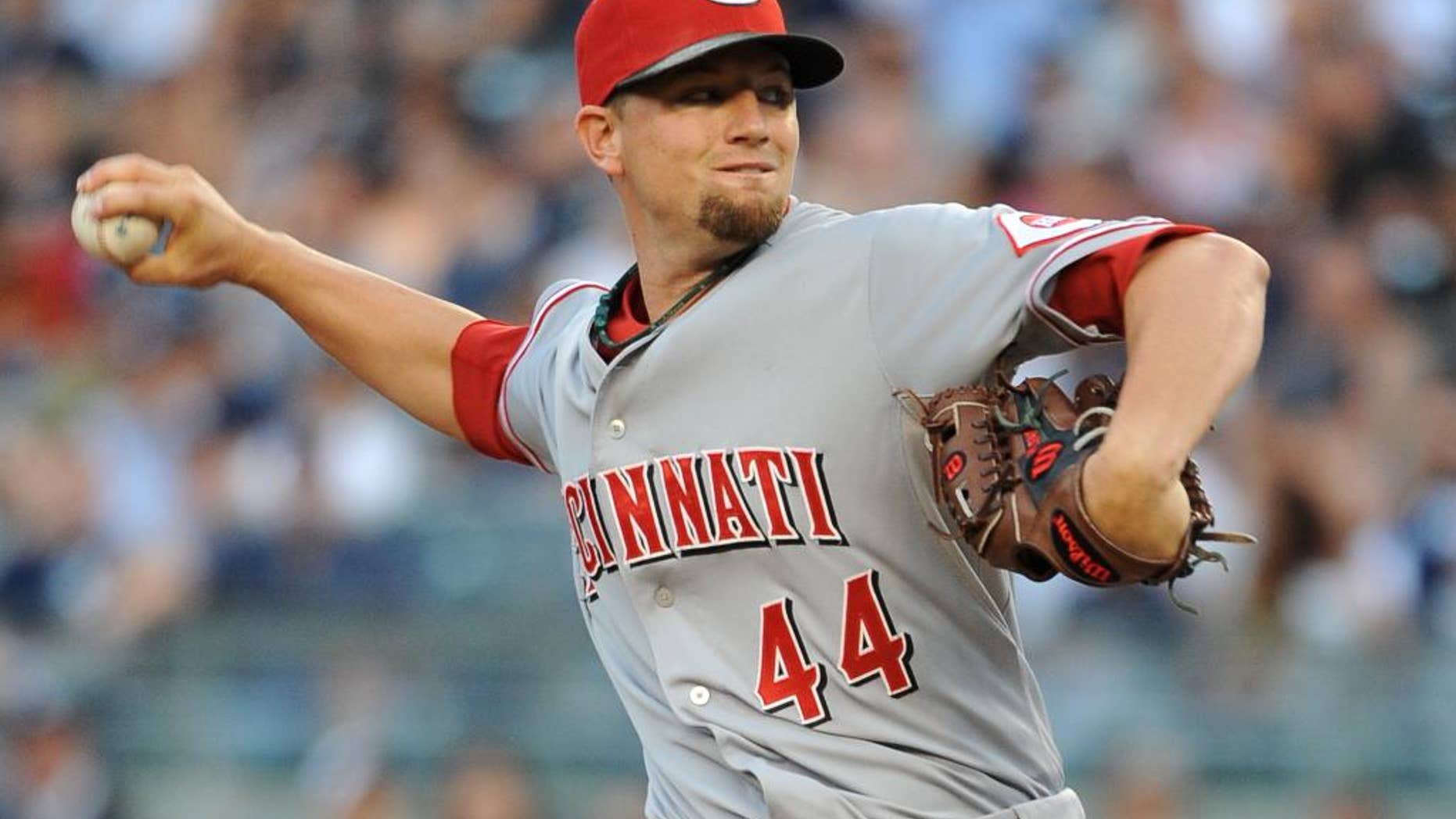 NEW YORK – Two unexpected long balls from Brayan Pena were negated by one costly pitch from Mike Leake.
Jacoby Ellsbury hit a two-run homer off Leake, and the Cincinnati Reds couldn't muster much offense against starter David Phelps and the New York Yankees' bullpen in a 4-3 defeat Friday night.
"They took advantage of mistakes," Reds manager Bryan Price said. "They did some good things by putting balls in play and creating some scoring opportunities. They just had enough to beat us."
With the score tied 2-all, Derek Jeter singled to start the fifth inning before Ellsbury lined a 1-1 pitch to the short porch in right field for his seventh home run.
"It was a cutter that backed up, but it was still decent location," Leake said. "He was able to drop his hands and hurt me."
Pena, subbing for injured slugger Joey Votto at first base, hit a pair of solo shots for his first multihomer game.
Leake (7-8) allowed four runs and eight hits in seven innings.
"It was not as sharp as he has been, but he competed well and gave us a chance," Price said. "We just caught a guy who was a little bit better today."
All-Star reliever Dellin Betances struck out three in 1 2-3 perfect innings, and David Robertson worked a one-hit ninth for his 24th save in 26 chances.
Phelps (4-4) gave up three runs — two earned — in 6 1-3 innings against a lineup missing Votto and injured second baseman Brandon Phillips. The right-hander struck out seven and walked one for his first win since June 19 against Toronto.
"We just were not able to get enough going against him," Price said. "We were not able to get his pitch count up, were not able to put any heat on him to get into more of the middle-relief-type pitching."
Brian McCann and Carlos Beltran had two-out RBIs for the Yankees, who began a 10-game homestand by winning the opener of an interleague series against a National League contender.
New York, with a major league-high 40 home games after the All-Star break, snapped a five-game losing streak at Yankee Stadium and improved to 19-23 in its ballpark.
"Big win for us to start the second half," Ellsbury said. "You always want to play well at home. You should play well at home. I think we're going to."
Brett Gardner was hit on the left foot by Leake's third pitch. Gardner then stole second and scored on McCann's two-out double.
Jeter's leadoff single in the third deflected off All-Star third baseman Todd Frazier. Ellsbury also singled before Beltran, just activated from the seven-day concussion list, came through with a two-out single.
Pena connected off Phelps to start the third and seventh.
"It is one of those things where you are just trying to do whatever it takes. You are just trying to help your team to win," said Pena, who hadn't homered in 136 at-bats since May 4 against Milwaukee. "Bryan gave me an opportunity to be in the lineup today. I just did not want to let my team down."
Cincinnati tied it at 2 in the fourth, capitalizing on errors by Brian Roberts at second base and Jeter at shortstop. Devin Mesoraco had an RBI grounder, but Phelps prevented further damage.
"First game back from the All-Star break, we are kind of trying to get back on track," Pena said. "It is one of those things where you have to shake it off and be ready for tomorrow."
NOTES: The Reds have lost four straight road games but are 13-7 away from home since May 30. ... Cincinnati will start All-Star pitchers in the final two games of the series. RHP Alfredo Simon (12-3, 2.70 ERA) goes Saturday, when RHP Brandon McCarthy makes his home debut for the Yankees. RHP Johnny Cueto (10-6, 2.13) faces New York RHP Hiroki Kuroda (6-6, 4.10) on Sunday. ... Votto is eligible to come off the disabled list Monday, but there is no timetable for his return from a strained muscle above his left knee. ... Skip Schumaker hopes to return from a concussion this weekend. ... Jeter made his 2,610th career start at shortstop, passing Omar Vizquel for the most in major league history.