Miguel Cabrera, Free of Drama, Tries to Lead Tigers Past Yankees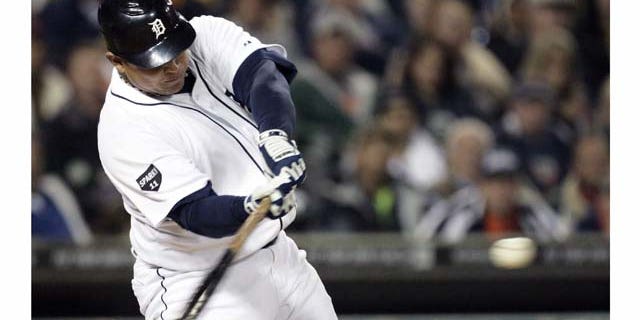 Life is good for Miguel Cabrera these days.
He capped the 2011 season with MVP-caliber numbers, his Detroit Tigers are on the verge of knocking out the favored New York Yankees, and his personal life is drama free.
"I am feeling good," Cabrera told Fox News Latino recently at Yankee Stadium.
A testament to his lighter spirits: the imposing slugger, who's had his troubles with the media, lightly tapped at a reporter's iPod in the dugout before giggling away.
"Thank God everything is good," he said. "I hope that everything keeps working out."
Cabrera's sunny disposition was a bit more clouded a few months ago.
Back in Spring Training, Cabrera, who's battled weight and alcohol over the years, was spotted along a road with a smoking engine on the side of a road in Fort Pierce, Florida. The Venezuelan All-Star smelled of alcohol, had slurred speech and even drank from a bottle of Scotch in front of a cop, according to the St. Lucie County Sheriff's Office.
Back in 2009, on the last weekend of the season before the Tigers lost the AL Central title to Minnesota, police were called to his home by his wife after she contacted 911 to report a domestic dispute. He was taken into custody and released when general manager Dave Dombrowski picked him up at a police station.
Fast forward to this year's Tigers' celebration after clinching the AL Central title in September. Cabrera, water in hand, was an outsider to the wild, booze-filled party in the clubhouse that night in Oakland.
Cabrera declined to discuss his arrest in February. But there is no doubt that he has been locked in this season and carried it into October as Detroit seeks its first World Series title since 1984.
"Right now we're concentrated on baseball and we're trying to win this series here so that we can go on to the next round," he said.
His name has popped up in the American League MVP race after he finished the season with his first batting title, hitting at a .344 clip with 30 homers, 105 RBIs and 111 runs scored.
Cabrera became the fifth player in baseball history to reach at least 1,500 hits, 250 home runs and a career average of .310 or better before the age of 29, joining the likes of Jimmie Foxx, Mel Ott, Hank Aaron and Albert Pujols.
Not bad historical company to keep.
And despite his rocky past, his teammates have served as a foundation of support for the young man who was signed by the Florida Marlins as a 16-year-old in 1999.
Staff ace Justin Verlander, a virtual lock to win the league's Cy Young and an MVP candidate in his own right, said that the team supports their talented slugger.
"We're around each other more for six months than you are with your family," Verlander said. "In essence this is a family. We all supported him and still do.
We know that there's going to be some rough patches in everyone's life," he added. "We're just here. We got his back."
"Those are things that sometimes happen with ballplayers," All-Star closer Jose Valverde said. "Everyone has their relapses sometimes, but he's a tremendous adult.
He was able to come out of it good," Valverde continued. "You can see the way he has been determined and the job he's done after that. As teammates we just have to support him like we would do for each other."
Cabrera, who caught fire after the All-Star break and hit .385 with 12 home runs and knocking in 46 runs, flexed some muscle in game 2 of the ALDS hitting a two-run blast to give the Tigers an early lead in their eventual 5-3 win over the Yankees.
He went 0-for-2 with two walks Monday night, another Tigers' win.
Magglio Ordonez, who also knocked around the Yankees' Freddy Garcia, is one of two other fellow Venezuelans on the postseason roster. He is perhaps happier than anybody else with the way Cabrera has been able to bounce back from his off-field issues.
"I'm very proud of Miguel because with everything that he went through, what occurred at the beginning of the season, it's not easy to start the season with all those problems," Ordonez said. "With all that distraction that he had and to have the type of year he had, to win a batting title, hit more than 30 homers and drive in more than 100 runs and be here in the playoffs, and the way he's playing, I truly feel very proud to be his friend and be his teammate on this club."
Jhonny Peralta, a former Cleveland Indian now in his second season with the Tigers, is enjoying Cabrera's offensive exploits, too.
"Nothing is a surprise with him. He's always been a great player. A good hitter. Now this year he won a batting title. It wasn't something that we weren't expecting out of him," Peralta said.
And what about an MVP race that features the likes of Robinson Canó, Curtis Granderson and José Bautista?
"The numbers speak for themselves," teammate Víctor Martínez said. "They should give him a lot of consideration. I see him with a lot of chances [to win it]."
Whether he wins an MVP award this season or not, there is no question that American League pitchers will be in big trouble for the next few seasons if Cabrera's off the field issues are truly a thing of the past.
Adry Torres, who has covered MLB, NFL, NBA and NCAA basketball games and related events, is a regular contributor to Fox News Latino. He can be reached at elpiloto137@gmail.com or follow him on Twitter: @adrytorresnyc.
Follow us on twitter.com/foxnewslatino
Like us at facebook.com/foxnewslatino