Mexico's star forward Chicharito hurt in friendly against Honduras, may miss Gold Cup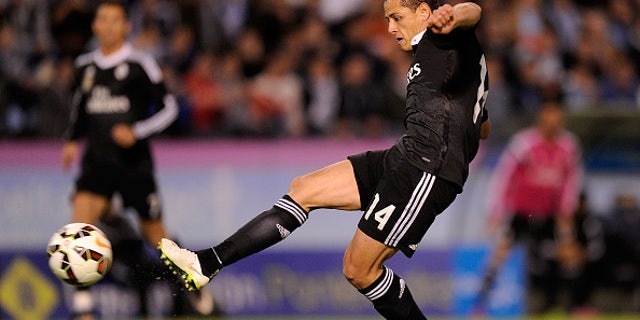 HOUSTON (AP) – Mexico's Gold Cup chances could take a hit after Tuesday's tune-up game against Honduras. Star forward Javier "Chicharito" Hernández left the scoreless draw with a collarbone injury.
"We still don't have a report," Mexico head coach Miguel Herrera said through a translator. "Yes, there's an impact, but we're just thinking about what's ahead. This is an unfortunate situation we cannot fix. With Chicharito, he was going through a great moment in his career, and the injury came – but we're just moving on."
Chicharito left in the 41st minute after a collision with Brayan Beckeles and was taken to a hospital to evaluate the injury. Hernández has 40 goals for the Mexican national team in 75 appearances.
If ruled out, Hernández would join defender Héctor Moreno, who broke his left leg in a 2-2 draw with Costa Rica on June 27, as injury scratches for the Gold Cup.
"Yes, it affects the teammates," Herrera told reporters. "We still keep working. Yes, an extraordinary player falls, but we keep moving ahead."
Mexico controlled the flow of play against Honduras and came close to scoring twice in the first half through Carlos Vela. The forward hit the goal post twice. Mexico enjoyed a late flurry as players loosened up, but overall it was an uneven performance.
"Maybe the first half wasn't so good, but the second half was better," Herrera said. "There were plays that were not successful. We'll just keep working. The team looks good, looks concentrated."
Under head coach Jorge Luis Pinto, the young Honduran squad showed a strong defense against a veteran-laden Mexico squad. But Honduras struggled to get any attack going early. Eventually the Hondurans managed 11 shots.
Maynor Figueroa and Andy Najar had shots from inside the box in the 79th minute, but both were cleared off the goal line.
"There are things we're working on," Pinto said through a translator. "It was a game that both teams played equally. Maybe we could've had better possession of the ball, but we fought the game and didn't play this as a friendly. We played it like it was a very important game, and it was a good preparation for the Gold Cup."
Mexico begins Gold Cup play July 9 in Chicago against Cuba. Honduras opens the tournament against the United States on July 7 in Frisco, Texas.