U.S., Mexico soccer teams renew rivalry on the pitch – and <i>about</i> the pitch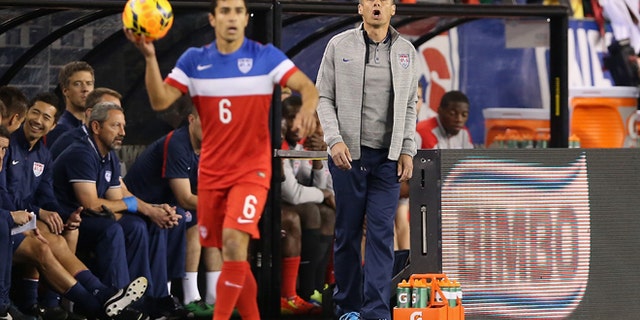 Nothing like a little gamesmanship to spice up what already is one of the world's great soccer rivalries.
Prior to the U.S. men's national team's press conference with head coach Jürgen Klinsmann and midfielder Kyle Beckerman, a U.S. Soccer spokesman had to make an announcement to the media that Wednesday's friendly between the United States and Mexico in San Antonio would go on as planned.
Earlier in the day, there were reports from the Mexican media that Mexican Football Federation general manager Hector González Iñárritu had floated the idea of refusing to play the border clash if the conditions of the temporary grass field at the Alamodome did not improve. Instead of working out under the dome, El Tri trained at nearby Trinity College.
With a capacity crowd of 65,000-plus ready to witness the latest installment of this great CONCACAF rivalry, it would take a lot more than a stitchy pitch to get the match postponed, although officials said they were taking measures to make sure the grass was put into better shape.
Besides the pride of both sides being at stake, there are some urgent matters to consider, such as finding a few players who might be able to make an impact come the CONCACAF Gold Cup tournament in July.
Players like Juan Agudelo, DeAndre Yedlin and Julian Green just want to get onto the field to impress Klinsmann and his staff, and show that they belong on the pitch for future international matches.
Agudelo was the latest in a long list of U.S. soccer phenoms who have shown so much potential but somehow hit a bump in the road. In 2010 and 2011, he played well enough to make 15 international appearances. As his quality club performances and playing time waned, however, so did the call-ups. He only made three appearances for the red, white and blue in 2012, 2013 and 2014.
Since returning to the states and the New England Revolution after frustrating stays with England's Stoke City and FC Utrecht in the Netherlands, Agudelo hasn't been exactly been burning up Major League Soccer. In fact, he has just one goal and zero assists in six appearances this season.
So, in some quarters, Agudelo's call-up raised more than just a few eyebrows.
Asked whether he was surprised, the 22-year-old Agudelo replied, "I'm just happy to be called in. I'm not thinking about whether it was early or a little bit too late. I'm just happy to be with the squad again. This is the place where I want to be."
He certainly has something to prove.
"Definitely," he said. "I've been away for a bit, and now it's time to come back and possibly prove myself."
Agudelo's charge is simple.
"Prove to be the player that I used to be when I was getting regular call-ups," he told FNL, "because obviously I was getting called in because I was doing the right things. I'm just going to try to keep playing the way I was playing before."
For players such as Agudelo, Yedlin and Green – the latter two have been struggling to get any sort of playing times with their respective clubs, Tottenham and Hamburg – anything they can do to turn a head from Klinsmann and his assistants is vital.
"They all want to be in this summer's Gold Cup," Klinsmann told reporters, adding that the team's goal was to qualify for the FIFA Confederations Cup in Russia in 2017. The Americans can clinch a spot in that tournament if they win the Gold Cup. Otherwise the USA would have to play in a special playoff to qualify.
"There's good chemistry there, a good energy there," Klinsmann said. "Obviously this is an opportunity to see some guys."
Even if it might be on iffy field conditions.
Agudelo? He just wants to play on. "This is just news I've seen on TV," he said of the flap over the pitch. "We're just about to try it out on the field. We'll see how it goes."
The striker said a good field was "important," but he added that if it isn't in tip-top condition, "It affects both teams, so it's not sort of an excuse you should use."
Especially with so much at stake with his national team career.