Max Holloway undergoes thumb surgery, sidelined for two months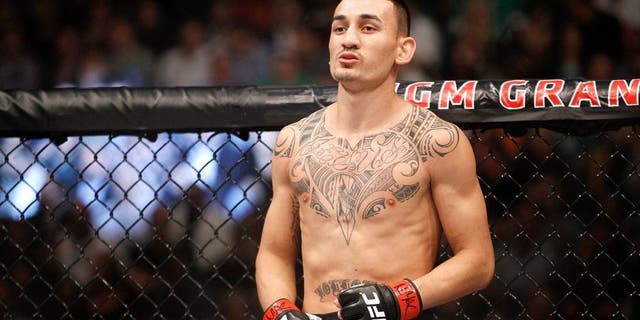 NEWYou can now listen to Fox News articles!
Max Holloway will be resting and recovering for approximately least two months following successful surgery on Wednesday to repair a torn ligament in his thumb.
According to Holloway's manager, Brian Butler of Suckerpunch Entertainment, who spoke to FOX Sports on Wednesday, the No. 4-ranked featherweight won't be sidelined too long into 2016 but will need time to recover.
It was Holloway's right thumb that required surgery to fix the tear from his most recent fight at UFC 194 in Las Vegas.
Holloway will also take some time off to rest a high ankle sprain on his left leg that he suffered just before his bout against Jeremy Stephens on Dec. 12.
During the three-round battle with Stephens two weeks ago, Holloway wasn't able to throw many kicks in large part because of the ankle sprain that happened in training that prevented him from unleashing his normal offensive barrage.
Holloway still cruised to a unanimous decision over Stephens, which marked his eighth win in a row overall in the featherweight division.
Holloway told FOX Sports just days before Christmas that he was looking forward to some time off to allow nagging injuries to heal after a very busy 2015.
Once his thumb is healed up and doctors clear him to return to action, Holloway will be anxious to resume his pursuit of a shot at the featherweight title in 2016.