Martinsville no layup for Johnson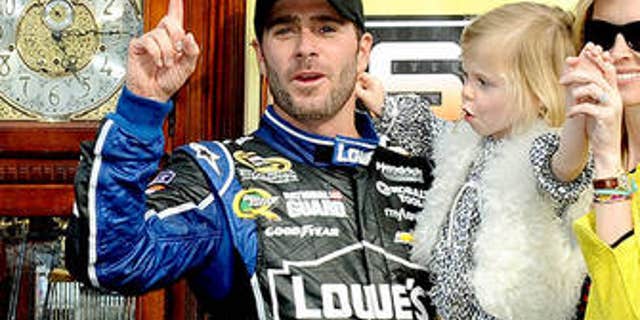 If you want some idea of just how good Jimmie Johnson is at Martinsville Speedway, consider the following: The five-time NASCAR Sprint Cup champion and current points leader has eight victories at the 0.526-mile track, which is more than 26 of the drivers entered in Sunday's Goody's Headache Relief Shot 500 have in their entire careers.
But while Johnson certainly comes into Martinsville as the favorite to win his third straight race here, he is by no means a slam-dunk. In fact, Johnson may be facing his toughest competition in years.
One man likely to be up front on Sunday is Matt Kenseth, driver of the No. 20 Joe Gibbs Racing Toyota. For his career, Kenseth is winless with only three top fives in 27 Martinsville starts, but those numbers might be a tad deceptive: The 2003 Sprint Cup champion has made huge strides at flat tracks since his move to JGR.
In the spring Martinsville race, Kenseth led 96 laps, which is more than he led in all 26 previous starts here combined. And he won in Loudon, N.H., last month, another flat track where he had struggled throughout his career.
"You know, you look at tracks that you feel like are some of your worst and then you look at some you feel are your best and if I just look through the last five weeks, I think we've had our best finishes at the two tracks I thought would have been our worst, and some of our worst finishes so far are at the tracks I thought would have been our best," said Kenseth. "You don't know what's going to happen. It's been a fun year because they (Joe Gibbs Racing) have made me run a lot better at tracks where we usually don't run good at. Hopefully, Martinsville will be one of those."
Kenseth's teammates excel at Martinsville, too. Denny Hamlin has four victories here and Kyle Busch has four top fives in his last six starts here. On top of that, Busch has been hot lately, with top-five finishes in five of the six races contested so far in the Chase for the Sprint Cup.
"We were so close last fall and right on Jimmie's (Johnson) bumper for the win and we had a good car in the spring, too," said Busch. "I've led a bunch of laps there, but we just haven't been able to hold it for the end of the 500 laps. ... I'd like to think we're really close. We've been good there - especially the last couple of races there we've been really good."
Of course, Johnson's toughest competition could come from his Hendrick Motorsports teammates. Jeff Gordon has won seven races at Martinsville, and in his last 21 starts here has finished worse than seventh just twice, and one of those came in the spring of 2012, when he was leading and got wrecked from behind during a green-white-checkered finish.
"We always seem to enter a Martinsville race weekend with confidence," said Gordon, who has led an astonishing 3,515 laps at this track.
Hendrick teammates Kasey Kahne, who has consecutive top-five finishes here, and Dale Earnhardt Jr., who has come home seventh or better in four of his last six Martinsville starts, figure to be fast on Sunday, too.
Don't count out Kevin Harvick, who won here in April 2011, or the spring race runner-up, Clint Bowyer, who also posted a top five here last fall, when he led 154 laps.
So while Johnson once again comes into Martinsville as the favorite, there are plenty of people ready and capable of knocking him off. And what happens on Sunday will likely go a long way to determining the 2013 NASCAR Sprint Cup champion.
The original article can be found at FOXSports.com: Martinsville no layup for Johnson.