Marlins' Franchise Four join to reflect on past success, future potential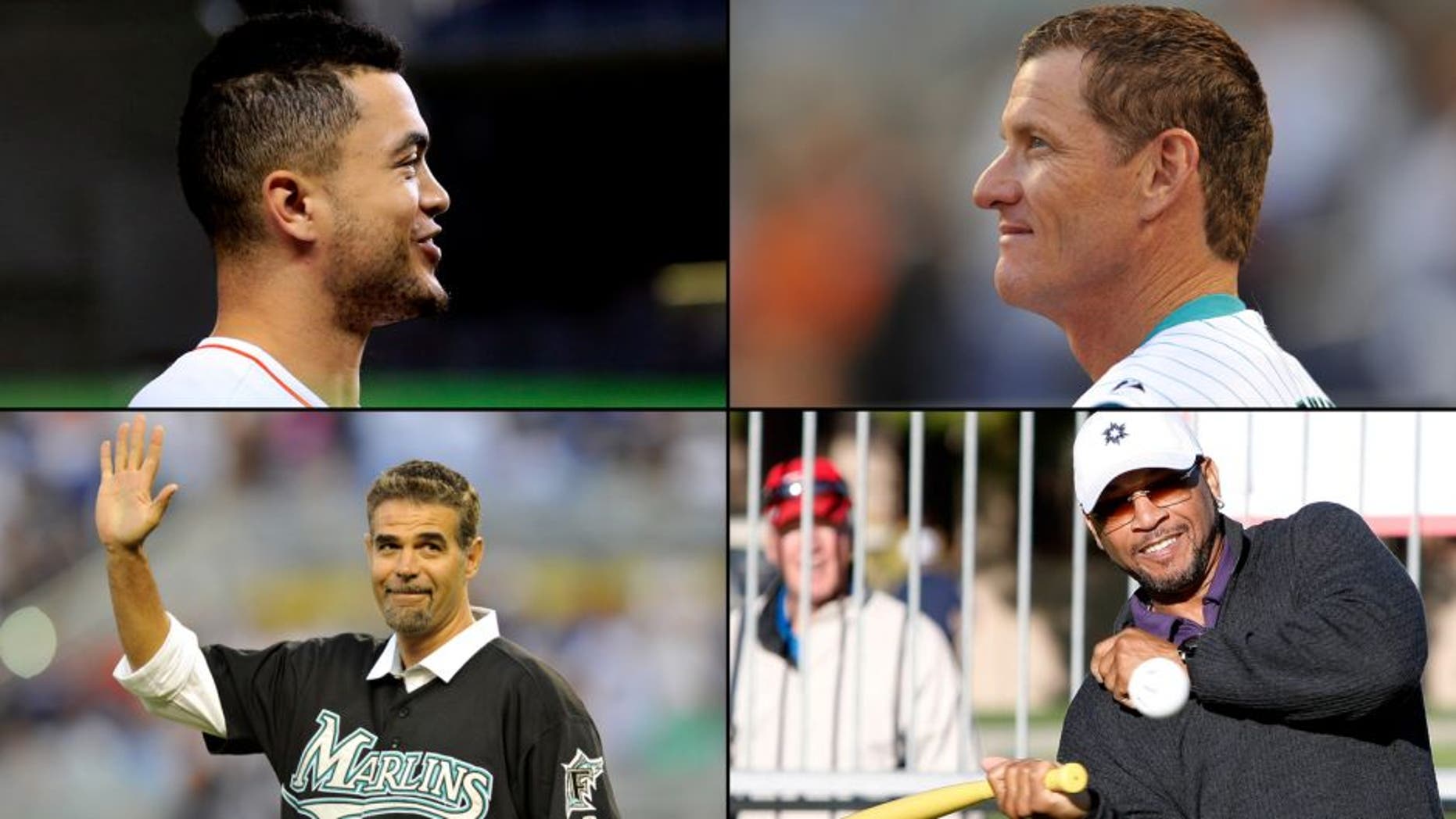 MIAMI -- Despite being one of the younger organizations in Major League Baseball, the Miami Marlins already have quite the 23-year history.
During last month's All-Star festivities in Cincinnati, each team had its Franchise Four announced by a fan vote that decided the most impactful players that best represented the organization.
Marlins fans spoke, acknowledging the inaugural season in 1993, the two World Series championships as well as the present and the future by picking Gary Sheffield, Jeff Conine, Mike Lowell and Giancarlo Stanton.
Guys left off included Josh Beckett, the 2003 World Series MVP, as well as three-time All-Star Hanley Ramirez, in town with the Boston Red Sox. Ramirez ranks near the top of nearly all Marlins records, including total bases (1,831, first), batting average (.300, second), runs (666, second), hits (1,103, second), homers (148, third) and RBI (482, fourth).
"I guess it varies from team to team, because there are some teams that have a really long tradition and left off some Hall of Famers," Lowell said. "It's definitely an honor. I think you see the other three guys and the guys that weren't on the list. Very talented, very good players. I'm appreciative of everyone who voted I guess, and the recognition's great. It's not almost five years retired and I'm happy. It's a nice award. ... I think there's a lot of people who have a lot of impactful moments in this franchise even though it's a young franchise. Two World Series in a pretty short span. A lot of really established franchises that don't even come close to that. It's such a short history there are moments to be really proud of, which I definitely am."
Lowell, a local who attended Coral Gables High and Florida International University, got selected in the 20th round by the New York Yankees in 1995. He told his parents he would give himself one year at each minor-league level before going onto grad school. Three seasons later, he made his debut as a top infield prospect with the Yankees. The Marlins acquired him in a trade for three minor-league pitchers, and he spent 1999-2005 in South Florida.
Over seven seasons, Lowell made the All-Star Game three times in a row from 2002-04, earned a Silver Slugger and Gold Glove and captured the World Series in 2003. He hit .272 with 241 doubles (most in franchise history), three triples, 143 homers (third) and 578 RBI (most) in 981 games (third).
"To be a person who went through Little League, high school, college in Miami and then be part of a World Series ..." said Lowell, now 41. "When you think of things that I would love to (do) that doesn't even enter because when I was basically up until college we didn't even have a team here. It's not even something I thought about. It was more than icing on the cake."
Gary Sheffield, now 46, still ranks first in on-base percentage (.426) and second in slugging percentage (.543) in Marlins lore. He sits seventh in homers (122), while holding the single-season record of 42 dingers. Sheffield posted a .288 average with 98 doubles, seven triples, 122 homers and 380 RBI in 558 games. He was a two-time All-Star and a Silver Slugger with the Marlins.
Sheffield, dealt to the Marlins from the San Diego Padres during the inaugural season, returned to his home state for six seasons from 1993-98. He saw the emergence of an expansion organization that quickly became a champion within five years.
"It was like being a fish out of water," Sheffield said. "It was new for everybody. Nobody knew what to expect, and I think (general manager) Dave Dombrowski talked to the team constantly letting everyone know where we stand and where we're going and how many years it's going to take us to get to the promised land. After the third year he told me to be patient, 'give us two more years.' I said the number was five and we'll get it done, and he did that."
Jeff Conine, also known as "Mr. Marlin," made two straight All-Star Games from 1994-95, earning MVP honors in the latter. He holds the distinction of being a member of both World Series clubs.
Now 49, he serves as an analyst for FOX Sports Florida and special assistant to the president in the front office. In eight seasons over two stints (1993-97, 2003-05), Conine recorded a .290 clip with 180 doubles, 17 triples, 120 homers (eighth) and 553 RBI (second) in 1,014 games (second).
Giancarlo Stanton is the franchise's all-time home run leader with 181 through 708 games. Currently on the disabled list recovering from a left hamate fracture, he is a .270 hitter with 150 doubles, nine triples and 466 RBI (fifth). He is a three-time All-Star and Gold Glove finalist in right field.
The 25-year-old slugger signed a record-setting 13-year, $325 million extension this past offseason after leading the majors with 37 homers despite missing the final two weeks with facial fractures. He is a homegrown talent taken in the second round of 2007 draft.
"It's just a matter of time," Sheffield said of Stanton breaking his single-season mark. "Once he stays healthy for a full season, he'll be able to do it. That's the key to anything. You have to be healthy, and I was able to be healthy that year. I played in 161 games and anytime you're out there every day you get better."
You can follow Christina De Nicola on Twitter @CDeNicola13 or email her at cdenicola13@gmail.com.