Marlins don't want to go to bat with Dee Gordon on this one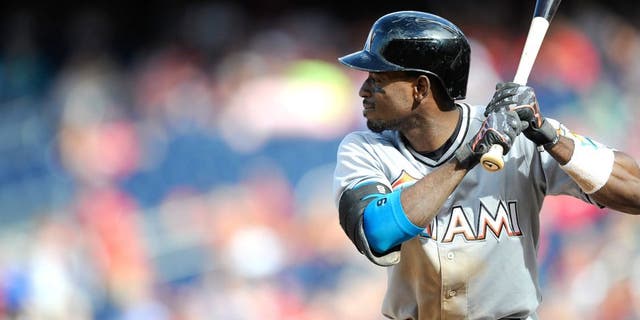 NEWYou can now listen to Fox News articles!
As teams continue to squeeze free agents and lowball rival clubs on trades, they also are preparing for yet another form of negotiating hardball.
The deadline for exchanging salary-arbitration figures is Friday. The process will lead to settlements, hearings and, for some players, multi-year contracts.
In one particular case -- the Marlins with second baseman Dee Gordon -- a long-term deal is almost imperative.
The Marlins do not want to go to arbitration with Gordon -- not if they're smart, anyway. Gordon, you see, is coming off a historic campaign, the type that should lead to a big arbitration award.
In case you missed it, Gordon batted .333 with 205 hits and 58 stolen bases in 78 attempts last season, winning both Gold Glove and Silver Slugger awards and becoming:
● The first National League player since Jackie Robinson in 1949 to win a batting title and stolen-base title in the same season.
● The first NL player since Honus Wagner in 1908 to lead the majors in hits and stolen bases in the same season.
● The second player in major-league history to win a batting title, stolen-base title and Gold Glove in the same season (Ichiro accomplished the feat in 2001; the Gold Glove was instituted in 1957).
I know what the sabermetric crowd is thinking -- a batting title is meaningless, or close to it. In this context, though, batting average still carries weight; the average arbitrator is not a statistically savvy type clicking on Fangraphs.com seeking granular data.
Gordon's case, mind you, is not as strong as Ryan Howard's was in 2008; Howard won a $10 million award in his first try at arbitration after his agents demonstrated that "special accomplishments" allowed him -- according to the collective-bargaining agreement -- to negotiate without regard to service time and comparable salaries.
Tim Lincecum -- who, like Gordon, is represented by the Beverly Hills Sports Council -- had a similar argument in 2010, then settled with the Giants on a two-year, $23 million contract.
Howard had won an MVP award. Lincecum had won back-to-back Cy Youngs. Gordon's "special accomplishments" might not be convincing enough for an arbitration panel to elevate him above the normal pay scale. But at the very least, he has a strong case.
Which should be worrisome for the Marlins.
Gordon projects to earn $5.9 million in arbitration, according to MLBTradeRumors.com. But what's to prevent his agents from aiming even higher?
Gordon, who earned $2.5 million last season, is not going to surpass Jacoby Ellsbury's $8.05 million settlement as a second-time arbitration eligible player in 2012; Ellsbury was coming off a season in which he hit 32 homers and finished second in the AL MVP voting (Gordon was 16th in last year's NL vote).
But let's say Gordon asks for $7 million or $7.5 million. The Marlins surely would consider such a number to be outside their salary structure, and counter with a lower offer. The risk, of course, is that the three-person arbitration panel would side with Gordon, and award him his requested salary.
Adding to the urgency: The Marlins are a file-and-trial team, halting negotiations once numbers are exchanged, though they are willing to continue talking about multi-year deals.
In any case, a one-year contract for Gordon is not the answer.
Gordon, 27, will get two more cracks at the process; he had enough service time a year ago to become a "Super Two" player and qualify for an extra year in the process. If he gets $7 million this time, he could jump to say, $10 million and $13 million in his next two shots, then depart as a free agent.
A better solution for the club would be to sign Gordon to a long-term contract of at least five years, a contract including lower negotiated salaries and covering all three remaining years of arbitration and two years of free agency. The Marlins already have offered such a deal, but Gordon would prefer a term of seven years rather than hit the open market entering his age 33 season, according to MLB Network's Jon Heyman.
The threat of arbitration likely will spur further negotiations, with both sides seemingly motivated to strike a deal. Gordon, who did not establish himself as an everyday player until he was 26, likely will want to cash in on his breakout season. The Marlins, who already have right fielder Giancarlo Stanton and left fielder Christian Yelich signed to lengthy contracts, could boast of increasing stability by adding Gordon as another face of the franchise.
A long-term deal makes sense. A long-term deal is almost imperative. The Marlins do not want to go to arbitration with Dee Gordon.