Making the Grade: Passes/Fails for UFC 191: Johnson vs. Dodson 2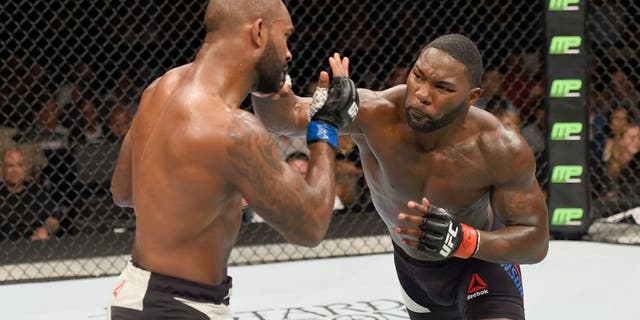 Demetrious Johnson put on another one sided performance on Saturday night as he dispatched another contender with a unanimous decision win over John Dodson to defend his flyweight title for the seventh time in seven chances.
Johnson has now defeated virtually every top contender at 125 pounds and he's done it to a couple of them twice already.
In the co-main event at UFC 191, Andrei Arlovski pulled out a unanimous decision win over Frank Mir in what was a bout largely contested between two exhausted athletes. Arlovski and Mir had both been on win streaks coming into the night, but it was the Belarus native and former heavyweight champion who moved to four victories in a row inside the Octagon as he climbs closer and closer to a potential title shot next year.
But we already know all the results from Saturday night in Las Vegas.
So we're going to dig a little deeper into the fight card to see what passed and what failed. This is Making the Grade for UFC 191: Johnson vs. Dodson 2.
PASSES
Whatever He Hits, He Destroys
You don't have to like Anthony Johnson, but it's impossible to ignore what he's able to do inside the Octagon while throwing punches with other elite fighters.
Johnson's punching power is one of the most incredible weapons in all of MMA and he might just be pound-for-pound the hardest hitter in the entire sport. While there are no scientific figures to back that up, the eye test is all you need when looking at Johnson's long list of victims from his days as a dehydrated welterweight to his current run as one of the best light heavyweights in the sport.
Johnson hits with such thunderous force it's like watching that scene in 'Rocky IV' when Ivan Drago is showcasing his punching power to the media and his Russian advocate says 'the results are obvious -- whatever he hits, he destroys'.
Johnson added yet another name to his resume on Saturday night when he dropped Jimi Manuwa with a single punch before finishing the fight on the ground seconds later. Johnson nearly did the same to Daniel Cormier in May when he clubbed the current UFC light heavyweight champion with a similar punch that almost ended the fight seconds into the first round.
Johnson is deadly mix of speed and power and chances are there aren't going to be very many light heavyweights itching for the opportunity to face him in the Octagon, even if it means earning a shot at the title because with one shot he can alter the course of a fighter's career forever.
Fists of Fury
John Lineker won his first fight at bantamweight on Saturday night in just over two minutes, but that clock measurement doesn't even begin to tell the story on how crazy things got in his bout against Francisco Rivera at UFC 191.
Lineker popped Rivera early and dropped him to the mat and immediately looked for the finish. Rivera got back to his feet and the two fighters began winging punches at each other with all the technique of two middle schoolers meeting in the playground during lunch to settle a score.
But technique didn't matter as Lineker and Rivera kept up the hyperkinetic pace launching punches at each other non-stop until one of them finally fell down.
A total of 100 strikes were thrown between Lineker and Rivera in the 128 seconds they spent in the cage together. According to Fightmetric, the frenetic pace kept by Lineker and Rivera with 100 strikes thrown is the most of all time for any bout ending in under 2:30 into the first round.
Both fighters were rewarded with a 'Fight of the Night' bonus as well and it was very much deserved as Lineker and Rivera threw game plans out the door and just punched each other in the face until one of them could punch no more.
Hey Now, You're a Rock Star
Paige VanZant continues to blaze a trail through the UFC women's strawweight division as she picked up her third straight win inside the Octagon, this time submitting Alex Chambers with a third round armbar.
VanZant is quickly becoming one of the most talked about fighters on the entire roster, not just in the women's division.
The most impressive part of VanZant's rise to fame has been her ability to shine both inside and outside the cage, especially considering she just turned 21 years of age earlier this year.
Pressure can turn coal into dust or into a diamond and VanZant has been shining bright ever since she got to the UFC and there's no doubt she has a very bright future ahead of her.
"She has all the attributes of a little rock star," UFC president Dana White said at the UFC 191 post fight press conference. "She's got a great personality, she's absolutely relentless when she fights, she moves forward, she puts 'Mighty Mouse' type pressure on fighters, and yesterday she was the most searched fighter on UFC.com. People love her."
Of course, VanZant still has to deal with a legitimate threat at 115 pounds and unfortunately Chambers didn't qualify as she was somewhere around a 15-to-1 underdog going into the fight. VanZant has real star power and charisma and if she can transform that into success against the best fighters in the world in the strawweight division, the UFC has another pop culture phenomenon on their hands just like current bantamweight champion Ronda Rousey.
FAILS
Arlovski and Mir Deserved Better
Andrei Arlovski and Frank Mir finally faced off at UFC 191 more than a decade after they were originally scheduled to meet, but the fight failed to live up to expectations as the two heavyweights were both running on fumes by the time the third round began.
It wasn't a bad fight as much as it wasn't the kind of fight we expected after Arlovski got into a 'Fight of the Year' with Travis Browne back in May while Mir knocked out both Antonio 'Bigfoot' Silva and Todd Duffee in the first round of two consecutive fights.
So what happened to turn Arlovski and Mir into the slow, sluggish fighters we saw on Saturday night?
Well honestly it all comes down to time, but it has nothing to do with Arlovski and Mir getting older.
No, it's the fact that the fight between the two legendary heavyweights was scheduled and announced on August 1, a whopping four weeks out from the event. Sure, Mir had just fought a couple of weeks earlier when he face planted Duffee with a jaw crushing left hand but Arlovski had been out of action since May while he waited for news to see if he might get the next shot at the UFC heavyweight title.
The reality is neither fighter got the benefit of a full training camp and instead of a battle for the ages we got a battle of the aged. Arlovski and Mir had both looked like they drank from the fountain of youth in recent fights, but it appeared the potion ran out when they met at UFC 191.
For such an iconic fight between two UFC legends, Arlovski and Mir deserved better. Hopefully, the UFC will honor these two legends with a rematch somewhere down the line in a five round headliner. with at least two or three months to get ready rather than calling on them to help save a card in desperate need of a good co-main event.
Time for a New Rule
The second bout on the preliminary card between Joe Riggs and Ron Stallings ended in controversy after an illegal up kick caused a stop to the fight, but final call will require athletic commissions to review future rulings on the off chance something like this happens again.
It happened like this -- in the first round, Stallings popped Riggs with a series of stinging jabs directly in the eye socket. Riggs was noticeably wincing and could barely open his eye after Stallings targeted the same spot with punches throughout the first five minutes.
In between rounds, Riggs could barely open his eye due to the punches that rendered him unable to see, but he soldiered on and went out again for the second round. Momentum shifted in a big way when Riggs landed a huge punch that sent Stallings crashing to the mat. Riggs followed him to the ground and started to lay on some heavy punishment, but during the course of this exchange, Stallings launched a kick from the bottom while his opponent's legs were still very much on the ground.
The kick tagged Riggs in the head and the referee paused the fight due to the illegal strike. Riggs complained that he could no longer see out of the eye thanks to the illegal kick and the fight was stopped and he was declared the winner by disqualification.
Now, none of the fault lies on the referee or even the commission sitting cage side, but the fact is the eye injury happened thanks to legal strikes and the up kick -- while clearly illegal -- didn't land anywhere near the agitated eye that Riggs already complained about when the fight was stopped.
Instant replay should have helped determined the outcome or at least getting the right call, but instead Stallings is going home with a loss when he should probably be sitting with a no contest instead. Stallings' manager Brian Butler of Suckerpunch Entertainment plans to appeal the decision and hopefully the commission will at least review the information and make a change to the rules so if something like this happens again, the right call could be made.
EPIC FAIL
The Never Ending Debate about Mighty Mouse
There might not be a more controversial champion in the UFC currently than Demetrious 'Mighty Mouse' Johnson and while that might sound like the most ridiculous statement you'll read today, let me explain.
Johnson is the epitome of what mixed martial arts should be -- he's an effective striker, a great wrestler, a fantastic submission specialist, and possibly the most difficult puzzle to solve offensively when trying to do damage to him. On the other hand, Johnson is 5'3", weighs 130 pounds on a good day and his personality just doesn't resonate with fans.
And thus began the never ending debate about Johnson amongst fans and media after his latest performance.
On one hand, there are those who treat Johnson like he's the greatest pound-for-pound fighter in the sport while speaking about his brilliant, technical performances. Those same people react harshly when suggesting that Johnson is somehow boring just because he doesn't go out and put people away in spectacular fashion and instead systematically dismantles them over five rounds.
On the other side, Johnson's detractors get tired of watching him out work fighters who don't appear to be on a level playing field or maybe they just can't appreciate a champion who is just too small to look really dangerous.
The fact is neither argument is wrong.
Everyone is entitled to their own opinion and neither side is wrong for when stating their personal preference. Yes, Johnson is a technical genius when he's competing, but he doesn't do flashy and he doesn't do trash talk. Johnson might be one of the best pound-for-pound fighters in the sport, but he is smaller than the Octagon girls sitting cage side.
No one is right and no one is wrong for enjoying or not enjoying Johnson's performances. You aren't a bigger fan because you love his fights and it doesn't mean you aren't a real supporter if you choose not to watch Johnson perform. The good news is we are all talking about Johnson and that's something that has been sorely lacking ever since he became flyweight champion.