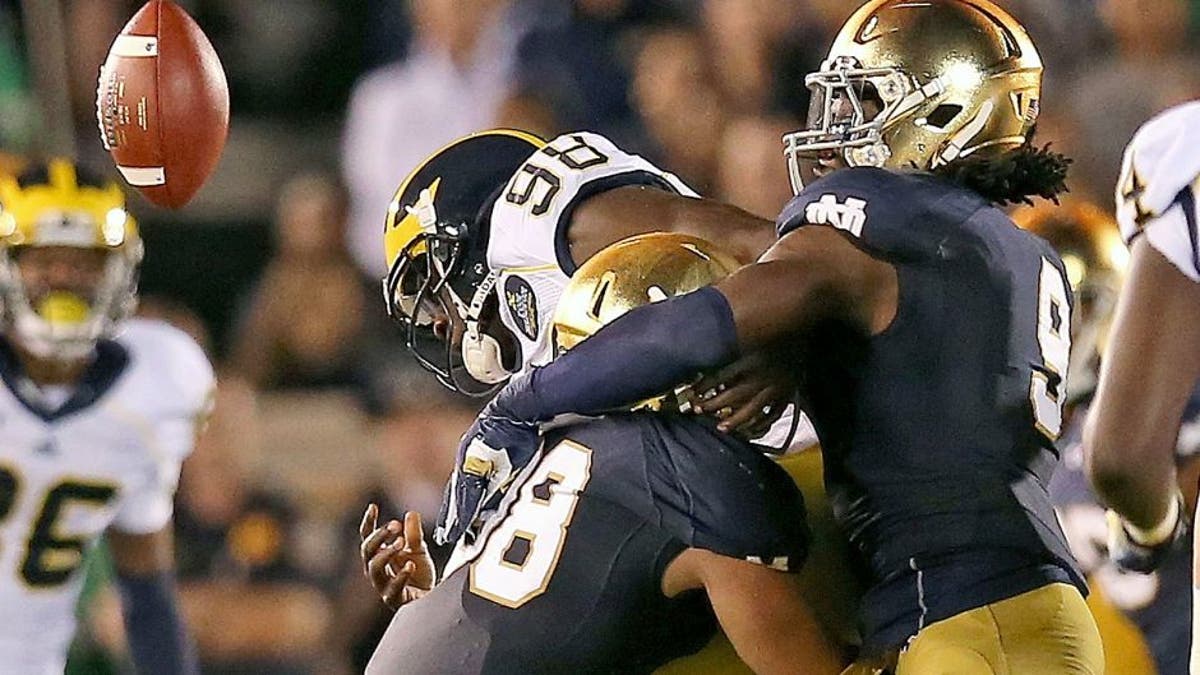 Editor's note: Send questions for future Mailbags to stewart.mandel@fox.com.
***
Earlier this summer I basically had to beg for new Mailbag submissions. This week, however, I had more than I could choose from. The season must be getting close.
Or it's because I recently called a bunch of peoples' favorite teams overrated.
Stewart, I've been a fan of yours for years, as I think you're one of the most impartial college sports writers out there. But I'd love to hear the reasoning behind your reaction to the preseason coaches poll on USC (overrated) and Notre Dame (underrated). USC was 9-4 last year, Notre Dame 8-5. And critically, USC absolutely walloped ND in the head-to-head game at the end of last season. How is it that you feel USC at #10 is one of the most overrated teams, and ND at No. 11 is one of the most underrated teams?
-- Mike, Los Angeles
Hey Stewart, I was a little surprised that you heaped scorn on USC as a top-10 team, since Phil Steele has them No. 3 in his preseason rankings and the media picked the Trojans to win the Pac-12. Has Steele just drunk the Trojan Kool-Aid, or does he see something we don't?

-- Hugh Henry, Statesboro, GA
Let's start with Phil. There's no arguing his prognostication skills (or his ability to cram 3,000 words onto one page of a magazine), as he's frequently the most accurate predictor out there. But he places a great deal of emphasis on players' NFL prospects, and as a result, tends to overvalue teams that have more of them. And that's been particularly true recently with USC. His preseason rankings for the Trojans the past five years, starting with 2010: eighth, 17th, fourth, sixth and 12th. USC's final AP rankings in those corresponding seasons: unranked, sixth, unranked, 19th and 20th. Now, he's really going all in.
But a lot of people frequently fall for the same trap with USC, and I believe are doing so again this season. The Trojans are always going to have star power, whether it was Matt Barkley/Marqise Lee/Robert Woods a few years ago or Leonard Williams and Nelson Agholor last year. This year, quarterback Cody Kessler, receiver JuJu Smith, linebacker Su'a Cravens and cornerback Adoree' Jackson are all national headliners. But with the exception of Lane Kiffin's one great 10-2 season in 2011, the results recently haven't matched up with the perceived talent level. And I'm not yet convinced Steve Sarkisian is the coach to reverse that trend.
As for the head-to-head comparison with Notre Dame, first of all, never make predictions based off of one game last year. Using that logic, USC should be behind Boston College, no? Yes, the Trojans destroyed the Irish at the Coliseum late last season, but Notre Dame's defense was so decimated by injuries at that point that Brian Kelly was desperately pulling a freshman's redshirt and throwing in a career benchwarmer. That's not to excuse the result, only to say that I don't put much value in it when assessing this year's squad.
Come Sept. 5 against Texas, Notre Dame could start at least four key players -- linebacker Joe Schmidt, cornerback KeiVarae Russell, defensive tackle Jarron Jones and nickel back Drue Tranquill -- who missed that game (or longer). I see the 2015 Irish more as a continuation of the 2014 team that started 6-0 and came within an illegal pick penalty of winning at Florida State. On the other hand, I see USC as the encore version of a team that had no real breakout victory last year, save for a road win at Arizona. The Trojans should be improved, no question, but I'm not seeing quite the lofty heights that other predictors are seeing.
Of course, after all that, I'll look really dumb if Malik Zaire does not develop into the caliber of quarterback I'm expecting, given USC has one of the most proven signal-callers in the country. But I'll take my chances.
Stewart, can you please offer a little perspective/sanity to the all of the negative chatter surrounding Ohio State's schedule? To listen to some of the talking heads and fans, you'd think the Buckeyes play in the AAC. According to the Coaches Poll, Ohio State is only playing one ranked team, but I'm confident that by the end of the season that number will be significantly higher. Am wrong in thinking that this schedule is much tougher than most believe?
-- Brian Meyers, Oregon, Ohio
Sorry, but yes, you are wrong.
Let's use some objective, quantitative data to compare Ohio State's schedule with that of, by popular example, Alabama's. I'm going to use Football Outsiders' F/+ efficiency rankings, because they assess how a team played relative to its expected performance against the same opponents. In other words, rather than saying, that team went 7-6, therefore it's mediocre, efficiency rankings say, how would an average team have performed against the same slate?
Here are the 2014 rankings of the 12 opponents each will face this season:
Ohio State: 33, 111, 69, 56, 88, 62, 45, 81, 37, 78, 11, 54. Average: 60.4
Alabama: 25, 87, 5, 97, 4, 9, 42, 24, 22, 13, (FCS), 7. Average: 30.5.
Yikes. Even if I randomly assigned Alabama's FCS foe, Charleston Southern, a ranking of 150th, its average would still be 20 points better.
Granted, some teams on the Buckeyes' schedule will inevitably be much better than their ranking last year. But others may well be worse. End of day, if Ohio State is as good as we think it will be, then it will destroy most of these teams. If it doesn't, it could get a 2014 Florida State treatment from the committee.
Hi Stewart: Following up on your ACC podcast, I don't understand why everyone is so high on NC State. It seems to me that everyone is forgetting how paper-soft NC State's out-of-conference schedule was last year, which propped up its record. The Wolfpack weren't within double-digits of FSU, Clemson, BC, Louisville or Georgia Tech. I don't get all the hype.
-- Matt, Boston
I dug a little deeper into the ACC after recording the podcast, and I have to say I agree with you. On the surface, it's easy to get sucked in by NC State's jump from 3-9 to 8-5 in Dave Doeren's second season. I also confess my most vivid recollection of the Wolfpack last season was quarterback Jacoby Brissett lighting up Florida State in a game where they jumped to an early 24-7 lead only to lose 56-41. Brissett is the biggest reason for optimism surrounding NC State, not to mention another cupcake September slate (Troy, Eastern Kentucky, Old Dominion and South Alabama) assures that even a modestly improved team should win at least eight games. But there's not much evidence yet that the Wolfpack are ready to jump much beyond that.
The ACC Atlantic team we completely disregarded in that conversation, and which I'm starting to believe is one of the biggest sleepers nationally, is Louisville. Because most predictions are based on the simplistic "returning starters" stat, it's easy to disregard the Cardinals, which technically return just seven. But that doesn't do justice to Bobby Petrino's "Transfer U" roster. Half his starting secondary will likely be former Georgia starters Shaq Wiggins and Josh Harvey-Clemons. Wayward ex-TCU star Devonte Fields, a former Big 12 Defensive Player of the Year, joins the D-line. But most of all, look at Petrino's track record with second-year teams. His 2004 Louisville team jumped from 9-4 to 11-1. His 2009 Arkansas team went from 5-7 to 8-5.
It will be such a great feel-good story when "changed man" Petrino and his band of other teams' disciplinary castoffs sneak up and win the division.
Stewart, do you think Michigan can shoot up into the Top 25 if they can go out to Utah and get a big win right out of the gate under Jim Harbaugh?
-- Jerry Sauder Jr., Tuscon, Ariz.
Possibly, but not definitely. Though Utah finished last season in the coaches' Top 25 it did not enter this year's debut edition and in fact received fewer votes than Oklahoma State. Not sure what happened there. Perhaps the AP poll will treat the Utes differently. Either way, if it were pretty much any other unranked team winning at Utah, it probably would not be enough to jump into the poll right away.
But because it's Michigan/Harbaugh and because that Thursday night opener (on FOX Sports 1, if you haven't heard) is going to get a lot of attention, the Wolverines may enjoy a bigger bump than most.
The other factor will be how many Top 25 teams lose in Week 1 to make room. One obvious candidate would be No. 18 Wisconsin, if it gets blown out by Alabama. Though that would be some vintage voter logic right there, to write off the Badgers for losing to a top-five team but elevate the Wolverines for beating an unranked team.
Do you think Urban is giving himself a mulligan on a dangerous VT game, which is in Blacksburg this year, by suspending his players?
-- David Swarbrick Jr.
Yes, absolutely. It's all an elaborate ruse on his part.
How am I supposed to answer this?
It seems that since realignment, the "Power 5" conferences have in some ways become the Power 3, with the Pac, B1G, and SEC a step above the ACC and Big 12, at least in terms of stability and desirability, if not on-field performance. Do you agree, and if so, how do you see this impacting the future of the game?
-- Dan, Washington D.C.
If you're talking financial strength and marketability, really the SEC and Big Ten are in a different tier than the other three. The Pac-12 did very well in its TV deal a few years ago but its network is not producing nearly the returns of the Big Ten's and SEC's, and those conferences certainly enjoy more exposure. If you're talking stability, really only the Big 12 is showing any signs of vulnerability. The ACC seemed like it might a few years back but really solidified itself through a combination of pillaging the old Big East, landing Notre Dame and brokering a Grant of Rights. (The Big 12 has one too, but that hasn't squelched the in-fighting and rumor-mongering.)
On the field, though, I've got to disagree with you entirely (which seems to be a recurring theme in this particular Mailbag for whatever reason). First of all, the Big Ten might separate itself from at least the ACC and Big 12 in coming years but it hasn't done so yet. Yes, it boasts the reigning national champ, but it also placed just three teams in the preseason coaches poll, compared with eight from the SEC and six from the Pac-12. But most importantly, and as I always preach --in fact let's say it together now -- college ... football ... is ... cyclical. You may think that's the conference pecking order now, but if Charlie Strong turns Texas back into a national title contender we'll be right back to pumping up the Big 12. If Oregon suddenly suffers a couple of 8-4 seasons we'll hear the Pac-12 is down.
The one thing we'll never hear of course is that the SEC is down, because the SEC is never down, it's just too darn tough for its own good and/or wasn't motivated for [Bowl Game X] and/or … BUT OHIO STATE'S SCHEDULE!
Ah, the nostalgic glory days of the U. Alas, for Hurricanes fans like myself, is Miami finished as a national football power? I think so. I know the school jumped from the Big East to the ACC for the money, which I respect, but in doing so cut itself off from talent-rich areas in the Northeast. Throw in the rise of legit in-state schools like UCF adding options football-playing kids in-state and how can Miami, a private school with exceptionally lackluster facilities, ever compete for titles or be a place a coach on-the-rise would consider again?
-- Bobby, Pennsylvania
This is a first for me. A self-defeatist Miami fan? I didn't know such a species existed. I thought all 'Canes fans were required to go around flashing the "U" sign and reminding everyone about those five national titles much the way grown men manage to work "that time we went to State" into present-day conversations.
In short, I disagree. Yes, Miami has some inherent disadvantages with its bandwagon pro-sports fan base and formidable in-state competitors. But those things existed when the 'Canes were dominant, too. I will say the Orange Bowl's demolition was a big blow to the program's identity, but that's not prohibitive of on-field success. And the talent pool in Miami's backyard remains as ridiculous as ever. According to Rivals.com's database, nearly 100 players from within 75 miles of Miami's campus signed with FBS schools this year, roughly half of which were rated four stars or higher. The problem is, only two of those nearby four-stars signed with The U. Howard Schnellenberger would surely find that unconscionable.
Keep in mind, the 'Canes had seven players drafted last spring off a 6-7 team, five of them in the first three rounds. As discussed with USC earlier, talent alone is not enough. As with most history-rich programs, Miami will always be one great coach away from returning to prominence, but no one's immune from a downturn. Ask Florida. Or Texas.
Stewart. One of the things I noticed about the coaches poll is that there is zero love for the AAC. You noted that Boise is seriously underrated, but I think just as valid a premise is that the AAC as a whole is getting blacklisted. Cincinnati, UCF and Houston could all easily be 10-plus win programs this year, and it's not like their conference competition is abysmal. Let's not forget that ECU, Navy, Temple, and Memphis all figure to be capable of knocking off a few Power 5 teams. What gives?
-- Adam Nettina, Abilene, Texas
Now that's what I'm talking about -- some AAC pride. (Are we done calling it the American?) Take that, Ohio State fan who used that league as a punch line earlier.
I'd be willing to bet that at least one of those teams you mentioned enters the Top 25 fairly quickly. The problem is, which one? I know at league media days in Newport, RI, earlier this week the voters tabbed Cincinnati and Memphis to win their divisions, and I see no real fault with either. Gunner Kiel should lead an explosive Bearcats offense, and Justin Fuente's Tigers won 10 games last year. Bonus: If both picks come true we'll get a rematch of the 1992 Nick Van Exel-Penny Hardaway Elite Eight game.
But I could just as easily make a claim for UCF, what with its 15-1 league record the past two years; Temple, with its quietly stingy defense; or Houston, just on faith in Tom Herman. Like the voters, I'm not sure enough about any of these to declare them more worthy of a preseason ranking than the others. But this will sort itself out soon enough. Within the first few weeks of the season, Cincinnati visits Miami; Temple plays Penn State; UCF plays Stanford; and Houston visits Louisville, Whoever pulls off the first big upset will get its due acclaim.
Reading your article and commentary insulting the coaches poll just confirms to me, that any idiot could write a sports column. As a former high school football coach, I've always thought that sportswriters were mostly a bunch of wannabe athletes who are actually nerds who know so little about what they're talking about that I'm actually embarrassed for them. Your article is absolute proof that I was right all along.
Sincerely,
Chris Hall
863-XXX-XXXX
Chris: Thanks for the note and for leaving your number. Let's catch up soon. I'll fill you in on the newest "Star Wars" trailer, and you can reminisce about that time you guys went to State.
Stewart Mandel is a senior college sports columnist for FOXSports.com. He covered college football and basketball for 15 years at Sports Illustrated. You can follow him on Twitter @slmandel and Facebook. Send emails and Mailbag questions to Stewart.Mandel@fox.com.