Lugers take first Olympic training runs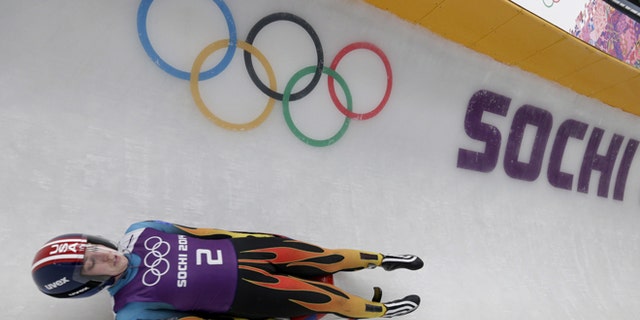 KRASNAYA POLYANA, Russia – Describing the ice as smooth, fast and by all accounts perfectly safe, luge athletes took their first formal training runs of the Sochi Olympics on Tuesday.
Some sliders took as many as three trips down the track, part of systematic training system where they have the opportunity to acclimate to the course by sliding from lower start positions. That particular method of course-learning has been in place for several years, predating the crash that took the life of a Georgian luger hours before the start of the Vancouver Games in 2010.
"When you're going down you're focused, just wanting to make it down shiny side down," said first-time Olympian Kate Hansen of the U.S., who won the final women's World Cup race of the season. "It's surreal. There's just a lot of people here. Everyone's willing to help. Everyone thinks you're awesome. It's just a cool, cool thing."
Many sliders were at the track last fall for an international training week, and just about the entire Olympic field competed in a World Cup event at the facility last year.
So for many, Tuesday's slides were more of a reintroduction to the track than anything else.
"You get comfortable, you get the routine down, how to get to the track, how much time you need, making it as efficient as possible so on race day I've done it a few times," said Erin Hamlin, the 2009 women's world champion from the U.S. "The track felt great. It was systematics today and that's not the most convenient, but it's nice to get a feel for the track."
The Sochi track is considered the longest in the world, with three uphill sections — designed to both limit speed and test sliders' technical ability — among its many nuances.
"It's a very interesting track because of the three uphill parts," said Natalie Geisenberger, the reigning world and World Cup champion from Germany. "It's not typical. It's new for us. If you make a little mistake, the time is bad."
Men's official training begins Wednesday, in advance of their competition Saturday and Sunday. Medals will also be awarded in doubles, women's singles and for the first time in the Olympic program, a team relay.
For Tucker West, another U.S. Olympic rookie, the first day on Olympic ice was a success. He didn't get pranked.
Longtime U.S. sliding coach Bill Tavares tends to tell first-time Olympic competitors that they need to wear their accreditation on the track while they slide in training, or else they won't be allowed back to the start of the course. Very few have believed him along the way, and West didn't fall victim to the tall tale on his first day donning a bib with the Olympic rings.
"It's above and beyond what I ever expected," West said. "It still gives me chills to see the rings. Just being around them, sliding under them, it's really cool."