Lockdown bullpen, three homers power D-backs past Nationals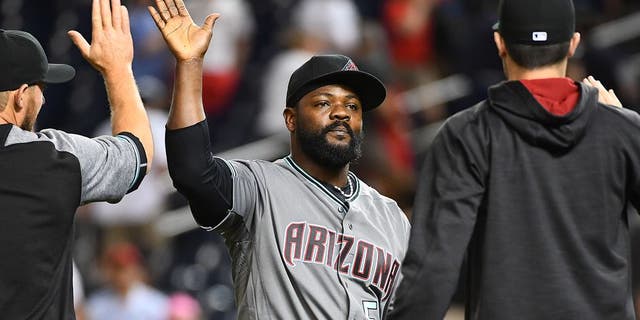 WASHINGTON -- Not only did the Arizona Diamondbacks put a clamp on Washington's prolific offense, they put on a power display of their own.
Arizona hit three home runs, including fourth-inning drives by Jake Lamb and Chris Herrmann, and pulled away to a 6-3 victory over the Nationals on Tuesday night.
Erratic starter Taijuan Walker and four relievers combined to blank Washington over the final six innings after the Nationals bolted to a 3-1 lead.
Two days after scoring 23 runs against the Mets to cap a record-setting month, Washington went 2 for 12 with runners in scoring position and stranded 10.
"A lot of credit goes to our pitching staff," Arizona manager Torey Lovullo said. "It wasn't a perfect outing for Taijuan -- we extended him a little bit -- and he handed it off to the bullpen. If you hold this team to three runs, you're doing things right on the mound."
Walker needed 117 pitches to get 11 outs and was pulled with two outs in the fifth. He gave up three runs, walked five and struck out six.
T.J. McFarland (1-0) got four straight outs, J.J. Hoover and Jorge De La Rosa each pitched an inning, and Fernando Rodney worked a perfect ninth for his seventh save.
The Diamondbacks notched 11 strikeouts, the eighth straight game they reached that figure, tying the major league record set by Cleveland in September 2015.
Ryan Zimmerman had two hits for the Nationals, his career-high fifth straight multihit game. But Washington's offense sputtered after becoming the first team in baseball history to score at least 14 runs five times in April.
Anthony Rendon, who had three homers and 10 RBIs in that rout of the Mets, had one of Washington's seven hits.
"Three runs is still pretty solid," he insisted. "It doesn't reflect what we did all last month, but you know we're going to have days like that."
It hasn't happened often thus far. The Nationals scored 170 runs in April, the most coming into May since the Chicago Cubs reached 171 in 2008.
"Kind of a downer day," manager Dusty Baker said. "Just seems like we don't bounce back with a lot of life after an off day."
Taking Monday off seemed to take the momentum away from the offense, as evidenced by Washington's failure to deliver a clutch hit.
"We left a lot of men on base," Baker said. "We were picking them up in the last series so we'll just have to start picking them up (Wednesday)."
Nationals starter Tanner Roark (3-1) struck out eight over six innings for the Nationals, but threw a career-high 125 pitches and left with Washington trailing 4-3.
Arizona's Paul Goldschmidt and Washington's Bryce Harper each had RBI singles in the first inning, and Daniel Murphy singled in two runs in the bottom of the third.
Lamb led off the fourth with a drive to right, Brandon Drury got an infield hit and Herrmann homered to put the Diamondbacks up for good.
Jeremy Hazelbaker made it 6-3 with a solo shot in the ninth.
STOP THIEF!
Goldschmidt had his run of 25 straight stolen bases end when Jose Lobaton threw him out at second base in the first inning. It was the second-longest streak in club history behind Eric Byrnes (30).
A REAL AMERICAN
Rodney became a U.S. citizen on Tuesday, announcing the news with a smile and a tweet.
The 40-year-old Rodney was born in the Dominican Republic and has been pitching in the big leagues since 2002 with Detroit.
His tweet said: "I'm officially a US citizen. God bless America & Thank you for the opportunity. Hijo de Republica Dominicana."
TRAINER'S ROOM
Diamondbacks: OF David Peralta wasn't in the starting lineup because he was "a little under the weather," according to Lovullo.
Nationals: INF Stephen Drew (hamstring) is moving closer to a rehab assignment. "He's been very chipper," Baker said. … C Matt Wieters was unavailable because of an illness.
UP NEXT
Diamondbacks: LHP Robbie Ray (2-1 3.56 ERA) starts Wednesday night. He's 0-2 with an 8.44 ERA in two lifetime starts against Washington.
Nationals: Making his sixth start of the season, Gio Gonzalez (3-0, 1.62 ERA) is 34-20 with a 3.20 ERA when pitching in Nationals Park.