Legendary Oklahoma coach Bob Stoops leaves on his own terms and on top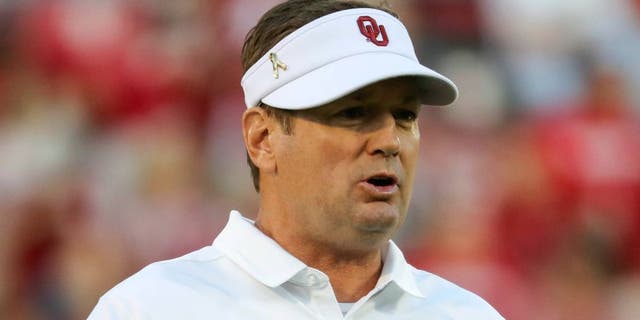 NEWYou can now listen to Fox News articles!
Bobby Bowden and Joe Paterno couldnt manage it. Neither could Steve Spurrier. Or Woody Hayes. Or even Bear Bryant, for that matter.
Bob Stoops on Wednesday achieved something incredibly rare among college football coaching icons: He went out on top.
The timing may be odd, the circumstances unusual. But if the 56-year-old Stoops really is retiring on his own accord after 18 mostly glorious seasons as Oklahomas coach, he does so in the most triumphant fashion of any coach in his stratosphere since Nebraskas Tom Osborne two decades ago.
Just last season, Stoops notched his second consecutive Big 12 championship and 11-2 campaign. With Heisman finalist Baker Mayfield and 14 other starters returning, recruiting humming along and a stable staff in place, OUs program is arguably in its best shape since the Sam Bradford glory years nearly a decade earlier.
But Lincoln Riley, the wunderkind offensive coordinator so integral to that recent uptick, now suddenly gets the keys to that Cadillac while Stoops rides off into the sunset.
I feel the timing is perfect to hand over the reins, Stoops said in a statement. The program is in tremendous shape.
This is not like Stoops old boss, Spurrier, abruptly quitting midseason at South Carolina upon realizing hed run his program into the ground. Or former adversary Bowden sticking around Florida State nearly a decade past his peak years. Nor will there be some prolonged search to find a worthy successor.
This is a man who built an empire, stuck out the inevitable peaks and valleys, got it back to the undisputed jewel of its conference and apparently said I think my work is done here.
The coaching life is like a relay race, said Stoops, and I'm thankful for my turn and am confident as I pass the baton.
Ive long contended that Stoops was far too underappreciated relative to his considerable resume:Ten Big 12 championships in 18 seasons, seven Top 5 finishes, six BCS or New Years Six bowl victories and, of course, a national championship. While understandable if not mentioned alongside five-time national champ Nick Saban or three-time trophy hoister Urban Meyer, no other coach this century has accomplished anything remotely close.
The criticism, I believe, came in large part because of the incredible and ultimately unsustainable run of dominance he achieved early in his tenure. His 2000 national title came in just his second season. By his sixth, hed already played for two more. He became known as Big Game Bob.
But after the 2003 and 04 teams both started 12-0 before suffering high-profile blowouts (to Kansas State in the 03 Big 12 title game and USC in the 04 BCS championship game), the narrative around Stoops started shifting. Now he was the Coach Who Cant Win the Big One, even though he kept posting double-digit wins nearly every season and averaged a conference title every 1.7 seasons.
Arguably Stoops best team was the Bradford-led 2008 squad that set an NCAA record by averaging 51 points per game and posting five straight 60-plus outputs. But even that season played into the hands of his critics, both because there was controversy whether the Sooners even should have played in that years Big 12 title game (they won a three-way tiebreaker in their division)and then because Meyers Florida team held them to 14 points in the title game.
Heres guessing 20 years from now, there will be no such nitpicking of a career .798 coach who lorded over a major conference for nearly two decades. And a big part of that will be how it ended.
It was barely two years ago that Stoops was mired in the roughest patch of his entire tenure. The Sooners were coming off a humbling 8-5 season in 2014 that ended in a humiliating 40-6 Russell Athletic Bowl loss to Clemson, after which a Tulsa World columnist dared to write, Its time for Bob Stoops to go. Shortly thereafter, Stoops made the difficult but necessary decision to fire offensive coordinator Josh Heupel, the star quarterback on his own 2000 national title team, and replace him with Riley, then a 31-year-old East Carolina offensive coordinator.
I visited Norman on many occasions during Stoops tenure, including that spring of 2015. It was an unusually turbulent time, just weeks after hed joined his players in a much-chronicled protest over a racist fraternity video. I came to ask about that, but also the upheaval in his program.
Stoops was cordial, confident but also a tad defensive that afternoon. The questions over the way the previous season ended were clearly wearing on him. He kept rattling off reminders of all his 10-win seasons and Big 12 championships. Clearly, he felt hed earned enough faith that fans and media would necessarily trust hes got it all under control.
But even Stoops one and only boss, AD Joe Castiglione, expressed a slight hint of concern when I visited with him that same afternoon.
Just the feel of that [bowl] game, I cant say Ive seen that before in all the years weve been together, Castiglione told me. It just didnt look like Oklahoma."
But Oklahoma looked like Oklahoma again soon enough. Rileys Air Raid offense was a big part of that. So was a record-breaking quarterback, Mayfield, who literally just showed up in Norman one day shortly after leaving Texas Tech. OU earned a playoff bid in 2015. Theyfinished No. 3 in the country the next.
Mind you, those last couple years werent without blightsmost notably Stoops widely criticized decision to welcome back running back Joe Mixon after just a seasons suspension for breaking a womans jaw.
The incident occurred in summer 2014, but the gruesome video did not come out until December 2016, eliciting a much harsher backlash. It was the worst decision of Stoops entire tenure, one absolutely deserving of all the criticism he engendered, and which he admitted before last years Sugar Bowl he knows he could not have made today.
One might theorize that Stoops put off this announcement until June in part to distance himself from that potentially legacy-staining controversy. Thats not likely. While Stoops certainly had some indisputably thin skin when it came to criticism, he rarely let it influence his decisions.
In walking away at 56, Stoops continues something of an OU coaching tradition. Bud Wilkinson, who led the Sooners on an NCAA-record 47-game winning streak in the 50s, hung it up after 17 seasons at the ripe age of 47. Barry Switzer, the man whose OU career wins record Stoops eventually passed, did not go on his own accord, but nonetheless he was just 51 at the time his scandal-marred tenure came to an end in 1988.
Switzer, of course, went on to a second act as Super Bowl-champion coach of the Cowboys. It will be interesting to see whether Stoops truly walks away from coaching for goodor whether, like so many before him, he gets restless after just a year or two and winds up back on a sideline.
Either way, hes already cemented his eventual place in the college Hall of Fame for his run at Oklahoma. He ended it sooner than any of us would have expected. But he ended it on top.
Ben Queen-USA TODAY Sports | Ben Queen