LeBron James explains the difference between his joining Heat and KD joining Warriors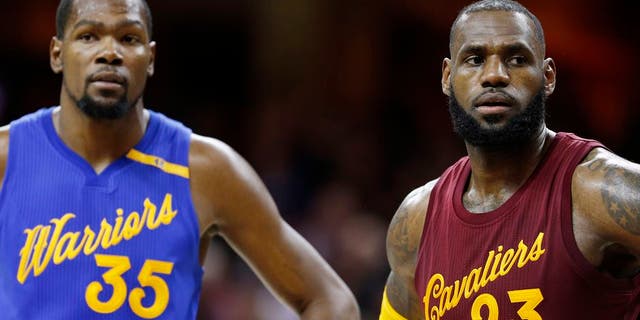 NEWYou can now listen to Fox News articles!
Nearly seven years after forming what was considered by many the first super-team, LeBron James is staring at the prospect of being swept out of The Finals for the second time in his career. The concept of a super-team that James, Dwyane Wade and Chris Bosh created in 2010 has been taken to another level by this years Golden State Warriors, who areone win from completing an unprecedented 16-0 playoff run.
Much of Golden States dominance is credited to its signing of Kevin Durant last summer, adding a four-time scoring champ to a team that had won a record 73 regular-season games in 2015-16. Its a move many have compared to James famous 2010 decision that led him to South Beach.
But James sees some differences between what he pulled off in 2010 and what Durant opted to do last summer.
I dont think our careers are the same as far as changing teams, James told reporters Thursday. Their team was already kind of put together, and you just implemented a guy thats ready to sacrifice, a great talent, a guy thats willing to do whatever it takes to help the team win. But that team, they knew what they were about, and he just had to come in and just do what he had to do and thats what hes been doing.
For me, when I left [Cleveland] to go to Miami, we had to build something. We brought in eight or nine guys, and we had to build something, and when I came back here we had to build something again. But I can definitely appreciate the simple fact of him either reshaping his game or just sacrificing some shots here, sacrificing having the ball in his hands all the time.
James also said the NBA isnt the only league that has had to deal with super-teams, pointing to the dominance Yankees and Cowboys enjoyed in the 1990s.
"Is it fair the New York Yankees in the '90s added piece after piece? Is it fair the Cowboys added Deion Sanders? James asked.
We likely haven't seen the last of the Warriors' dominance, either. Each member of their Big 4 Draymond Green, Steph Curry, Klay Thompson and Durant is youngerthan 30 and appears willing to sacrifice to keep the Warriors' dynasty intact.