Leandro Barbosa back for 3rd stint with Suns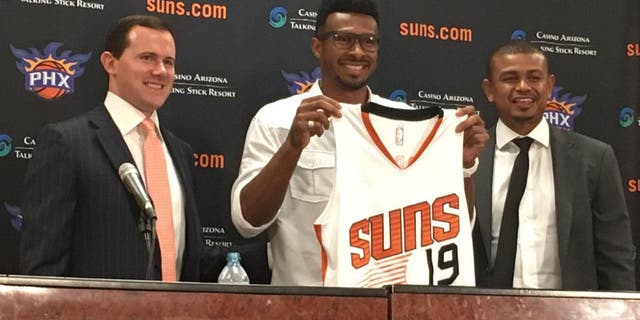 NEWYou can now listen to Fox News articles!
PHOENIX -- The Phoenix Suns officially announced the signing of veteran guard Leandro Barbosa.
The 6-foot-3 Barbosa returned from his native Brazil, where he was preparing for the Rio Olympics, to be re-introduced by the Suns on Tuesday.
Barbosa played eight of his 13 seasons with the Suns. He spent his first seven NBA seasons (2003-10) with Phoenix and returned for the 2013-14 season. He played the past two seasons for Golden State, helping the Warriors win the NBA title in 2014-15.
The agreement with Barbosa had been widely reported on July 7. He signed a two-year, $8 million contract. Only $500,000 of the $4 million in the second year of the deal is guaranteed.
"Leandro has played a significant role on a number of very successful teams over the course of his career," Suns general manager Ryan McDonough said. "LB is very popular with teammates and fans, and we are thrilled to have him back as a key part of the Suns. We think he will contribute greatly to what we are building -- on and off of the court -- here in Phoenix."
Barbosa has averaged 12.4 points per game in 486 games in a Suns uniform with a 3-point shooting percentage of 39.6. His 716 made 3-pointers is third in franchise history, trailing only Steve Nash and Dan Majerle. He won the NBA Sixth Man of the Year Award for the 2006-07 season.
In addition to Phoenix and Golden State, Barbosa has played for Toronto (2010-12), Indiana (2012) and Boston (2012-13).