Larry Bird might have opened the door for Paul George's Indiana exit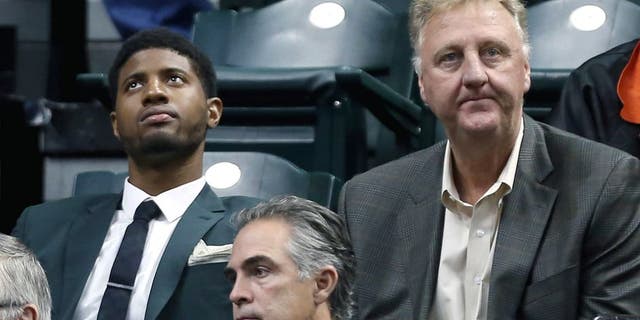 The Indiana Pacers are a team in limbo. As we just saw, they're clearly not good enough to compete in the Eastern Conference, but they're not going to be picking high in the draft every year, either. They're much like their best player, Paul George of all the NBA stars, he's right, smack dab, in the middle.
It's hard to see the Pacers getting any better from their current station without high draft picks they can't bank on landing another star to play with George and budding star Myles Turner, and Indiana isn't exactly a premier destination for top-flight free agent players.
That's the conundrum that Larry Bird was facing as the Pacers' chief personnel man. But Bird resigned from that post Friday it's general manager Kevin Pritchard's problem now.
And with Bird out of the way, the path could be cleared for Pacers to trade George, who can become a free agent in 2018.
Bird's reputation was that he was as competitive at running a team as he was as a player, and that competitiveness often manifested itself as stubbornness. Now stubbornness can be a good thing let's call it steadfastness or being resolute instead and you see plenty of that around the NBA. But it can also stand in the way of success, like Phil Jackson's stubbornness when it comes to the Triangle offense a lot of good that's doing the Knicks.
It's foolhardy to say if Bird's stubbornness is (or was) detrimental or beneficial to the Pacers' success, but there's not a doubt in my mind that Bird's competitive fire would have stopped him from trading George, his best player, this summer.
Larry Bird doesn't tank.
The Pacers will never be able to get fair value for George in a trade that's not how the NBA works. You might get a ton of draft picks that could turn out to be equal or better players, and you might be able to get some nice role players to fill out a roster, too, but you won't get a superstar back for a superstar not in the moment, at least. By trading George, the Pacers would be admitting they cannot get back to the Eastern Conference finals (they made it in 2013 and 2014) or reach the NBA Finals with PG as their best player. So while they might not fall hard if they move George, they would be doing their own form oftanking making their team deliberately worse by trading in their best asset in the hopes of having a more diversified future.
You can see the upside of the move, but it's still a difficult move to make in the present. It's risky. Superstars aren't traded in the NBA for good reason they can totally shift the balance of power in a conference and in the league.
But losing George for nothing in free agency,no matter what happens with the All-NBA team and his designated player status,is also a real risk for the Pacers after next season.
And the buck no longer stops with Bird on that tough decision.
NBAE/Getty Images
We can presume how that would have worked out if it did George would be a Pacer until he signed with some other team or was no longer deemed worthy of being on Larry Legend's team.
How do things change now that Bird is out as the main man? No one can say definitively, but things were already interesting in Indianapolis and the intrigue is increasing by the moment.
Garrett Ellwood | NBAE/Getty Images