Kyle Larson has $1 million on his mind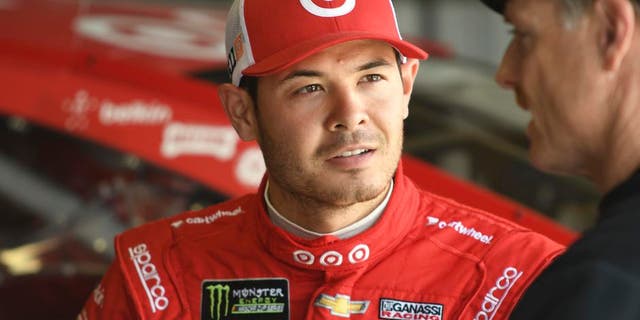 Monster Energy NASCAR Cup Series points leader Kyle Larson is one of 19 drivers wholl race for $1 million on Saturday night.
And hes got a very good chance of succeeding.
Larson, driver of the No. 42 Chip Ganassi Racing Chevrolet, will be going for his first victory in the $1 million-to-win Monster Energy All-Star Race under the lights at Charlotte Motor Speedway (TV coverage on FS1 begins at 6 p.m. ET Saturday).
Last year, Larson came close, winning the all-star last-chance qualifying race and leading the main event until late in the race, when Joey Logano got by him for the victory.
This time around, Larson should be a much bigger threat as the teams cars consistently have been faster than the ones he drove last year.
My mindset is different now because I know we have good race cars, where last year the All-Star race was kind of the beginning stages of our race cars getting good, so I didnt really know that I was going to be good there, said Larson.
Given the way hes run all season, that shouldnt be an issue for Larson this time out.
This year I expect that we are going to go there and be contenders and hopefully be running up front and be a part of that final 10-lap segment and have a shot at one million dollars, Larson said.
One big change this year is that drivers will have two different tire sets to choose from, a regular set of Goodyear Racing Eagles and a softer set thats about 2.5 miles per hour a lap faster, but wears out quicker.
The teams can use the soft tires, which will have green lettering, whenever they want in the race. But if they put them on for the final 10-lap segment, they will have to start at the rear of the field.
Like his competitors, Larson is curious to see what will happen.
Its going to be interesting to see how it works out, he said. I dont think you will have every car on the option tire for that final segment, but I could be wrong. Because there are going to be some people, I think, that will probably use it in that last segment before the final one to try and better their average position to lock into that top 10 for the final stage.
So, yeah, I dont know, its hard to predict the future, especially when you have something that is very new like this with the option tire and all that, he said. We will have to just wait and see.
And that unknown will be one of the key storylines on Saturday night.
Matthew T. Thacker | Matthew T. Thacker/LAT Photo USA