Knicks Stun Spurs As Carmelo Anthony Returns To Lineup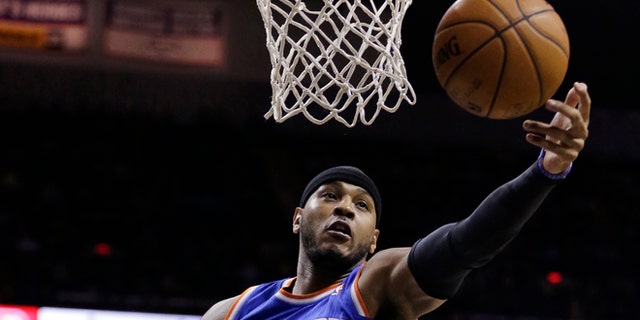 SAN ANTONIO (AP) – Carmelo Anthony's presence in the lineup has a way of making things right for the Knicks.
Anthony had 27 points and 12 rebounds in his return from injury and Iman Shumpert scored a career-high 27, including the tiebreaking tip-in with 23.4 seconds left, as New York surprised the San Antonio Spurs 105-101 on Thursday night.
"The effort level was very high, the energy level was very high," Anthony said. "We played like we wanted this game."
Two days after dominating the Brooklyn Nets, the Spurs were expected to enjoy similar success against the other New York team in disarray.
The Knicks have been battling injuries, shoddy defense, selfish offense and lofty expectations, but they suddenly looked whole.
Amare Stoudemire added 11 points and Beno Udrih and Andrea Bargnani had 10 each for New York (10-21), which snapped a three-game skid.
Marco Belinelli had a career-high 32 points, but missed a pair of 3-pointers in the final minute for San Antonio (25-8). Tony Parker had 12 points and Manu Ginobili added 11 points and 12 assists.
The Spurs, who dropped to 12-5 at home this season, had won three in a row overall. But they failed to contain Anthony and — surprisingly — Shumpert.
The Knicks' skid coincided with Anthony sitting out with a sprained left ankle, but the All-Star forward looked refreshed in revitalizing the team's struggling offense.
Shumpert had a combined 25 points in the Knicks' five previous games, but he got a lift from Anthony's return.
"They doubled 'Melo, so a lot of times I was just wide open," he said.
After scoring 23 points on 9-for-15 shooting in the first three quarters, Anthony was limited to four in the final period while going 1 for 5. But those last four points were critical in a frenzied finish.
Following consecutive 3-pointers by Parker and Belinelli that pulled San Antonio to 96-94 with 3 minutes left, Parker's layup gave the Spurs a 98-96 lead.
Anthony tied the game with a driving layup, and Parker missed a contested layup. Shumpert then hit a 3 with 39.1 seconds remaining after the Knicks captured a loose ball that six players touched at one point.
"Those are all winning plays," New York coach Mike Woodson said. "I keep harping on last year. There were a lot of times last year when somebody would step up and do something amazing to help you win games. We just haven't been able to experience much of that this season."
Belinelli tied the game with a 3-pointer off an inbounds play drawn up during a timeout. Shumpert then rose high above San Antonio's interior defenders to tip in a missed shot with 23.4 seconds remaining, giving New York a 103-101 lead.
"I've always done that throughout my career," Shumpert said. "I just try and play hard. That's the one thing — even if everything is going wrong, you can still run hard, chase somebody down, get a block, get a steal ... get an offensive rebound. Those are things you can do whether you're having a good night or a bad night."
Belinelli missed a 3 and Anthony drained a pair of free throws to seal it.
Averaging 6.2 points entering the game, Shumpert scored 10 in the opening quarter alone. He finished 6 for 8 on 3s, shot 10 for 13 overall and added six rebounds.
"We've been missing a lot of bodies throughout the season," Woodson said. "Tonight we came together as a group. Iman was big tonight. Probably the best game in a Knicks uniform. Not because he scored points, but the fact that he defended, had to guard Parker pretty much the whole night. I thought he did a hell of a job on him."
Parker shot just 5 for 13 from the field, but wasn't alone.
San Antonio's frontcourt of Kawhi Leonard, Tim Duncan and Tiago Splitter combined for 23 points, shooting 7 of 19 and grabbing just 16 rebounds.
The bench, such a big part of the team's early success, was unable to energize the Spurs. Excluding Ginobili, the bench finished with just 23 points.
"I didn't see the aggressiveness and the passion the way I saw it in the Knicks players tonight," San Antonio coach Gregg Popovich said. "They wanted it more than we did, that's the bottom line. They wanted it more and they got it."
Follow us on twitter.com/foxnewslatino
Like us at facebook.com/foxnewslatino