Knicks' Carmelo Anthony Irked by Linsanity Criticism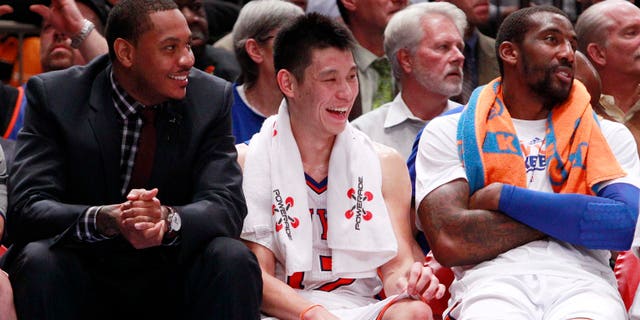 In an interview with ESPN yesterday, New York Knicks forward Carmelo Anthony expressed that he was upset with the criticism that he was a "selfish player" and the charge that he would somehow diminish the sensation that has been Jeremy Lin.
"That's like a slap in the face," Anthony said. "None of my teammates I've ever played with would say that I was a selfish player. Nobody."
When pressed by ESPN basketball commentator Stephan A. Smith as to whether or not Anthony could co-exist with teammate Lin, Anthony seemed confused as to what sparked the question among fans and critics.
"I'm human at the end of the day, so it's like damn where is that coming from?" Anthony said.
Since Anthony suffered a groin injury and teammate Amare Stoudemire left the team to mourn the death of his brother the lackluster Knicks have played inspired basketball thanks in large part to Lin, an unknown player out of Harvard who was sleeping on his brother's couch weeks ago with an uncertain NBA future.
The Knicks have won 7 games in a row, many in dramatic fashion since Lin took charge, but fans and analysts are now asking whether or not the return of the big money superstars like Anthony and Stoudemire will actually have a negative effect on the team.
NY Giants Get Treated Like...Giants
Stoudemire returned last night and the Knicks beat the Sacramento Kings 100-85.
Lin only scored 10 points but also was credited for 13 assists.
Anthony could return to the lineup as soon as Friday.
"Can Linsanity continue?" Smith asked.
"I believe so." Anthony said.
Follow us on twitter.com/foxnewslatino
Like us at facebook.com/foxnewslatino