Klopp wants to build 'recognizable brand of football'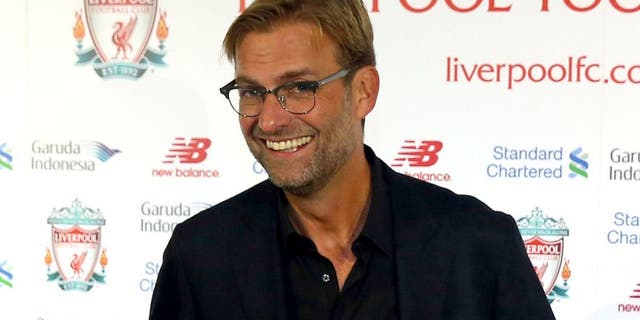 Jurgen Klopp says his first job at Liverpool is to "create a recognizable brand of football" and admits progress will "take time."
Klopp was appointed on a three-year deal and officially unveiled at Anfield on Friday morning and he has admitted that the job is a huge challenge for him and his staff, given Liverpool's recent propensity to change managers quickly.
Klopp, who labeled Liverpool's display in the derby draw with Everton as "kick and rush" has told German daily Bild he will try and build a style of play that will eventually improve performance.
"I have no idea why the hype is so big," Klopp said. "I am humbled to have this chance.
"Lots of German coaches have been successful but not many come here. This is a big challenge for me and my coaching team.
"Liverpool have had a period without success and changed managers a lot. Now the hope is for miracles, but progress takes time.
"I had a long conversation [with John Henry]. The aim is to develop a recognizable brand of football.
"I am not interested in the money I have to spend in January. It's only October now. Let's look at the players who are already here first."
Klopp will take his first Liverpool training session on Monday, although it will be a quiet affair due to international action.
Danny Ings, Nathaniel Clyne, Adam Lallana, Divock Origi, Simon Mignolet, Joe Allen, Mamadou Sakho, Martin Skrtel, Joe Gomez and Jordon Ibe are all away with their countries and Jordan Henderson, Roberto Firmino, Philippe Coutinho, Dejan Lovren and Christian Benteke are all injured.