Kevin Durant won't talk about Russell Westbrook in advance of matchup with OKC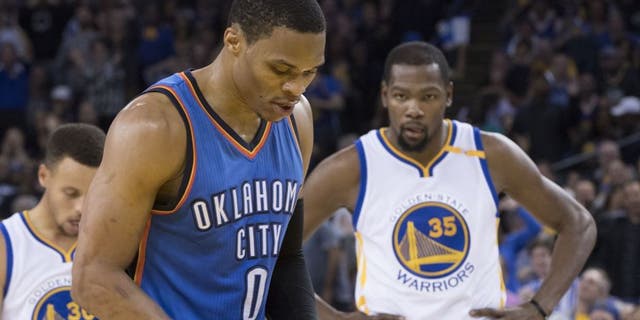 NEWYou can now listen to Fox News articles!
Kevin Durant and Russell Westbrook were Thunder teammates for eight NBA seasons, but the relationship between the two has become non-existent since Durant left OKC to join the Warriors in free agency.
In advance of the second meeting of the season between the two teams Wednesday night at Oracle Arena, Durant refused to discuss Westbrook at all, while choosing to focus on the task at hand instead.
"I talked about that already," Durant adamantly said, via ESPN. "I'm not talking about that right now. Anything about the game, I'll talk to you. All that other stuff, I don't have anything to say."
Durant was, however, willing to admit that games against the Thunder will always be emotional.
"I'm sure it will [be emotional]," Durant said. "It's people I've been with for so long and to see them again, yeah, they'll be some emotions. But I've still got a job to do."
In the first meeting between the two teams on Nov.3, Durant certainly didn't let emotions affect his performance. He scored 39 points on 62.5 percent shooting, while grabbing seven rebounds in a game the Thunder won by 26 points.
We'll see if things are any different when Durant makes his first appearance of the season in Oklahoma City on Feb. 11.