Keselowski: Define 100 percent racing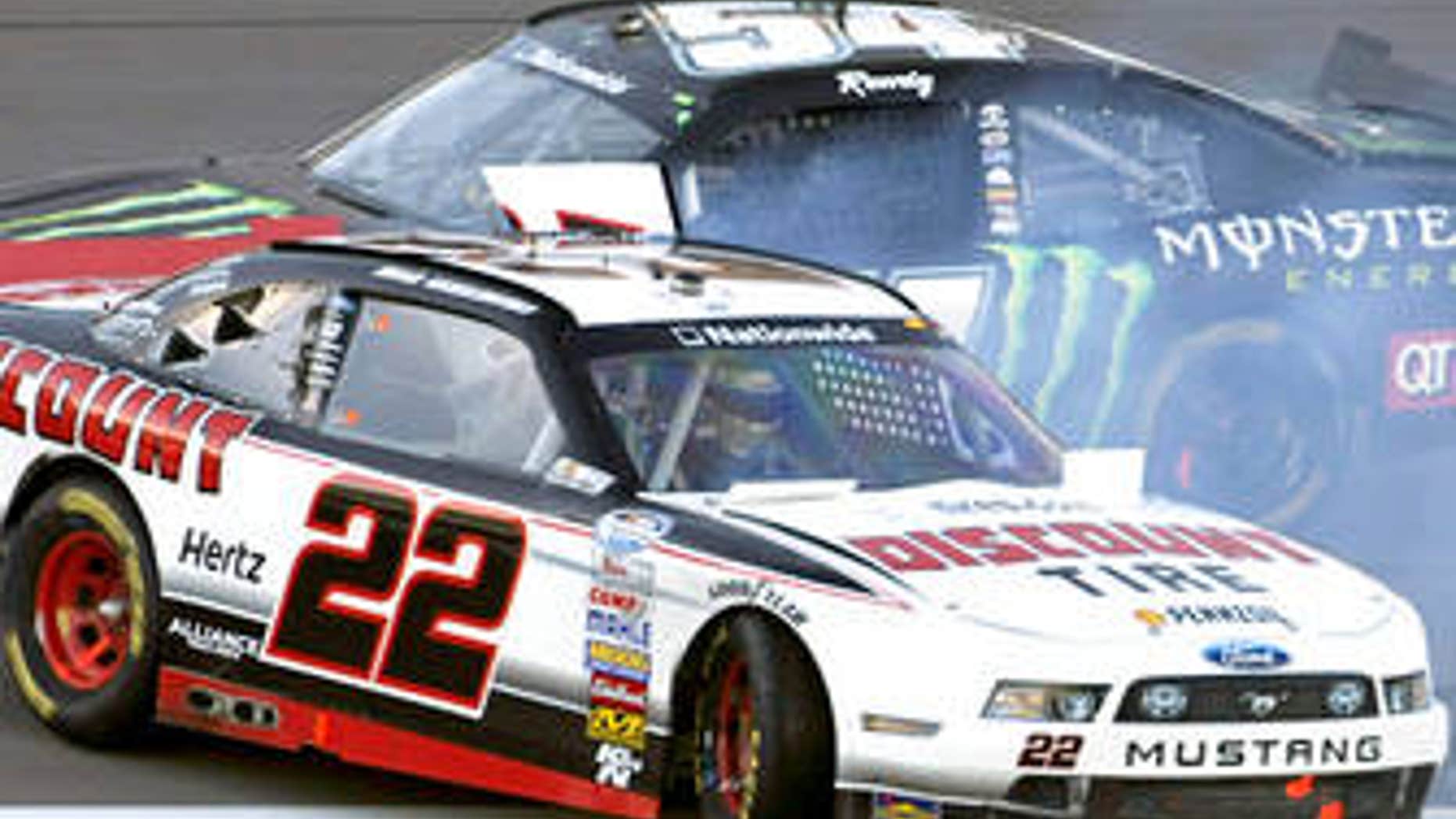 KANSAS CITY, Kan. – Who says actions speak louder than words?
Maybe Brad Keselowski's comments in the pre-race drivers' meeting spun out Kyle Busch before the green flag fell.
After Keselowski was wrecked by Busch in Saturday's Nationwide Series race while contending for second place with 12 laps remaining, he promised to exact revenge. While he never got close to Busch on the track Sunday, his question for the sanctioning body to further define 100 percent racing was his first shot across the bow.
The defending Sprint Cup champion sought clarification on the NASCAR edict declared three weeks ago at Chicagoland Speedway after the sport's integrity came under fire from teams attempting to manipulate the outcome of the race at Richmond on Sept. 7.
When the sanctioning body addressed the subject the following weekend in Joliet, Ill., president Mike Helton said, "NASCAR requires its competitors to race at 100 percent of their ability with the goal of achieving their best possible finishing position in an event.
"Any competitor who takes action with the intent to artificially alter the finishing positions of the event or encourages, persuades or induces others to artificially alter the finishing position of the event shall be subject to a penalty from NASCAR.
"Artificially altered shall be defined as actions by any competitor that show or suggest that the competitor did not race at 100 percent of their ability for the purpose of changing finishing positions in the event at NASCAR's sole discretion."
Keselowski recounted that "one of the things that was distinguished as not racing 100 percent was intentional wrecking."
Helton concluded that was "a fair question" and explained that the "expectations of NASCAR and the fans" are for competitors to offer 100 percent.
"We get the fact that changes as the race unfolds," Helton added. "It still is on us to decide when it's aggressive, hard NASCAR-type racing and when that racing may turn out to be something other than that."
But as always, the sanctioning body reserves the right to make a "subjective call."
"NASCAR-style racing, particularly in the three national series, is expected to be close, aggressive and hard," Helton said. "It is possible to cross that line and if that happens, we're going to step into it. But it is a subjective line for us to decide when that happens and what's the difference between NASCAR-style racing and something that is intentional?"
What was intentional was the timing of Keselowski's question. Perhaps another veiled threat to serve as a reminder that the No. 2 Miller Lite Ford was brewing in the field. And at a critical time for Busch, who entered Kansas third in the point standings at a track where he had wrecked in his previous two starts.
Busch acknowledged that Saturday's accident was driver error.
"I just got too tight up off the corner underneath the 22 there and got too close to him, got inside of his wake and I couldn't get the car to turn so I ultimately got into him and spun him out," Busch said after the race. Busch added that he had "more class than" to let an altercation on the Nationwide side of the garage permeate the Sprint Cup contests. However, when FOXSports.com asked Busch whether he felt the need to apologize to Keselowski, he insisted, "I don't have Brad Keselowski's phone number. Don't need it, don't want it. He didn't call me after Watkins Glen (2012)."
If Keselowski can't battle fairly on the race track, could he be looking for an alternative way to contend with Busch?
When FOXSports.com asked Keselowski if mind games were coming into play, he answered coyly, "I don't know what you're talking about (smile). I simply asked if 100 percent -- in our disqualification conversation -- said that intentional wrecking was not racing at 100 percent and would be penalized. I just wanted to know what the definition of intentional wrecking was."
Keselowski was satisfied with the answer received by Helton and concluded "we'll know it when we see it," but suggested following up with the sanctioning body "just to make sure."
Although Helton had departed, vice president Robin Pemberton offered "race 100 percent, and that's to get your best finish at the end of the day. That's the same statement we had in Chicago. I think they understand what 'boys, have at it' means. I don't know how much clearer we have to put things than that."
When Pemberton was asked whether he believed Saturday's wreck was intentional, he replied. "I wasn't in the car. You would have to ask the participants. There are obviously differences of opinion there. They make their beds. Now they got to lie in 'em. That's all I know."
Without a place in the Chase, Keselowski has nothing to lose. Busch, however, took his "100 percent" to the track Sunday and ended up on the wrecker for his third consecutive time at Kansas.
He damaged his car on the first lap attempting to avoid Danica Patrick's wreck, got into it with Keselowski's teammate Joey Logano on a restart, was dumped by future Penske IndyCar racer Juan Pablo Montoya at the start-finish line on Lap 187 and was finally retired after contact with Carl Edwards in the high line on Lap 200 for a 34th-place finish. Busch's worst result since Sonoma 14 races ago, knocked the No. 18 to fifth in the point standings, 35 markers behind leader Matt Kenseth.
Busch is naïve to think there isn't residual damage that carries from other racing series onto the Cup side of the garage. And with six races to decide the 2013 Chase for the Sprint Cup, finding Keselowski's phone number might not be a bad place to start.