Kansas State Coach Responds to Discriminatory Chant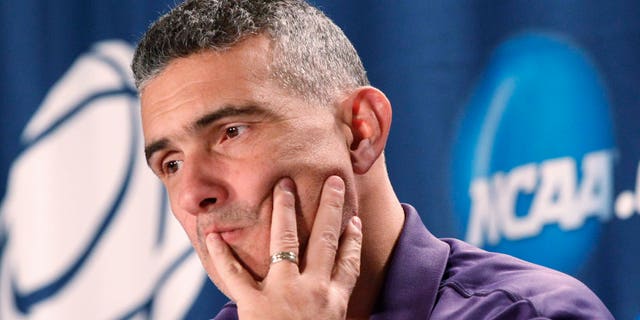 Kansas State University men's basketball coach Frank Martin has reacted to the discriminatory chant directed at freshman basketball player Angel Rodriguez in last night's NCAA Tournament game.
During the first half of his teams win over Southern Mississippi band members from the opposing school chanted "where's your green card?" at Rodriguez, who is Puerto Rican.
Discriminatory Chant Directed At Latino Player
Coach Martin spoke to Fox News Latino regarding the discriminatory comments chanted at freshman Angel Rodriguez.
Martin said does not think Southern Mississippi University is responsible for the incident and rather puts the blame squarely on ignorance.
"It's ignorant. We don't pay attention to ignorant things. If there is something they don't understand, Boricuas are Americans," said Martin."Unfortunately they don't know that and one, referring to a Latino in that fashion is ignorant."
Southern Mississippi University has apologized for the incident.
"This country provides a lot of positive opportunities to us the Latinos to have to be worried about some ignorant people," said Martin.
"That's not representation of that university. It's something that's unfortunate but you always have to understand that there's ignorance in the world. I, personally, and Angel as well, don't give too much importance to ignorant people."
Martin would explain that the players and coaches did not pay attention to the chant during the game.
"We (the team) and him and I didn't know what happened. We became aware of it after the game," said Martin. "During our game our ears aren't paying attention to that stuff."
Martin said that Southern Mississippi officials made it a point to personally apologize to Rodriguez after the game.
"The directors from the university came to the hotel to look at him in his face and ask for forgiveness," said Martin.
Follow Victor Garcia on twitter @MrVicGarcia
Adry Torres, who has covered MLB, NFL, NBA and NCAA basketball games and related events, is a regular contributor to Fox News Latino. He can be reached at elpiloto137@gmail.com or follow him on Twitter: @adrytorresnyc.

Follow us on twitter.com/foxnewslatino
Like us at facebook.com/foxnewslatino