Josh Barnett is building the next generation of war masters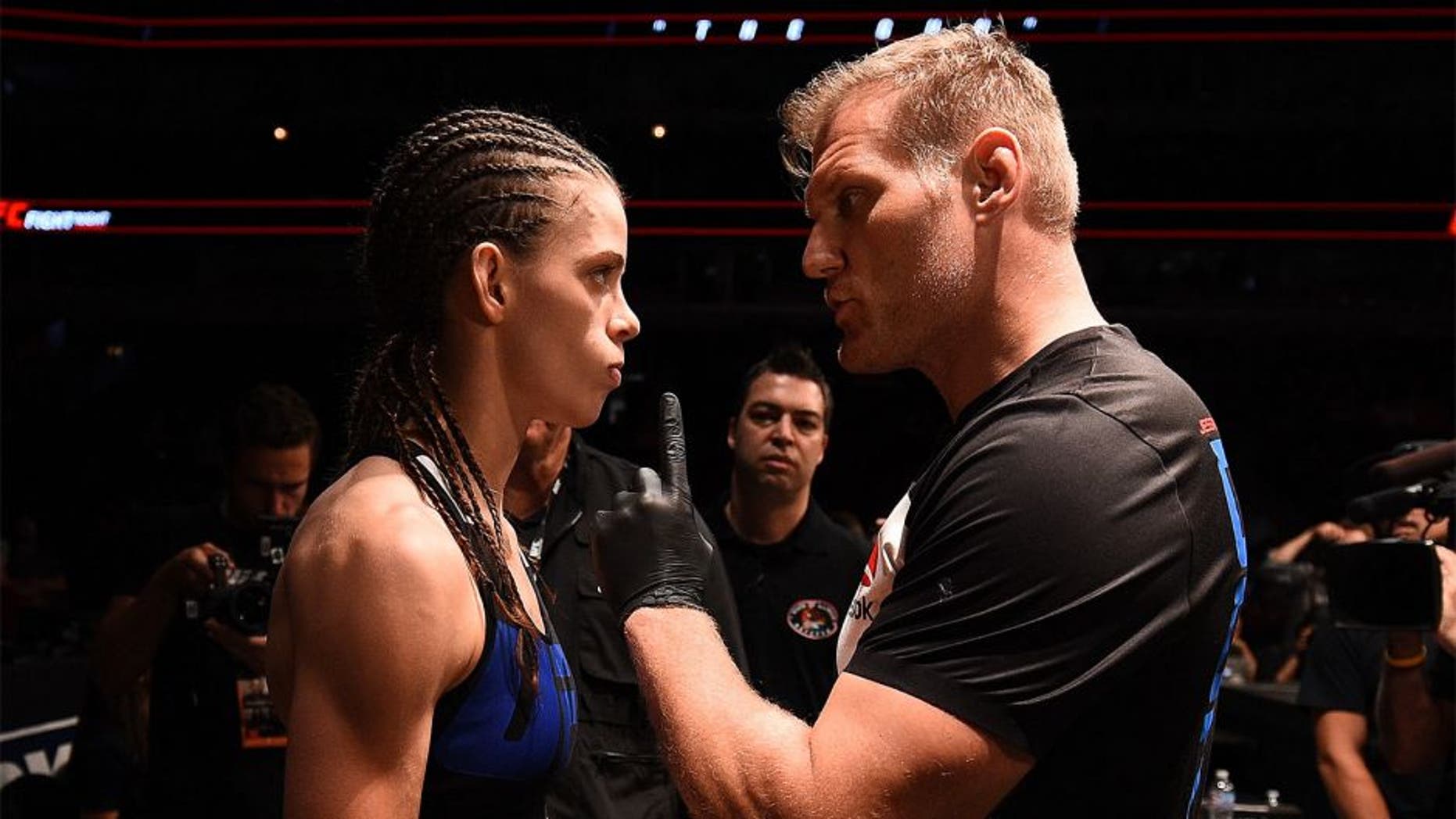 The text message came through last Tuesday afternoon with explicit instructions on how to conduct a full body workout, complete with every muscle group getting taxed to help build strength and endurance for an upcoming fight.
The message was from "The War Master" Josh Barnett to one of his top students, 28-year old bantamweight hopeful Victor Henry, and the instructions seemed fairly clear in terms of the different exercises and how many sets to complete.
Henry couldn't help but notice that the list was rather lengthy, but coming from Barnett he knew every exercise had its purpose so he started the workout. Henry lifted, stretched, pulled and pushed with everything he had and by the time the exercise routine was finished, his body felt like it had gone through a war.
After he was done, Henry called Barnett to tell him that he got through the workout but as soon as he started describing all the different exercises he completed, the former UFC heavyweight champion couldn't help but stop him mid-sentence.
"You did all of that?" Barnett asked.
"I did all of that!" Henry responded.
It turns out Barnett sent him the workout instructions for training sessions that were supposed to be broken up into week long routines that would be alternated over the course of his fight camp.
"I ended up doing everything," Henry explained. "Heavy squats, heavy dead lifts, heavy lunges, I did all that stuff in one workout and my legs are killing me but I never questioned it. I saw it and OK I'm going to do it.
"That's what Josh wanted me to do, so I did it."
Henry is just the latest example of the kind of fierce, undying loyalty Barnett receives from the students he chooses to work with and coach just like he's been doing throughout an MMA career that stretches back nearly 20 years.
Barnett may best be known as a top ranked heavyweight, who has been plying his craft at the highest levels since 1997, but he's also quietly worked with a slew of up and coming fighters who he's coached from the amateur level all the way to the UFC.
Whether he was working with some of the best women's mixed martial artists in the world long before Ronda Rousey was selling out arenas or building up young prospects like Henry from scratch, Barnett has always taken pride in being a coach because he knows deep down inside that's the kind of legacy that never has an expiration date.
"It's not just about the winning and the losing, but it's about the experiences we've gone through together," Barnett said recently when speaking to FOX Sports. "It's about seeing them improve and achieve things they didn't even know were possible -- achieve things they didn't even know they wanted. It's a personal investment on my part and it's never been a business decision. I'd rather forget making money or overlook that aspect of it to do something that's much more valuable than that.
"You see that right person that fits into that mold for what you're looking for and you almost feel you be doing them a disservice by not helping them out. I know there's going to be lots of great things out of the people I'm working with right now."
Henry is one of those people Barnett chooses to invest in and the hard work is starting to pay off.
With a background starting in taekwondo, Henry met Barnett through a seminar he was running in southern California, but it was actually his coach that connected the two fighters together after the training session was over. Henry's coach had basically hit the wall when it came to building his own MMA team and rather than see talented young fighters toil away waiting for an opportunity to come, he decided to send them to coaches who could get them to the next level instead.
It didn't take long for Henry's coach to suggest he start working with Barnett full time.
"A buddy of mine Jimmy Romero was coaching some fighters and he asked me to come up and run a little clinic for these guys and show them some stuff and I did and it was pretty fun. They were all good sports about it. I just worked them through some MMA stuff and Jimmy said 'hey, I've got a handful of these guys I'd like to bring down to CSW to get some sparring in'. Jimmy knew Erik (Paulson -- Barnett's coach) and he's a part of that old school MMA scene so having these guys at CSW made sense because that's where he learned his fighting," Barnett explained.
"So he started bringing people down and he said 'you've got to check out this kid, he's one of my best guys and there's something special about him."
Henry began training under Barnett and the other coaches at CSW and now he's a 10-1 veteran with hopes of signing with a major United States promotion in the coming months. While his own hard work and ability ultimately earned the wins, Henry knows he wouldn't be where he's at now without Barnett taking a special interest in him all those years ago.
"It's been like an older brother kind of thing. How to see things differently. He teaches me to learn how to learn," Henry said.
"Josh expects things out of me and from me. Sometimes it's hard and sometimes it's easy, but he has expectations out of me and I'm glad he does. He has expectations of how I should do things, when I should do them, and I'm glad he's there for me."
Spare time is a luxury for Barnett these days because when he's not preparing for his upcoming bout against Roy Nelson in Japan, he's acting in film roles or commentating for a professional wrestling organization, but he always makes time for his students.
More recently, Barnett has picked up coaching duties for a trio of women's fighters who are probably best known as Ronda Rousey's teammates. Jessamyn Duke, Shayna Baszler and Marina Shafir are all close with Rousey in a group they call 'The Four Horsewomen', but over the past year they've all moved away from training with the UFC women's bantamweight champion while pursuing additional help for their own fight careers.
"I've been working with Jessamyn and Marina as well, they both came over with Shayna, who I've been working with for a long time, but they came over and decided to migrate over to CSW full time about a year ago I think," Barnett said. "I really feel like we're starting to get going on the meat of things right now.
"There's a lot of work that goes into younger fighters and some of them have different mindsets and I see things in people that some others don't."
Duke and Shafir are both prospects with a lot of upside, but Barnett knows that it takes more than just talent to make it as a mixed martial artist. He's been through his own fair share of ups and downs and it's no different for his students.
Most recently, Duke suffered a decision loss to Elizabeth Phillips in the UFC while Shafir suffered a 37 second knockout in only her third pro fight this past July. As disheartening as any loss may be, Barnett says it's all part of the learning process and he's not giving up on any of them because they never give up on him.
"With Jessamyn, she's very young when it comes to her combat sports career. She's very young to be in the UFC. She's probably young in terms of being a fighter, too, but she's got mountains of potential. Someone like Marina, who has this great combat sports background, but Jessamyn didn't play sports or do those kinds of things in high school," Barnett said.
"She's getting more of that now. She's a professional athlete now and that's a whole other level now. I think Jessamyn is starting to realize her potential and that there's a breaking down before building up process."
Building is an important word when talking about Barnett's particular style of coaching because the one thing he never wants to do with any fighter asking him for help is to mold them into somebody they don't want to be. By trade, Barnett is a catch wrestler with some of the nastiest submissions in the sport, but not every fighter wants to do what he does so he coaches them to the best of their abilities.
Barnett doesn't want to create a mindless zombie army hell bent on emulating the exact same moves he executes when he's in the Octagon. He'd rather plant the seed with his coaching and allow them the chance to bloom into something special and unique.
"I'm not into building robots. I want to create somebody that's an artist," Barnett said. "Not paint by numbers, but somebody who wants to understand the type of canvas, how to press the canvas, what brushes to use, what type of paint to use and why, to create your own thing out there.
"You know who are at your best and I'm here to guide you there."